Find an Instructor
Find an Instructor
About Andrew S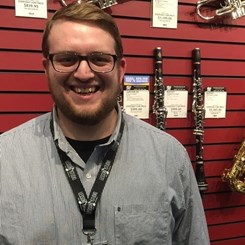 Expertise:
Clarinets, Marching Percussion, Saxophones, Woodwind Accessories, Woodwinds
Get to know Andrew S
My love for music was first instilled in me by my father; driving in his car on various errands in my childhood, we listened to everything from Pink Floyd and Led Zeppelin to Stravinsky's The Rite of Spring and Mahler's Symphonies. From a young age, music was something very special to me; not just a bonding experience in my family, but a way to express that which words cannot and connect with anyone on a level beyond the superficial. Naturally, I joined band in elementary school and chose the clarinet: playing this instrument and taking private lessons opened up a whole new world of self expression, networking relationships, and some of the most fun and pivitol moments of my education! In college, I performed as a major soloist with the Illinois Wesleyan University Civic Orchestra, performing C.M. Von Weber's Concertino for Clarinet at the Bloomington Center for Performing Arts as a winner of their Concerto-Aria competition.
After college, music remains one of the most important things in my life. I started working here at the Fox Valley Musc & Arts in Summer 2015, and since then I have continued to spread my love of music to others and supprot music education in my community through our rental program and the Lesson Studio! I am also Fox Valley's Woodwind Expert, so feel free to reach out to me with any questions about clarinets, saxophones, or any other woodwind. I'm your guy!
My Gear
Clarinet-Buffet R13 Greenline Professional Clarinet
Guitar-Alvarez 5031D Acoustic Guitar
Bass-Fender Squire Jazz Bass Vintage Mod.
My Recommendations
Clarinet
Beginner-Buffet B25 Wood Student Clarinet
Yamaha YCL-225 Wood Student Clarinet
Intermediate-Buffet E11 Intermediate Clarinet
Advanced-Buffet R13 Professional Clarinet
Buffet R13 Tosca, Festival and Prestige Professional Clarinets
Saxophone
Beginner-Yamaha YAS-26 Student Alto Saxophone
Selmer AS500 Student Alto Sax
Selmer TS500 Student Tenor Sax
Intermediate-Yamaha YAS-480 Intermediate Alto Sax
Yamaha YTS-480 Intermediate Tenor Sax
Advanced-Yamaha 62III Professional Alto Sax
Selmer Mark6 Professional Alto Sax
Selmer 54S Professional Tenor Sax
Flute
Beginner-Gemeinhardt 2SP Student Flute
Intermediate-Gemeinhardt 3OSBGLP Silver-Plated, Open-Hole Intermediate Flute
Yamaha YFL-361H Silver-Plated, Open-Hole Intermediate Flute
Advanced-Gemeinhardt 33-SSBGLP Sterling Silver Professional Flute
Yamaha YFL-481H Sterling Silver Professinoal Flute
Azumi AZ3SRBEO-C Sterling Silver Professional Flute
Andrew S works at:
385 South Route 59
Aurora, IL 60504
Repairs
Returns Allowed
Ship To Store
Curbside Pickup
Lessons
Rentals