Find an Instructor
Find an Instructor
About Justin Wright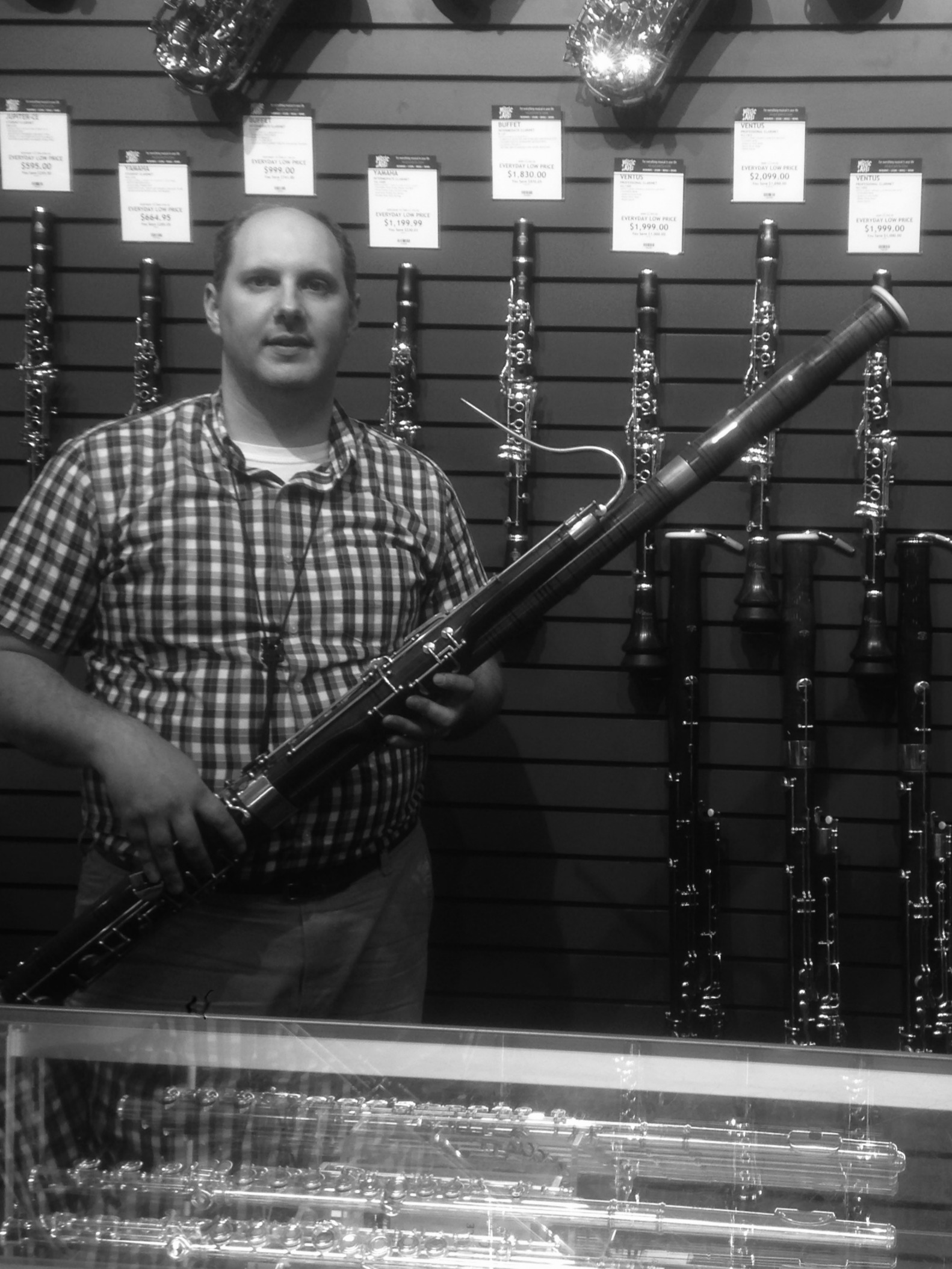 Justin Wright
Retail Manager
Expertise:
Books, Sheet Music & Media, Brass, Brass Accessories, Clarinets, Concert Percussion, Double Reed Instruments, Euphoniums, Flutes & Piccolos, French Horns, Keyboards & MIDI, Marching Band Accessories, Orchestral Strings, Orchestral Strings Accessories, Percussion, Print Music, Pro Audio, Saxophones, Trombones, Trumpets, Tubas, Woodwind Accessories, Woodwinds
Get to know Justin Wright
Hello! My Name is Justin Wright and I am the store manager of the Manchester Music & Arts. This is my 10th year with Music & Arts and my 8th year as a store manager. I moved back to New England in 2011 and couldn't be happier to call Manchester, NH home!
I have always had a love for music stores. I can remember as a child, my mother and I were both taking piano lessons at our local piano store. When she was in her lesson, I would sit at the different organs, pulling out the stops, and pushing all the buttons to see what they would do. I can't help but feel the same excitement even today when new items arrive or we unpack a new instrument in the store.
It was not until High School that I really got a passion for music. Before that point, I had nearly quit music all together. Although I had continued my piano lessons and had started playing flute in the school band, one day in middle school, I fell out of a tree and broke my arm. For the next few years it was soccer, tennis and track for me. I didn't rejoin the band until the end of my Sophomore year in high school, and even then it was only because friends of mine were in the band. It was an incredible teacher that turned things around for me. They had asked me to play the bassoon in the school band and gave it to me to take home over the summer. From there the rest is history. I played the next 2 years in the all-state orchestra, attended summer camps & festivals, even performed a solo concerto with my high school orchestra.
I attended the Hartt School of Music at the University of Hartford and completed a five year double major in Music Education and Bassoon Performance. I continued another two years working toward my Master's in Bassoon Performance after that. I have been fortunate to have had wonderful performing opportunities ranging from chamber music, to opera and ballet. It was during my last two years at Hartt that I began working for a local music store called Music & Arts. Very quickly I discovered that I had many things that I could give back to the community that had supported me over the years.
After graduation, I accepted a manager position at our Princeton, NJ location. Building the in store lesson program became my obsession. Hiring great teachers and finding ways to get out and promote within the community, we grew from less than 100 to over 300 students in just two years. Recently the store built two new studios to help contain their current growth.
In 2008, I was asked to become the manager of the Paramus, NJ store formally Victor's House of Music. Overseeing northern New Jersey, parts of lower New York, and New York City, it remains to be our busiest location. It was a real treat servicing customers such as Metropolitan Opera Singers, and Broadway Musicians with their everyday needs.
It was equally satisfying to have the opportunities as a musician in the New York Metropolitan area. During this time I frequently performed with The Ridgewood Concert Band, Ridgewood Symphony, Princeton Symphony, Montclair Symphony, Westminster Choir College Symphony, Princeton Society of Musical Amateurs, The Waldwick Band, Mercer County Musical Theatre, plus various community ensembles and church services.
For over 10 years I have attended the Glickman Popkin Bassoon Camp in Little Switzerland, NC. Aside from where I met my wife Jessica, it is a 10 day intensive master class for bassoonists from around the world. Each year we return to see friends, colleagues, and to learn additional lessons in technique and musicality from some of the worlds greatest musicians. Past clinicians I've worked with: Leonard Sharrow, Stephan Maxym, Arthur Weisberg, Frank Morelli, Roger Birnstingl, Patricia Rogers, Richard Svoboda, Richard Ranti, David McGill, Danny Matsukawa, Christopher Weait, Willard Elliot, Marc Goldberg, Whitney Crockett, Barrick Stees, Bill Buchman & John Hunt. For three of these years I had also attended the John Mack Oboe Camp and have been actively involved with several IDRS conferences.
Opportunity allowed for my wife and I to move to New Hampshire in the spring of 2011. Although we miss many of the people we knew and worked with down in the big apple, we certainly don't miss riding bumper to bumper with them and riding like packed sardines in subway cars to and from work everyday. My wife now owns and teaches yoga at Forever Yoga in Wilton, NH We enjoy spending time outdoors, hiking, biking and of course playing the bassoon from time to time.
The Manchester Music & Arts has seen some exciting growth! We were awarded Music & Arts Store of the Year for 2012. We were most recently chosen by the Union Leader as a Reader's Choice recipient for Best Music Store for 2013. You may have noticed in the past year an improvement in our guitar selection and more recently the addition of our Pro Shop. We now carry the largest assortment of Band & Orchestral Instruments of any of our stores. We have hand picked the top brands and models that we have on hand and pride ourselves on having the assortment that distinguished teachers and professionals recommend and require. In addition to this our stock levels of mouthpieces and accessories will see the same growth over the next few months. We have hosted several premier step up events in New Hampshire in the past couple of years, our most recent being the May Horns-a-Plenty at the Manchester Community Music School. Be sure to look for more vendor supported events in the near future. In addition to the growth in the quality of our store, there has been a growth in the quality of our staff. If you haven't already met them in person, please take a moment to meet our wonderful musicians here on our store website. Once you've gotten to know us, please come and visit us so we can get to know you!
We look forward to making music with you!
Justin Wright, Manchester Music & Arts Store Manager
Justin Wright works at:
18 MARCH AVE
Manchester, NH 03103
Clearance
Pro Shops
Repairs
Returns Allowed
Ship To Store
Curbside Pickup
Lessons
Rentals