Find an Instructor
Find an Instructor
Reynoldsburg OH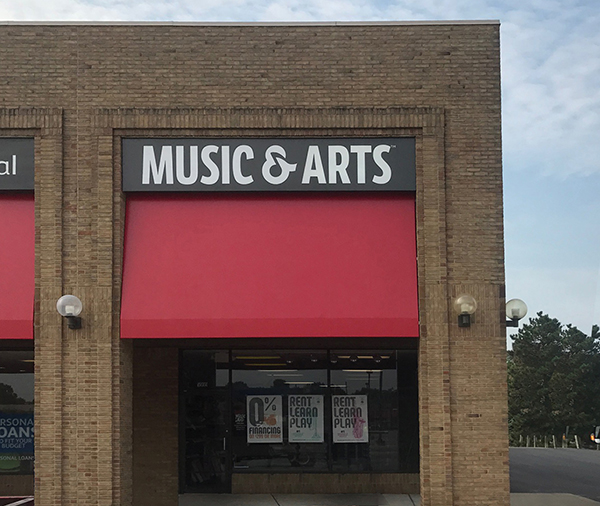 5999 E Main St
Columbus, OH 43213
Store Hours
Wednesday
11:00am

-

8:00pm
Thursday
11:00am

-

8:00pm
Saturday
10:00am

-

5:00pm
Store Services
Returns Allowed
Ship To Store
Curbside Pickup
Lessons
Rentals
Meet Our Instructors
Dr. Angela Heck Mueller enjoys an active career as an educator, solo flutist, orchestral and chamber musician, and collaborative artist in Columbus, Ohio....
Read more about Angela Heck Mueller
Claire Dollison is a musician who is primarily known as a trumpet artist who graduated from Capital University as a music education...
Read more about Claire Dollison
Crystal received her bachelor's degree in music education in 2002 from Capital University with horn as her primary instrument. She is currently in her...
Read more about Crystal Bensonhaver
Ira Pound is an educator who has taught music in private and chartered schools for 20 years. He graduated from Bethany Nazarene College with an emphasis in...
Read more about Ira Pound
Justine DeMarco began playing violin at nine years old, eventually attending Northern Arizona University to study Violin Performance. While at NAU, Justine...
Read more about Justine De Marco
Mike Foss
Music Teacher, Professional
Instructs:
Bass Guitar, Drums, Trombone, Trumpet, Tuba, Voice
Nick Pelfrey
Music Teacher, Expert
Instructs:
Clarinet, Piano, Saxophone
Ron received a Bachelor of Music in Education from the Ohio State University School of Music in 1987. Ron has been teaching music over 40 years focusing on...
Read more about Ron Smitson
Ryan Sullivan
Music Teacher, Expert
Instructs:
Bass Guitar, Guitar, Ukulele
Ryan Sullivan received a BA from the OSU school of Music where he concentrated on jazz guitar studies. He has 9 years of progressive experience in the field of...
Read more about Ryan Sullivan
Steve Dodge has been teaching music for decades. He holds both the Bachelor of Music and Master of Music degrees in percussion performance from The Ohio State...
Read more about Stephen Dodge
Stephen Perakis
Music Teacher, Master
Instructs:
Bass Guitar, Guitar, Music Theory, String Bass, Technology
Steve has taught double bass and electric bass privately and at local music stores for over 20 years. He has performed in dozens of cities in the United States,...
Read more about Stephen Perakis
Meet Our Associates
Ash
Retail Manager
Expertise:
Clarinets, Double Reed Instruments, Flutes & Piccolos, Saxophones, Woodwind Accessories, Woodwinds
Clarinets, Double Reed Instruments
show more
Hello! I am excited to be an associate of Music and Arts! I am a woodwinds player, with saxophone being my primary. My musical journey started back in 2012 when...
Read more about Ash
Skip link
Welcome to Music & Arts | Reynoldsburg OH
In case you couldn't tell, we're pretty into music here at Music & Arts. In fact, it's been our mission to get people about excited about music since opening our first store all the way back in 1952. The nation's most steadfast musical resource, we pride ourselves on connecting people of all ages and walks of life with everything they need to thrive in music. With everything from name brand instrument sales, rentals and repairs to phenomenal music lessons and a massive assortment of books and sheet music, you can always rely on Music & Arts for all your musical needs no matter where you find yourself in the wide world of music.

Reynoldsburg, Ohio, welcome to your friendly local music store! We're conveniently located on the southeast corner of I-270 and East Main Street on McNaughten Road. You can find our store east of Big Walnut Creek and west of Huber Park.
We serve the awesome community here in Reynoldsburg as well as the surrounding areas of Blacklick, Brice, Blacklick Estates, Zimmer, Obetz, Canal Winchester, Gahanna, Carroll, Baltimore, Thurston, Etna, New Albany, Bexley, Columbus, Minerva Park and more!
We are looking for guitar and voice teachers! Please send a resume to reynoldsburgmgr@musicarts.com
Interested in learning a new instrument and bonding with friends, family or coworkers at the same time? Check out our group music lessons! Learning how to play a fun instrument like the guitar, bass or ukulele in a group setting is not only fun but also incredibly beneficial in tackling a new skill.
Since 1952, we've been helping local music students thrive by providing instruments, music accessories, books and sheet music to schools across the nation. Our Reynoldsburg location proudly serves the following local schools:
COLUMBUS PUBLIC: Arts Impact Middle School, Berwick Alternative Elementary School, Buckeye Middle School, Cedarwood at Stockbridge Elementary School, Columbus Africentric Early College Prep, Broadleigh Elementary School, Duxberry Park Arts Alternative Elementary School, Fairmoor Elementary School, Fairwood Alternative Elementary School, Fort Hayes High School, Johnson Park Middle School, Liberty Elementary School, Lincoln Park Elementary School, Livingston at Beck Elementary School, Marion-Franklin High School, Maybury Elementary School, Mifflin High School, Oakland Park Elementary School, Oakmont Elementary School, Olde Orchard Alternative Elementary School, Parsons Elementary School, Columbus Preparatory Academy for Boys, Columbus Preparatory Academy for Girls, Scottwood Elementary School, Shady Lane Elementary School, Sherwood Middle School, Stewart at Beck Elementary School, Yorktown Middle School

REYNOLDSBURG: Hannah J. Ashton Middle School, Baldwin Road Junior High School, Waggoner Road Middle School, Reynoldsburg High School, French Run Elementary School, Herbert Mills Elementary School, Rose Hill Elementary School, Slate Ridge Elementary School, Taylor Road Elementary School
WHITEHALL: Beechwood Elementary School, Etna Road Elementary School, Kae Avenue Elementary School, Rosemore Manor Elementary School, Rosemore Middle School, Whitehall-Yearling High School
BEXLEY: Cassingham Elementary School, Maryland Avenue Elementary School, Montrose Elementary School, Bexley Middle School, Bexley High School
PICKERINGTON: Diley Middle School, Toll Gate Middle School, Harmon Middle School, Lakeview Junior High School, Ridgeview Junior High School, Pickerington High School North, Pickerington High School Central
CANAL WINCHESTER: Indian Trail Elementary School, Winchester Trail Elementary School, Canal Winchester Middle School, Canal Winchester High School
GROVEPORT:Groveport Middle School South, Groveport Middle School North, Groveport Middle School Central, Groveport-Madison High School
HAMILTON: Hamilton Township Elementary School, Hamilton Intermediate School, Hamilton Middle School, Hamilton Township High School
TEAYS VALLEY: Teays Valley Middle School East, Teays Valley Middle School West, Teays Valley High School
GAHANNA: Gahanna Middle School South, Gahanna Middle School West, Gahanna-Lincoln High School

SOUTHWEST LICKING: Watkins Middle School, Watkins Memorial High School
LICKING HEIGHTS: Licking Heights Middle School, Licking Heights High School
PRIVATE SCHOOLS: Brice Christian Academy, Columbus School for Girls, Gahanna Christian Academy, Harvest Preparatory Academy, Madison Christian Academy, Patriot Preparatory Academy, Saint Charles, Bishop Hartley, Columbus Torah Academy
Got a gig with your string quartet coming up at the Briarwood Wedding Chapel? Whether you play violin professionally or the fiddle for fun, the Music & Arts here in Reynoldsburg is here to help you get ready for your shows! With everything from guitar picks and reeds to a huge selection of books and sheet music, we're here to be your last stop before you take the stage.
Did you know that famous rapper Bow Wow went to school here in town? If you're interested in learning how to write or produce music, check out our private lessons! Our incredible teaching staff has combined decades of experience teaching technique, theory and songwriting for a wide variety of instruments and specialize in helping students succeed no matter their age, background and interest.
MORE ABOUT MUSIC & ARTS
What humbly began in a Bethesda, Maryland home over 65 years ago has now become the nation's leading provider of instrument sales, rentals, repairs and music lessons. With over 150 locations across the country, we've changed quite a bit over the past six decades, but we've never lost focus of music's impact on a human level. Stop by our Reynoldsburg location today! We can't wait to meet you!
Other Locations Nearby
178 Graceland Blvd
Columbus, OH 43214
Repairs
Returns Allowed
Ship To Store
Curbside Pickup
Lessons
Rentals
43 N State St
Westerville, OH 43081
Clearance
Repairs
Returns Allowed
Ship To Store
Curbside Pickup
Lessons
Rentals
4672 Cemetery Rd
Hilliard, OH 43026
Returns Allowed
Ship To Store
Curbside Pickup
Lessons
Rentals