Find an Instructor
Find an Instructor
Hendersonville TN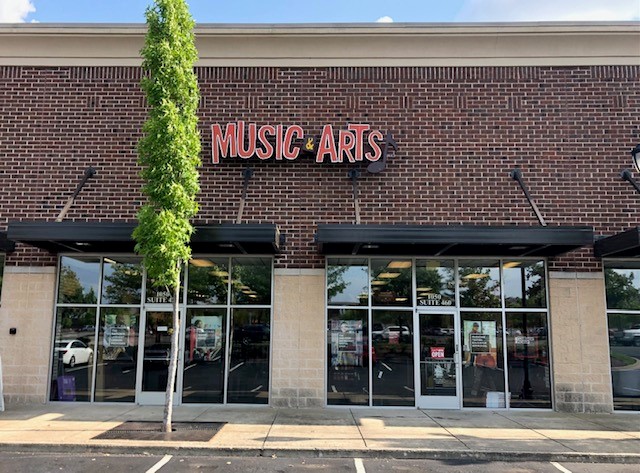 1050 Glenbrook Way Suite 460
Glenbrook Center
Hendersonville, TN 37075
Store Hours
Wednesday
11:00am

-

8:00pm
Thursday
11:00am

-

8:00pm
Saturday
10:00am

-

5:00pm
Store Services
Returns Allowed
Ship To Store
Curbside Pickup
Lessons
Rentals
Meet Our Instructors
Aaron Jenks
Music Teacher, Master
Instructs:
Guitar, Piano, Ukulele
Aaron attended the Atlanta Institute of Music and Media for guitar and piano. He graduated in October 2019 with a Music & Technology Degree, with a...
Read more about Aaron Jenks
Brandon Moore
Music Teacher, Master
Instructs:
Clarinet, Flute, Saxophone
Brandon Moore is a saxophonist, composer, arranger, educator, and multi-instrumentalist based in the Nashville area. Originally from Dexter, MO, Brandon moved...
Read more about Brandon Moore
Carli Kennedy
Music Teacher, Master
Instructs:
Guitar, Piano, Voice
Carli Kennedy is an award-winning guitarist, pianist, songwriter and vocalist with over 17 years of teaching experience in classical and popular music....
Read more about Carli Kennedy
My name is Debby Beaver. I have been playing violinfor 46 years and have been teaching for 22 of those years. I teach classical violin, country fiddle,...
Read more about Debby Beaver
Hello, I'm Dwain Rowe. I studied music at Marshal University and have been teaching piano for 30 years. I teach students as young as 6 years of age and...
Read more about Dwain Rowe
Hello I'm Harry Graham, I've been teaching guitar since 1975 and teach all styles of guitar to any level student from beginning to advanced. I teach...
Read more about Harry Graham
Janet Sneed
Music Teacher, Master
Instructs:
Banjo, Bass Guitar, Guitar, Mandolin, Piano, Ukulele
Hello my name is Janet. I teach guitar, ukulele, bass, banjo, and piano. I have been teaching for 20+ years and teach all levels and ages. I've played in some...
Read more about Janet Sneed
Jeff Phillips
Music Teacher, Master
Instructs:
Baritone, French Horn, Trombone
Dr. Jeffrey T. Phillips is in his 16th year as adjunct instructor of trombone and commercial brass at Belmont University and performs with the Belmont Faculty...
Read more about Jeff Phillips
Melanie Lenau
Music Teacher, Master
Instructs:
Guitar, Piano, Violin
Hi, my name is Melanie. I'm a classically trained musician, and have a fine arts degree in music with concentrations in violin and piano pedagogy. I have...
Read more about Melanie Lenau
Paul Deyo
Music Teacher, Master
Instructs:
French Horn, Trombone, Trumpet, Tuba
Mr. Deyo received a commendation from the Kennedy Center as one of the onstage musicians in the 2008-2009 Tennessee State University production of "Lady Day at...
Read more about Paul Deyo
Ronald De La Vega
Music Teacher, Master
Instructs:
Bass Guitar, Cello, String Bass, Viola, Violin
Hello, my Name is Ron De La Vega. I teach Violin, Viola, Cello, and Bass and have been playing and teaching for 20+ years. I teach begginers all the...
Read more about Ronald De La Vega
M. Ed. Curriculum and Instruction/Music from Tennessee State University. No matter the teaching situation, for the student and teacher, preparation and...
Read more about Steven Phillips
A native of Massachusetts, William "Tiger" Fitzhugh attended Berklee College of Music for 3 years as a composition/arranging major, then took a 17...
Read more about William Fitzhugh
Meet Our Associates
Skip link
Welcome to Music & Arts | Hendersonville TN
Since 1952, we've been in the business of connecting people of all walks of life with the profound power of music. We're avid believers in the good music can do in a person's life, and we're honored to be America's most trusted musical resource. Music & Arts is a one-stop music shop, offering everything from name brand instrument and music accessory sales to rentals, repairs, a wide assortment of books and sheet music and incredible private music instruction. We're here to help you thrive in music no matter what your goals are.
Hendersonville, TN, we're proud to be your friendly local music store! You can find us just northwest of New Shackle Island Road and Vietnam Veterans Blvd in the Glenbrook Center shops. We're north of the Cumberland RIver and Drakes Creek Park.
We serve the excellent community here in Hendersonville and the surrounding areas of Nashville, Mt Juliet, Green Hill, Laguardo, Millersville, Goodlettsville, Ridgetop, Greenbrier, Cottonton, Gallatin, White House, Rural Hill, Gladeville and more!
Nothing makes us happier than seeing young people succeed through music. That's why we partner with local music education programs in schools nationwide to provide instruments, music accessories and sheet music to students. We've built and maintained relationships with local schools including Ellis, Hawkins, Knox Doss, TW Hunter, Station Camp and beyond for over 30 years.
Are you a music teacher based in Hendersonville? Teacher Appreciation Day is now every day! Save 30% on books and sheet music! We've got a huge appreciation for our nation's hardworking music educators, and we're here to make your life easier. Thanks for enriching the lives of our local students through music!
Did you know that Taylor Swift is from Hendersonville? If you want to learn how to play guitar and write songs like Taylor, check out some private music lessons taught here in our store! Our incredible teaching staff has a combined decades of experience teaching kids and adults technique, theory and songwriting on a variety of instruments. Ask about our music lessons today!
Getting ready for a wedding gig at Spring Haven Mansion with your string quartet? Whether you play cello professionally of the blues guitar for fun, we're here to help you be your best on stage! We carry strings, straps, stands, tuners, pedals, reeds, sheet music and more! Let the Music & Arts here in Hendersonville be your last stop before you take the stage!
MORE ABOUT MUSIC & ARTS
Now the nation's leading provider of instrument sales, rentals, repairs and music lessons, the first Music & Arts store was founded in a Bethesda, Maryland home back in 1952. Over 150 locations and six decades later, we've changed quite a bit over the years, but our steadfast commitment to bringing music to the local communities we serve has never changed. We truly believe that music makes the world a better place, and we're honored to be able to share it with so many people. Stop by our Hendersonville location today! We can't wait to meet you!
Other Locations Nearby
539 Cool Springs Blvd Suite 115
Franklin, TN 37067
Clearance
Pro Shops
Returns Allowed
Ship To Store
Curbside Pickup
Lessons
Rentals
536 N Thompson Ln Suite G
Murfreesboro, TN 37129
Returns Allowed
Ship To Store
Curbside Pickup
Lessons
Rentals
830 Fairview Ave Suite B1
Bowling Green, KY 42101
Clearance
Returns Allowed
Ship To Store
Curbside Pickup
Lessons
Rentals