Find an Instructor
Find an Instructor
Burlington VT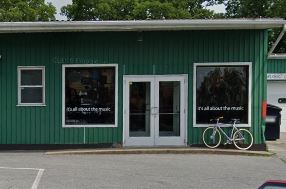 75 Maple St
Burlington, VT 05401
Store Hours
Wednesday
11:00am

-

8:00pm
Thursday
11:00am

-

8:00pm
Saturday
10:00am

-

5:00pm
Store Services
Returns Allowed
Ship To Store
Curbside Pickup
Rentals
Meet Our Instructors
Gina Merlini
Music Teacher, Master
Instructs:
Clarinet, Flute, Mandolin, Piano, Saxophone, Viola, Violin, Voice
Musc has been part of my everyday life for over 50 years!! I am a singer, multi-instrumentalist, and professional musician. I am educated, qualified...
Read more about Gina
Ian Koeller has been playing professinally in New York City and Vermont for over 10 years, a forth generation musician, a student of Jeff Salisbury and Dom...
Read more about Ian
Paul "Rooster" Berler has been performing and teaching professionally for 30 years. He has performed in bands and ensembles of every style from acid jazz...
Read more about Paul
Meet Our Associates
Having served the local musical community for many years, it has been my pleasure to help budding musicians as well as professionals, find the perfect...
Read more about Jeff
Skip link
Welcome to Music & Arts | Burlington VT
With hundreds of locations around the country, Music & Arts connects local communities with everything they need to succeed in music. Now the nation's leading provider of private lessons, instrument rentals, sales, and repairs, our legacy began with a single humble store that was operated out of a home in Bethesda, Maryland. We've experienced a remarkable amount of growth over the years, but our core values and deep love for sharing music hasn't changed. Thanks for putting your trust in us, and we can't wait to serve you at our location!