Find an Instructor
Find an Instructor
Corona CA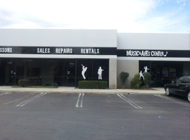 650 E Parkridge Ave Suite 113/115
Corona, CA 92879
Store Hours
Wednesday
11:00am

-

8:00pm
Thursday
11:00am

-

8:00pm
Saturday
10:00am

-

5:00pm
Store Services
Repairs
Returns Allowed
Ship To Store
Curbside Pickup
Lessons
Rentals
Meet Our Instructors
Guitarist and percussionist with over 15 years of playing experience and 10 years of teaching experience.
Read more about Dan Virata
Jaykob Fonseca
Music Teacher, Expert
Instructs:
Bass Guitar, Guitar, Ukulele
I teach guitar, bass, and ukulele and I received my Bachelors degree in Music Education from California Baptist University. There I studied classical guitar,...
Read more about Jaykob Fonseca
Jeremy Norwood
Music Teacher, Expert
Instructs:
Clarinet, Flute, Saxophone
Jeremy Norwood is 24 years old and has lived and performed music in California his whole life. He started his music career in 6th grade when he started playing...
Read more about Jeremy Norwood
Jerusha
Music Teacher, Professional
Jerusha Lumley began playing piano at age five and violin at age seven. She also performed for several years in the National Guild Piano auditions as a...
Read more about Jerusha
Jordan is a musician, arranger, and educator based in Southern California. She has a Bachelor of Music in Trombone Performance from the University of Southern...
Read more about Jordan Wainwright
Josh Munoz
Music Teacher, Expert
Instructs:
Bass Guitar, Guitar, Ukulele
I love music and I have been playing music since I was in the 2nd grade. I graduated from the University of California, Riverside with a Bachelor of Arts degree...
Read more about Josh Munoz
Kengo recently graduated from Cal State Fullerton with a Bachelor's in Music. He has been teaching guitar since 2018. Kengo can teach all levels of guitar,...
Read more about Kengo Fukunaga
After joining choir for the first time in 7th grade, Alexis Delgado fell in love with vocal music and knew it would be their future. Alexis' relationship with...
Read more about Lexi Delgado
Michael Rodriguez lives in Corona, California. He received his bachelor's degree in History with a minor in Music from California State University, San...
Read more about Michael Rodriguez
Ramtin Aynie
Music Teacher, Professional
Instructs:
Bass Guitar, Guitar
Ramtin Aynie is a professional heavy metal guitarist who played in metal festivals. He composed and arranged his first metal album Agony of Death with his band...
Read more about Ramtin Aynie
Richard Clark
Music Teacher, Expert
Instructs:
Bass Guitar, Guitar
About me: I have been playing the guitar since 1982, started performing at live gigs in 1986, and began teaching guitar in 1990. After taking 4 years of lessons...
Read more about Richard Clark
Vicki Woods has taught in the Corona area for 40 years. She has also played in several bands in Riverside and Orange County. Her favorite gig was at Disneyland...
Read more about Vicki Woods
Meet Our Associates
Skip link
Welcome to Music & Arts | Corona CA
Music is our passion, purpose, and priority here at Music & Arts. For over six decades, our mission has been to connect people of every age and walk of life with the resources they need to thrive in the art form we love. As America's most trusted one-stop music shop, we offer name brand instrument and music accessory sales, rentals, repairs, incredible music instruction and a wide selection of books and sheet music. With over 150 locations nationwide, we're big, but we've never lost focus of music's vast importance on a personal level. So no matter where you find yourself in the wide world of music, you'll always have a home at Music & Arts.
Corona, CA, we're proud to be your neighborhood music store! We're conveniently located on Parkland Avenue northwest of Highway 91 and I-15 junction. We're a short walk away from the North Main Corona transit line and Corona's City Park.
We're happy to serve the wonderful community here in Corona and the surrounding areas of Norco, Home Gardens, Eastvale, El Cerrito, Arcilla, Temescal Valley, Chino Hills, Chino, Ontario, Woodcrest, Mead Valley, Perris, Riverside, Jurupa Valley and more!
EDUCATORS
Are you a local music educator based here in town? Stop in and see us the first Monday of every month for our Teacher Appreciation Day and save 30% on books and sheet music! We think the world of our nation's music educators and we can't thank you enough for everything you do. We're here to make your life just a little bit easier!
Nothing makes us happier than seeing young people thrive through music. That's why we've partnered with locals schools to connect music students with instruments, music accessories, and sheet music nationwide for the past 65 years. Our Corona location proudly serves the following local schools: Corona Norco Unified School District, Alvord Unified School District, Jurupa Unified School District, Riverside Unified School District, Lake Elsinore Unified School District.
REPAIRS
Has your instrument seen better days? Every artist needs the right tools to get the job done, so let our instrument maintenance and repair team fix it for you! Whether it's a crack in your acoustic guitar or a ukulele that needs new strings, we can help! Drop your instrument off with us and we'll have it cleaned and fixed up in no time!
LESSONS
Did you know that Travis Barker, legendary drummer of Blink 182 is from Corona? Barker got his start in town and you can too with some private or group lessons taught here in our store! Our staff is university-trained, background-checked and filled with the passion and expertise needed to help you thrive on any instrument no matter your age and background. Ask about our music lessons today!
Got a big show at the Fender Center For The Performing Arts coming up? Let the Music & Arts here in Corona be the last stop before you take the stage! Whether you're in need of guitar strings, sheet music or a last-minute repair, we've got you covered! Break a leg out there!
MORE ABOUT MUSIC & ARTS
Music & Arts began in 1952 when Benjamin O'Brien opened a music store in his Bethesda, Maryland home. Over 65 years and 150 locations later, we've grown and changed considerably over the decades, but we're still owned and operated by the same family and we haven't forgotten our mission of connecting people with music. We're now the nation's leading provider of music instruments, repairs, rentals, and private lessons, and we pride ourselves on helping people thrive in music no matter their education level, age and background. Come visit us at our Corona location today!