Find an Instructor
Find an Instructor
Riverside CA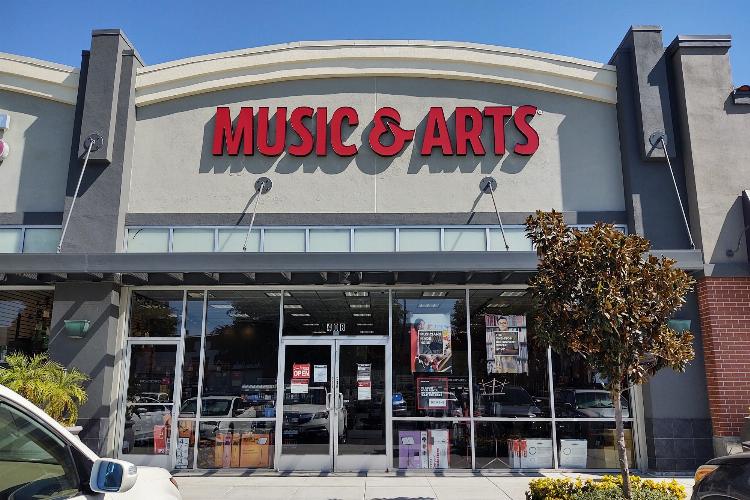 3560 Riverside Plaza Dr Suite 408
Riverside, CA 92506
Store Hours
Wednesday
11:00am

-

8:00pm
Thursday
11:00am

-

8:00pm
Saturday
10:00am

-

5:00pm
Store Services
Returns Allowed
Ship To Store
Curbside Pickup
Lessons
Rentals
Meet Our Instructors
American Mezzo-soprano Abigail Villalta is regarded as a diversely talented up and coming young artist. Her classical training and early roots in...
Read more about Abigail Villalta
Adam Chavira
Music Teacher, Professional
Instructs:
Clarinet, Flute, Piano, Saxophone
Adam began his musical journey on the clarinet at the age of 8. His early love for jazz, ska, swing and bossa nova is what led him to play the saxophone in the...
Read more about Adam Chavira
arthuretta
Music Teacher, Professional
Speaks:
English, Spanish, Chinese
Instructs:
Cello, Piano, Viola, Violin
arthuretta cuicatl garcia is a composer and multi-instrumentalist, born and raised in Southern California. Studying at the Collinsworth School of Performing...
Read more about arthuretta
Cody Breyer
Music Teacher, Master
Instructs:
Bass Guitar, Guitar, Music Theory
Born and raised in Riverside, California, Cody Breyer is a guitar player whose versatility is only rivaled by his charm on the instrument. Having a robust...
Read more about Cody Breyer
Guitarist and percussionist with over 15 years of playing experience and 10 years of teaching experience.
Read more about Dan Virata
Jacob Wallenbrock
Music Teacher, Expert
Instructs:
Baritone, French Horn, Trombone, Trumpet, Tuba
Jacob Wallenbrock is a California based Musician and Performer, from Fontana, CA. At the age of 10, Jacob began a musical journey where he would grow to places...
Read more about Jacob Wallenbrock
Jimmy Gonzales
Music Teacher, Master
Instructs:
Bass Guitar, Guitar, Ukulele
Multi-Instrumentalist Music Instructor with 25+ years of experience seeking to utilize my passion and expertise with professionalism and patience. Competent in...
Read more about Jimmy Gonzales
John Udinsky
Music Teacher, Master
Instructs:
Bass Guitar, Guitar, Music Theory, Ukulele
John Udinsky is a guitarist, arranger and composer originally from Philadelphia, PA. He earned a B.M. in Jazz Guitar Performance from The University of the Arts...
Read more about John Udinsky
Joseph Greene is a pianist, composer and poet from Riverside, California. He began teaching himself to play the piano at the age of eleven, and later began...
Read more about Joseph Greene
Born in Riverside, CA.Studied jazz guitar under Jody Fisher at Riverside City College.Performed and recorded with RCC Guitar Ensemble.Studied composition/music...
Read more about Justin Reich
Kendra Base
Music Teacher, Master
Instructs:
Banjo, Cello, Guitar, Piano, Ukulele, Viola, Violin
I have been playing the drums and percussion for 22 years. I have experience in Marching band, Performance music, Concert Band, Jazz Band, and Live...
Read more about Matthew Gutierrez
Nieves Mejia
Music Teacher, Expert
Instructs:
Guitar, Music Theory, Piano
Hey, my name is Nieves Mejia and my biggest pride comes from the fact my name translates to Icecream; so it behaves to say that I bring Joy through my...
Read more about Nieves Mejia
Rachel Garbutt is a California based musician based in Riverside, California. Having 15 years of playing experience, she has a versatile range of playing styles...
Read more about Rachel Garbutt
Ricky Casioce
Music Teacher, Expert
Instructs:
Clarinet, Flute, Saxophone
Ricky Casioce is a versatile musician and recording/session artist from Riverside, CA. It was at the age of nine that he first began his musical journey and it...
Read more about Ricky Casioce
Meet Our Associates
Skip link
Welcome to Music & Arts | Riverside CA
Here at Music & Arts, music is our top passion and priority. We're here to help you thrive in music no matter your age, interest, education level and background. We offer a comprehensive music shopping experience that includes phenomenal private and group music lessons, name brand instrument sales, accessories, rentals, repairs and a wide assortment of books and sheet music. We pride ourselves on being a steadfast resource for everyone from seasoned professional musicians to young students venturing out into the world of music for the very first time. So no matter who you are and what you're doing with music, you're always welcome here at Music & Arts Riverside, CA.
Welcome to your friendly local music store! We've MOVED! We are now located at 3560 Riverside Plaza Dr Ste #408 Riverside, CA 92506 in the Riverside Plaza Shopping Mall. Our current hours are Mon.-Fri. 11am-8pm Sat. 10am-5pm Sun. 12pm-5pm. We look forward to seeing you at our new store!
We're proud to serve the incredible community here in Riverside and the surrounding areas of Moreno Valley, Jurupa Valley, Crestmore Heights, Belltown, High Grove, Grand Terrace, Loma Linda, Colton, Moonlight Rim, El Casco, Lakeview, Nuevo, Mead Valley, Corona, Eastvale, Norco, Fontana, Rancho Cucamonga, Rialto, Bloomington, Redlands, San Bernardino and more! We are currently serving the following school districts:
Riverside Unified School District
Alvord Unified School District
Perris Union High School District
Menifee Union School District
Moreno Valley Unified School District
Corona-Norco Unified School District
Lake Elsinore Unified School District
Val Verde Unified School District
Colton Joint Unified School District
Rialto Unified School District
Fontana Unified School District
Jurupa Unified School District
San Bernardino City Unified School District
Riverside City College
University of California Riverside
& MORE!!
For over 50 years, Music & Arts has been partnering with local music education programs in schools to provide instrument rentals, repairs, accessories, books and sheet music to music students nationwide. Contact our local school service representative for more information!
Has your instrument seen better days? Our instrument repair team is here to help! Whether you need new strings for your guitar or a crack repaired on your viola, we're here to help get your instrument up and running to help you be your best on stage.
Got an important gig coming up at the Riverside Municipal Auditorium? We're here to be your last stop before you take the stage whether you're a professionally trained opera singer or a self-taught blues guitarist. With everything from instrument sales and rentals to a massive assortment of helpful books and sheet music, Music & Arts is here for all your musical needs.
It's no secret that Riverside is a hotbed for music. Everyone from the Voodoo Glow Skulls to Amy Lee, lead vocalist of Evanescence got their start here, and you can too with some private music lessons taught right here in our store! With a combined decade of experience, our teaching staff teaches theory, technique and songwriting on everything from guitar, drums and bass to a wide variety of band and orchestral instruments. Taking private music lessons at Music & Arts can be helpful whether you've been playing music for decades or are interested in learning how to play an instrument for the very first time!
MORE ABOUT MUSIC & ARTS
Music & Arts began with a humble store located in a house in Bethesda, Maryland in 1952. With over 150 locations nationwide, we've grown leaps and bounds since then, but some things about our company have never changed. Since the very beginning, we've been fiercely committed to the local communities we serve. Owned and operated by the same family since 1952, nothing means more to us than our values. Come visit us at our Riverside location today! Our staff can't wait to meet you.