Find an Instructor
Find an Instructor
San Dimas CA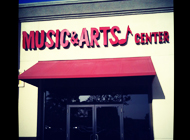 842 W Arrow Hwy
San Dimas Marketplace
San Dimas, CA 91773
Store Hours
Wednesday
11:00am

-

8:00pm
Thursday
11:00am

-

8:00pm
Saturday
10:00am

-

5:00pm
Store Services
Returns Allowed
Ship To Store
Curbside Pickup
Lessons
Rentals
Meet Our Instructors
Bea was born into a musical family. Her father played violin everyday. Bea learned to love music at an early age and started piano lessons at 11 years old. She...
Read more about Bea Dean
Carlos Mendoza
Music Teacher, Professional
Instructs:
Clarinet, Flute, Oboe, Saxophone
I've been an avid fan of music as a whole for as long as I can remember. What started with 2000's alternative hits, eventually led to an appreciation for the...
Read more about Carlos Mendoza
Having grown up in the stark and sheer landscapes of New Mexico, drummer and percussionist Conner Cushman developed an inclination for the gritty and...
Read more about Conner Cushman
Conner Shaw
Music Teacher, Master
Instructs:
Guitar, Music Theory, Technology
Conner is a musician and educator from Colorado. He has taught music for ten years, and performed music for eight. He has performed in jazz bands, the rock band...
Read more about Conner Shaw
Derrick Bell
Music Teacher, Master
Instructs:
Drums, Piano, Technology
Derrick's goal is to help build your imagination, develop your patience and confidence. Engage your mind, empower, motivate, promote discipline, inspire, as...
Read more about Derrick Bell
Isaac Gonzalez
Music Teacher, Expert
Instructs:
French Horn, Trombone, Trumpet
Hello! Good morning, afternoon, evening... My name is Isaac. Whether in a film score or otherwise, music has always been able to touch my soul beyond how I can...
Read more about Isaac Gonzalez
Jackson
Music Teacher, Master
Instructs:
Drums, Guitar, Music Theory, Piano, Technology, Voice
Born near the beach. Eternal student. Aspiring polymath. Devoted & passionate teacher of all things musical.
Read more about Jackson
Jinette Martinez
Music Teacher, Expert
Instructs:
Cello, Piano, Viola, Violin, Voice
Playing my violin has allowed me to travel and meet people around the world. I have played for unique occasions and events such as weddings, funerals, fund...
Read more about Jinette Martinez
Kevin Truong
Music Teacher, Master
Instructs:
Baritone, Trombone, Trumpet
Kevin Truong is a trombonist in Southern California, where he is currently pursuing a Master of Music degree in Music Performance at the USC Thornton School of...
Read more about Kevin Truong
Mary Stone
Music Teacher, Master
Instructs:
Flute, Piano, Piccolo, Voice
Mary Stone, a talented multi-instrumentalist, has been studying music since the age of 5. Her first instrument studied was piano at age 5, followed by flute at...
Read more about Mary Stone
Drummer Mckenna Reeve (she/her) is a versatile performer in many styles on instruments including drumset, vibraphone, and world percussion hailing from Fresno,...
Read more about Mckenna Reeve
Russell Torres
Music Teacher, Master
Instructs:
Baritone, Bass Clarinet, Bassoon, Clarinet, Flute, French Horn, Music Theory, Oboe, Piano, Saxophone, Trombone, Trumpet, Violin
My name is Russell Torres. I am a Christian and enjoy playing the trumpet and piano for my church and singing in various vocal groups in church. I also lead and...
Read more about Russell Torres
Vanessa Gomez is a classically trained vocalist and has studied commercial styles. At Azusa Pacific University, she trained with top professionals in the music...
Read more about Vanessa Gomez
Meet Our Associates
Skip link
Welcome to Music & Arts | San Dimas CA
Music is Joy!!! We are here for any and every music related need. Come visit us at the store or check us out online!
Here at Music & Arts we offer a variety of products and services at your disposal. Instruments for sale such as guitars, drums, pianos, keyboards, brass and woodwinds are available for any player no matter what experience level. We also have all of the corresponding accessories such as reeds, mouthpieces, guitar pics, amps, books, sheet music, cleaning supplies and so much more to help you be successful with whatever you play.
Lessons are a huge thing we do here and take pride in. Getting individual instruction from one of our excellent teachers can improve your skill as a player, help a beginning student or simply just help you learn how to get the most out of your instrument. We are the nation's largest lesson provider and have some awesome teachers which can teach a variety of styles and ages. All of our private instructors go through extensive background checks and come recommended by the community. Check out our teacher's bio profiles on the San Dimas Music and Arts website.
Our San Dimas store is one of the oldest Music & Arts locations in Southern California. We are here to serve music students and educators in the San Dimas area, including the music programs of the Bonita Unified: Allen Elem, Shull Elem, Ekstrand Elem, Gladstone Elem, Grace Miller Elem, LaVerne Heights Elem, Roynon Elem, Oak Mesa Elem, Ramona MS, Lone Hill MS, Bonita HS, and San Dimas HS. Glendora Unified: Cullen Elem, La Fetra Elem, Sellers Elem, Stanton Elem, Sutherland Elem, Williams Elem, Goddard MS, Sandburg MS, and Glendora HS, Covina Valley Unified, Pomona Unified: Lincoln Elem, Arroyo Elem, Barfield Elem, Candelario Elem, Cortez Magnet Sch, Diamond Point Elem, Geo Washington Elem, Golden Springs Elem, Harrison Elem, Lopez Elem, Madison Elem, Kellogg Elem, Kingsley Elem, Leroy Allison Elem, Lexington Elem, and Louisa Alcott Elem, Montvue Elem, Neil Armstrong Elem, Pantera Elem, Philadelphia Elem, Pomona Elem, Pueblo Elem, Ranch Hills Elem, Roy Decker Elem, San Antonio Elem, San Jose Elem, Theo Roosevelt Elem, Vejar Elem, Westmont Elem, and Yorba Elem. Azusa Unified: Alice Ellington Elem, Charles Lee Elem, Clifford Murray Elem, Gladstone Elem, Henry Dalton Elem, Longfellow School, Magnolia Elem, Mountain View Elem, Paramount Elem, Valleydale Elem, Victor Hodge Elem, Center MS, Foothill MS, Slauson MS, and Azusa HS, and Gladstone HS. Walnut Valley Unified, and Claremont Unified school districts and our local college musicians needs fromCal Poly Pomona, Citrus College, Azusa Pacific University, the Claremont Colleges, and Mt. SAC.
Stop by our store in the San Dimas Marketplace (the "Target Shopping Center", just a couple of doors down from Trader Joe's) to talk to our friendly and helpful staff of musicians.