Find an Instructor
Find an Instructor
San Dimas CA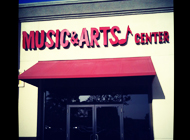 842 W Arrow Hwy
San Dimas Marketplace
San Dimas, CA 91773
Store Hours
Wednesday
11:00am

-

8:00pm
Thursday
11:00am

-

8:00pm
Saturday
10:00am

-

5:00pm
Store Services
Repairs
Returns Allowed
Ship To Store
Curbside Pickup
Lessons
Rentals
Meet Our Instructors
Alyssa found her calling for music at such a young age and has thrived in music throughout her life. The music schools she has attended include: Colburn School...
Read more about Alyssa
David Ellis
Music Teacher, Professional
Instructs:
Bass Guitar, Guitar, Music Theory, Percussion, Piano
My name is David and I have been playing music for over 13 years. I play and teach guitar, electric bass, piano, drums, and I specialize in music theory...
Read more about David
Gaetano Grippo
Music Teacher, Master
Instructs:
Bass Guitar, Guitar, Ukulele
Gaetano (Guy) Grippo discovered the guitar at the age of eleven after being introduced to the music of Led Zeppelin. Beginning his study of the instrument with...
Read more about Gaetano
George Brown
Music Teacher, Professional
Instructs:
Baritone, Trombone, Trumpet, Tuba
George [Brown] graduated from Western Michigan University (WMU) with a bachelor's degree in music education in 2017. While at WMU, George performed in...
Read more about George
Hi I'm James and I love teaching piano. I have been teaching for over 15 years and I always strive to get my students as excited as I am everyday...
Read more about James
Jeremy Norwood
Music Teacher, Expert
Instructs:
Clarinet, Flute, Saxophone
Jeremy Norwood is 24 years old and has lived and performed music in California his whole life. He started his music career in 6th grade when he started playing...
Read more about Jeremy
Mary Stone
Music Teacher, Master
Instructs:
Flute, Piano, Piccolo, Voice
Mary Stone, a talented multi-instrumentalist, has been studying music since the age of 5. Her first instrument studied was piano at age 5, followed by flute at...
Read more about Mary
Nathaniel Antonio
Music Teacher, Professional
Instructs:
Drum Set, Guitar, Percussion, Piano
Nate is a music instructor that started his career as a Dj. Noticing he had a passion for music, he decided to educate himself. He dedicated 4 years of private...
Read more about Nathaniel
Becky Coltman
Music Teacher, Master
Instructs:
Bass Guitar, Guitar, Ukulele
I've been playing guitar for over 50 years - Taught over 30. First started at a classical conservatory . I later studied popular music and studied music in...
Read more about Rebekah
Ryan Maloney
Music Teacher, Master
Instructs:
Bass Guitar, Guitar
Ryan Maloney holds a bachelor's degree in Studio/Jazz Guitar performance from the University of Southern California and a Master's...
Read more about Ryan
Hi, I'm Thomas! I started taking piano lessons at age five, threw in singing at around age twelve, and have been calling myself a musician ever since. I started...
Read more about Thomas
I've been teaching private lessons for over 10 years and have had hundreds of students with one goal in mind: make learning brass instruments fun. With students...
Read more about Travis
Tristan Orr
Music Teacher, Expert
Instructs:
Banjo, Bass Guitar, Guitar, Ukulele
Tristan is a guitarist that comes from a wide musical background of blues, rock, pop and jazz. He has over two decades of experience playing, writing, and...
Read more about Tristan
Meet Our Associates
Skip link
Welcome to Music & Arts | San Dimas CA
Music is Joy!!! We are here for any and every music related need. Come visit us at the store or check us out online!
Here at Music & Arts we offer a variety of products and services at your disposal. Instruments for sale such as guitars, drums, pianos, keyboards, brass and woodwinds are available for any player no matter what experience level. We also have all of the corresponding accessories such as reeds, mouthpieces, guitar pics, amps, books, sheet music, cleaning supplies and so much more to help you be successful with whatever you play.
Lessons are a huge thing we do here and take pride in. Getting individual instruction from one of our excellent teachers can improve your skill as a player, help a beginning student or simply just help you learn how to get the most out of your instrument. We are the nation's largest lesson provider and have some awesome teachers which can teach a variety of styles and ages. All of our private instructors go through extensive background checks and come recommended by the community. Check out our teacher's bio profiles on the San Dimas Music and Arts website.
Our San Dimas store is one of the oldest Music & Arts locations in Southern California. We are here to serve music students and educators in the San Dimas area, including the music programs of the Bonita Unified: Allen Elem, Shull Elem, Ekstrand Elem, Gladstone Elem, Grace Miller Elem, LaVerne Heights Elem, Roynon Elem, Oak Mesa Elem, Ramona MS, Lone Hill MS, Bonita HS, and San Dimas HS. Glendora Unified: Cullen Elem, La Fetra Elem, Sellers Elem, Stanton Elem, Sutherland Elem, Williams Elem, Goddard MS, Sandburg MS, and Glendora HS, Covina Valley Unified, Pomona Unified: Lincoln Elem, Arroyo Elem, Barfield Elem, Candelario Elem, Cortez Magnet Sch, Diamond Point Elem, Geo Washington Elem, Golden Springs Elem, Harrison Elem, Lopez Elem, Madison Elem, Kellogg Elem, Kingsley Elem, Leroy Allison Elem, Lexington Elem, and Louisa Alcott Elem, Montvue Elem, Neil Armstrong Elem, Pantera Elem, Philadelphia Elem, Pomona Elem, Pueblo Elem, Ranch Hills Elem, Roy Decker Elem, San Antonio Elem, San Jose Elem, Theo Roosevelt Elem, Vejar Elem, Westmont Elem, and Yorba Elem. Azusa Unified: Alice Ellington Elem, Charles Lee Elem, Clifford Murray Elem, Gladstone Elem, Henry Dalton Elem, Longfellow School, Magnolia Elem, Mountain View Elem, Paramount Elem, Valleydale Elem, Victor Hodge Elem, Center MS, Foothill MS, Slauson MS, and Azusa HS, and Gladstone HS. Walnut Valley Unified, and Claremont Unified school districts and our local college musicians needs fromCal Poly Pomona, Citrus College, Azusa Pacific University, the Claremont Colleges, and Mt. SAC.
Stop by our store in the San Dimas Marketplace (the "Target Shopping Center", just a couple of doors down from Trader Joe's) to talk to our friendly and helpful staff of musicians.