Find an Instructor
Find an Instructor
Vernon CT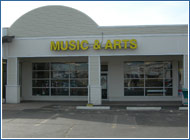 378 Kelly Rd
The Center at Vernon Circle
Vernon, CT 06066
Store Hours
Wednesday
11:00am

-

8:00pm
Thursday
11:00am

-

8:00pm
Saturday
10:00am

-

5:00pm
Store Services
Returns Allowed
Ship To Store
Curbside Pickup
Lessons
Rentals
Meet Our Instructors
Adam Summerer
Music Teacher, Expert
Instructs:
Baritone, French Horn, Trombone, Trumpet, Tuba
Adam has been teaching band, general music, and private lessons in schools across Connecticut for over 15 years and is currently the Music Director in the...
Read more about Adam Summerer
Andrea Shabazian
Music Teacher, Master
Instructs:
Clarinet, Flute, Piano, Saxophone
Andrea Shabazian earned her music education degree from Central Connecticut State University and her Masters of Music degree with a concentration in...
Read more about Andrea Shabazian
Anthony Pagani
Music Teacher, Master
Instructs:
Bass Guitar, Guitar, Ukulele
After graduating from Manchester Community College with an Associate's Degree in liberal arts and sciences, Tony transferred to Berklee College of Music...
Read more about Anthony Pagani
Caitlin Siggia
Music Teacher, Professional
Instructs:
Cello, Music Theory, String Bass, Viola, Violin
I began playing the violin at the age of seven. I studied hard and started private lessons in middle school. By high school, I had performed with States and...
Read more about Caitlin Siggia
Carol Hoyt
Music Teacher, Master
Instructs:
Music Theory, Piano, Voice
Carol has been a teacher for Music & Arts for 10+ Years Plus. She inspires to advance her students skills in Piano or Voice to a Professional Quality. She...
Read more about Carol Hoyt
When I discovered acoustic, classical and (later) flamenco guitar I knew I had found my passion! Besides private study with James Dina and David Giardina,...
Read more about Dawn B. Cwirka
Debbie Vinick
Music Teacher, Master
Instructs:
Music Theory, Piano
I am so happy to be teaching at Music and Arts! I have been playing both piano and harp since age 9. I attended Juilliard's pre-college program and...
Read more about Debbie Vinick
John Giacchi
Music Teacher, Master
Instructs:
Drums, Music Theory
John Giacchi is a drummer/percussionist, music educator, composer, and sound engineer based in the Hartford, CT area. He earned his bachelor's in Music...
Read more about John Giacchi
Alto saxophonist Johnnie-Lee Walton was born in Norwich, CT and has been playing professionally since 2000. His style imbues the straight ahead...
Read more about Johnnie-Lee Walton
Numan Senman
Music Teacher, Expert
Instructs:
Bass Guitar, Clarinet, Guitar, Piano, Saxophone, Ukulele
Hello there, my name is Numan and I am very passionate about music and love teaching it! As a Masters Degreed Music Instructor who has been teaching music for...
Read more about Numan Senman
Philip Demand
Music Teacher, Master
Instructs:
Piano, Trombone, Trumpet
Phil graduated from UCONN in 2004 with a B.A. in Music and B.S. in Education. He currently serves as band director at Cornerstone Christian School and associate...
Read more about Philip Demand
Meet Our Associates
Skip link
Welcome to Music & Arts | Vernon CT
Here at Music & Arts, we're on a mission to connect people of every age, interest and background with the power of music. With over 150 locations across America, we're proud to be the nation's most trusted musical resource. We serve students, parents, music educators and musicians of every stripe with a one-stop shopping experience that offers name brand instruments and music accessories, rentals, repairs, a wide assortment of books and sheet music and phenomenal music instruction. No matter where you find yourself in the world of music, you're always welcome here at Music & Arts!
Welcome to your friendly local music store, Vernon, CT! You can find us on the northwest corner of I-84 and the Hartford Turnpike in the Center at Vernon Circle Shopping Center. We're a short walk away from the Hop River State Park Trail and the Tankerhoosen River.
We're honored to serve the good people of Vernon and the surrounding areas of Bolton, Manchester, East Manchester, Hartford, Windsor, South Windsor, Tolland, Coventry, Andover, Columbia, Addison and more!
Music & Arts is deeply invested in music education. That's why we partner with local music programs in schools nationwide to deliver instruments, music accessories and sheet music to America's music students. Our Vernon location proudly serves the following local schools:
Center Road Vernon, Eli Terry South Windsor, Hall Memorial Willington, Keeney Street Manchester, Maple Street Vernon, Skinner Rd. Vernon, Tolland Middle, Tolland Int., Robertson Elementary Manchester, Hebron Elem, Captain Nathan Hale Coventry, ST. James, Ashford Elementary, Prudence Crandall Elementary, Windermere Elementary Ellington, Two Rivers Magnet East Hartford, Stafford Elementary, Philip R. Smith Elementary South Windsor, Northeast Elementary Vernon, Hebron Elementary, Assumption School Campus and more!
Can't take home the instrument you want today? Check out the Music & Arts layaway program! For no additional cost, we'll set aside the instrument for you to pick up at a later date. Our layaway program is the perfect solution for everyone from families making music purchases on a tight budget to those who want to keep big-box gift items a secret until just the right moment. Speak to a sales associate today to learn about layaway payment options. Bring the joy of music into your home with the layaway program from Music & Arts!
Did you know that Gene Pitney, a singer now in the Rock and Roll Hall of Fame is from Vernon? If you've got big dreams of being in the Rock and Roll Hall of Fame someday, check out our private music lessons! Learn guitar, bass, drums or an orchestral instrument from one of our university-trained teachers!
Gearing up to perform at the Vernon Summer Concert Series this year? Let us help you get ready for the show! With an expert repair and maintenance team on staff and more music accessories than you could shake a stick at, we're here to be your last stop before you take the stage.
MORE ABOUT MUSIC & ARTS
Founded in a Bethesda, Maryland home back in 1952, we're now the nation's leading provider of music lessons, instrument sales, rentals and repairs. Our remarkable story of growth has everything to do with the unshakable relationships we've formed in the many local communities we serve over the decades. With over 150 locations nationwide, we've grown leaps and bounds over the years, but we've never lost sight of music's profound impact on a personal level. Stop in and see us at our Vernon location today!