Find an Instructor
Find an Instructor
Snellville GA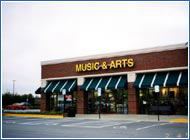 1905 Scenic Highway N Suite 610
Presidential Market Center
Snellville, GA 30078
Store Hours
Wednesday
11:00am

-

8:00pm
Thursday
11:00am

-

8:00pm
Saturday
10:00am

-

5:00pm
Store Services
Clearance
Repairs
Returns Allowed
Ship To Store
Curbside Pickup
Lessons
Rentals
Meet Our Instructors
Austin Bolen
Music Teacher, Master
Instructs:
Bass Guitar, Cello, Guitar, Ukulele, Viola, Violin
I have been teaching private music lessons and performing in various musical groups for over 15 years. My love and passion for music has inspired me to want to...
Read more about Austin Bolen
Eric has been performing professionally since '84 and teaching violin and viola since 2001. He went to Berklee College of Music and moved to the Atlanta area...
Read more about Eric Toomsen
Wen Lee
Music Teacher, Master
Speaks:
English, Chinese, Japanese
Biography: Hi my name is Gracy!! I am currently a piano teacher at Music & Arts. I have been with Music & Arts for years, and I have thoroughly enjoyed...
Read more about Wen Lee
Guy Fenocchi
Music Teacher, Master
Instructs:
Bass Guitar, Guitar, Ukulele
Guy is a professional guitarist, and guitar / bass instructor originally from central New York. He moved to the Atlanta area in 95' teaching privately and...
Read more about Guy Fenocchi
Guy Strauss has over 20 years of professional experience as a touring musician and session drummer for various major label and independent artists. He has...
Read more about Guy Strauss
My name is Heather Henry. I started piano lessons in fourth grade, and immediately loved music!I began clarinet and band class in fifth grade, and fell in love...
Read more about Heather
Joan Gast
Music Teacher, Master
Instructs:
Guitar, Piano, Voice
A native of Upstate New York, Joan has lived and taught in several regions, including Costa Rica and Colombia, (Se habla español.) With over 30 years of...
Read more about Joan Gast
Mark Bond
Music Teacher, Master
Instructs:
Baritone, French Horn, Trombone, Trumpet, Tuba
Michael Brian Cape is an entrepreneurial music educator and private trumpet instructor with over two decades of teaching experience with Music & Arts. After...
Read more about Michael Brian Cape
Nancy Wilson is a native of Atlanta and received her Bachelor of Music degree from Georgia State University. She has studied flute with Warren Little, Marion...
Read more about Nancy Wilson
I am a piano and voice teacher with twenty years of experience. I work with students of all ages , ability levels, and regardless of prior experience. I...
Read more about Nicole Parks
Scott Paretti
Music Teacher, Master
Instructs:
Clarinet, Saxophone
Scott was born and raised in New Orleans. At the University of New Orleans from 1981-1984, Scott played in the concert band, wind ensemble, marching band, jazz...
Read more about Scott Paretti
The Gigs BeginBy this point I am 16 years old and have been serioulsy playing guitar all of 5 months. That was when I was invited to play with the church youth...
Read more about Ulises Galarza
Meet Our Associates
Skip link
Welcome to Music & Arts | Snellville GA
We're avid believers in the incredible impact music can have on a person's life here at Music & Arts. That's why we've made it our mission to connect people of all ages, interests and backgrounds with whatever resources they need to thrive in music. A convenient one-stop music shop, we provide phenomenal private and group lessons, name brand instrument and music accessory sales, rentals, repairs and a massive assortment of books and sheet music. With over 150 locations nationwide, we proudly serve everyone from busy career musicians and educators to young students learning an instrument for the very first time. So no matter where you find yourself in the world of music, we're here to serve you.
Snellville, GA, welcome to your friendly local music store! We're conveniently located just north of the Ronald Reagan Parkway and the Scenic Highway North in the Presidential Market Center. You can find us just southwest of Lake Zola and east of Turkey Creek.
We're proud to serve the wonderful community here in Snellville and the surrounding areas of Lilburn, Centerville, Mountain Park, Rock Bridge, Arbor Bridge, Inbrook West, Stone Mountain, Tucker, Willow Wind, Loganville, Between, Bold Springs, Graystone, Grayson, Monroe, Campton, Lawrenceville, Dacula, Lakeview Estates, Arbor Trace and more!
We all know how much of a pain restringing a guitar or bass can be before a big show, so why not let our maintenance and repair team handle it? The last thing you should be preoccupied with before an important performance is putting strings on your instrument, so drop it off with us and we'll have it cleaned and restrung in no time. We're here to help you get back to what's most important––playing music!
For over sixty years, Music & Arts has been partnering with local music education programs in schools to deliver instruments, music accessories and sheet music to students across the nation. Our Snellville location is proud to serve the following local schools:
Public Schools: Alton Crews MS, Bay Creek MS, Brookwood HS, Couch MS, Creekland MS, Dacula MS, Five Forks MS, George Walton County Academy, Grace Snell MS, Grayson HS, JP McConnell MS, Loganville MS, Louise Radloof MS, Moore MS, Shiloh MS, South Gwinnett HS, Sweetwater MS, Trickum MS, Wynbrooke ES, Youth ES and Youth MS.
Private Schools: Berean Baptist Academy, Covenant Christian Academy, Greater Atlanta Christian School, Killian Hill Christian School, Loganville Christian Academy and Providence Christian Academy.
Teach music here in Snellville? Come in and save 30% on books and sheet music during our monthly Teacher Appreciation Day! We know how difficult your job can be, so we're here to make your life just a little easier. Thanks for everything you do!
Did you know that Clay Cook, member of the Zac Brown Band and songwriter for John Mayer is from Snellville? He got his start in music here and you can too with some private lessons taught here in our store! Our incredible teaching staff has the patience, experience and passion to help you thrive in music whether you're a young student or an old dog wanting to learn some new musical tricks.
Got a gig coming up at the New London theater? Let us be your last stop before you take the stage! With everything from guitar strings and music stands to helpful books and sheet music, we're here to help you perform your best. Break a leg!
Our instrument rental program is a terrific option for parents interested in getting their kids involved with music for the first time. With all of our instruments in the program 100% rent-to-own, this option is a great way to test the musical waters with your kids without committing to a serious purchase.
MORE ABOUT MUSIC & ARTS
Since opening our first store all the way back in 1952, we've been owned and operated by the same family. We've grown leaps and bounds since then, but we've never lost sight of our values and the profound importance of music in the many communities we serve. We're now the nation's leading provider of private music lessons, band and orchestral instrument sales, rentals and repairs, but nothing means more to us than seeing individuals thrive through music in the many communities we serve. Come visit us art our Snellville location today! We can't wait to meet you!