Find an Instructor
Find an Instructor
Clay NY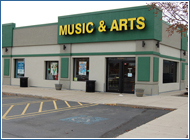 4106 Route 31 Suite 901
Clay, NY 13041
Store Hours
Wednesday
2:00pm

-

8:00pm
Saturday
10:00am

-

3:00pm
Store Services
Returns Allowed
Ship To Store
Curbside Pickup
Lessons
Rentals
Meet Our Instructors
Drew Serafini
Music Teacher, Master
Instructs:
Bass Guitar, Guitar, Mandolin, Ukulele
I am a Syracuse-based guitarist who specializes in jazz, rock and R&B. I have taught guitar and other assorted string instruments at Music and Arts since...
Read more about Drew Serafini
James Abate has been playing and teaching percussion for over 20 years. During that time, he has played in various musical venues in Western NY, Central NY,...
Read more about James Abate
Hey, I'm James! I'm a born-and-raised Central New Yorker, growing up in Liverpool. I am passionate about bringing music to communities of all backgrounds...
Read more about James Smith
Jamie has been writing, recording and performing music live for 15 years.A Syracuse native, Jamie graduated from Musician's Institute in Los Angeles,...
Read more about Jamie Cunningham
Singer/songwriter JT Horne began his musical journey at a young age, singing in his church's choir and participating in band and chorus throughout grade...
Read more about John Horne
I have been teaching private piano lessons in the northern suburbs of Syracuse for over 30 years. I am a graduate of Indiana University of Pennsylvania with a...
Read more about June Mollura
Kara Zimmerman is a multi-instrumentalist with over 25 years of playing experience. She graduated with an A.S. in music from Onondaga Community College in...
Read more about Kara Zimmerman
Kellie Krisak
Music Teacher, Master
Instructs:
Baritone, French Horn, Trombone, Trumpet, Tuba
I am a trombone player. I have been playing trombone for 17 years. I love playing all music, however, if I had to choose a favorite type of music to play, it...
Read more about Kellie Krisak
My name is Lena Monroe, and I am a private lesson teacher for flute and piano. I went to Mansfield University of Pennsylvania for a Bachelor's in music...
Read more about Lena Monroe
Lisa Close
Music Teacher, Master
Instructs:
Bassoon, Clarinet, Flute, Oboe, Saxophone
My name is Lisa Close and I've been playing the flute for nearly my entire life!I'm from Syracuse, New York. I'm 29 and I've attended Onondaga Community...
Read more about Lisa Close
Robert MacPartland is a multi instrumentalist who has been playing music for 15 years and performing professionally for nearly a decade. He holds degrees in...
Read more about Robert MacPartland
Has been teaching and performing in the Syracuse are since 2008. Ryan completed his Associates Degree in 2012 from Onondaga Community College where he was a...
Read more about Ryan Joeckel
Scott Spink is a 2015 graduate of SUNY Oswego, earning a Bachelor's degree in Music as well as a certificate of specialized study of piano. He has been teaching...
Read more about Scott Spink
Meet Our Associates
Skip link
Welcome to Music & Arts | Clay NY
Here at Music & Arts, we're avid believers in the power of music. That's why we're on a mission to get people of all walks of life excited about the art form we love. With over 150 locations nationwide, we're America's most trusted one-stop music shop. We offer name brand instrument and music accessory sales, rentals, repairs, a huge selection of books and sheet music and incredible private and group lessons. We proudly serve people at all points on their unique musical journey, so no matter what you find yourself doing with music, we're here to help you succeed!
Clay, New York, we're here for all your musical needs! We're conveniently located on the southeast corner of Highway 31 and NY-481. You can find us just west of Mud Creek and Clay Park North.
We're proud to serve the community here in Clay and the surrounding areas of Cicero, Bayberry, Liverpool, Lakeland, Syracuse, Belgium, Baldwinsville, Phoenix, Hinmansville, Brewerton, Sand Ridge, Central Square, North Syracuse, Mattydale and more!
Music & Arts deeply values music education. That's why we've been partnering with local music education programs in schools for over six decades. Our Clay location serves the following local schools:
Fabius-Pompey, Lafayette, Tully, Syracuse City, Faith Heritage, Indian River, Mexico, Fulton, Thousand Islands, Cicero-North Syracuse, Central Square, Solvay, East Syracuse-Minoa, Fayetteville-Manlius, Jamesville-Dewitt, Manlius-Pebble Hill, Chittenango, Cazenovia, Christian Brothers Academy, Bishop Grimes, Skaneateles, Marcellus, Union Springs, Jordan-Elbridge, Moravia, Weedsport, Onondaga Central, Port Byron, Baldwinsville, West Genesee, Westhill, Phoenix, New Hartford, Whitesboro, Liverpool, Syracuse and Vernon-Verona-Sherrill and more!
Getting ready for Clay's Concerts In The Park series this summer? With everything from picks, straps, tuners, and reeds to an expert repair and maintenance team on staff, we're here to help you perform your best no matter what type of music you play! Let the Music & Arts here in town be your last stop before you take the stage!
Inspired by the artists you see performing at weddings held at Floral Gardens? If you're interested in learning an instrument like the piano, violin or guitar, check out our music lessons! Our university-trained staff has experience teaching children and adults theory, technique and songwriting on a variety of instruments and styles. Ask about our music lesson options today!
Can't take home the instrument you want today? For no additional cost, we'll set aside the instrument for you to pick up at a later date. Layaway is the perfect solution for everyone from families making music purchases on a tight budget to those who want to keep big-box gift items a secret until just the right moment. Bring the joy of music into your home with the layaway program from Music & Arts!
MORE ABOUT MUSIC & ARTS
For over 65 years, we've been in the business of spreading the joy of music to local communities across America. Now the nation's leading provider of music lessons, instrument sales, rentals and repairs, we've grown and changed in remarkable ways over the decades, but we've never lost sight of music's profound impact on a human level. Stop in and see us at our Clay location today! We can't wait to connect you with everything you need in music.
Other Locations Nearby
3349 Monroe Ave Suite 8
Rochester, NY 14618
Returns Allowed
Ship To Store
Curbside Pickup
Lessons
Rentals