Find an Instructor
Find an Instructor
Lakewood WA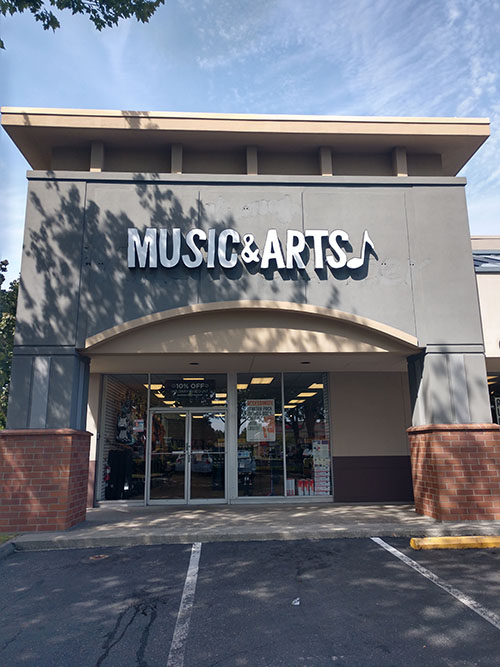 6111 Lakewood Towne Center Blvd SW Suite Q
Lakewood, WA 98499
Store Hours
Wednesday
11:00am

-

7:00pm
Thursday
11:00am

-

7:00pm
Saturday
10:00am

-

6:00pm
Store Services
Clearance
Returns Allowed
Ship To Store
Curbside Pickup
Lessons
Rentals
Meet Our Instructors
I'm a performing & teaching percussionist in my fourth decade of music-making. My work involves a wide range of musical settings including orchestras,...
Read more about Denali Williams
Jerard Mower
Music Teacher, Expert
Instructs:
Music Theory, Saxophone
Jerard M. Mower is originally from Tacoma, Wash. where he began studying music at a young age. He has studied jazz and classical saxophone under the direction...
Read more about Jerard Mower
Josh Goering
Music Teacher, Master
Instructs:
Bass Guitar, Guitar, Ukulele
Logan Vosburg
Music Teacher, Expert
Instructs:
Cello, Music Theory, Piano
I have been playing for 9 years and have taken lessons from various professional cellists. I have also been in various groups throughout my experience. I am...
Read more about Logan Vosburg
Life is all about learning, so let's learn together! All ages and skill levels are welcome!Nick started playing the piano and violin around the age of 11....
Read more about Nick De Los Santos
Rick Rodriguez
Music Teacher, Master
Instructs:
Baritone, Bass Clarinet, Clarinet, Flute, French Horn, Music Theory, Piano, Saxophone, Trombone, Trumpet, Tuba, Voice
Born and raised in El Paso, Texas, Rick has been involved in the arts for 38 years. His musical journey began when he began playing trombone in 6th grade. His...
Read more about Rick Rodriguez
Meet Our Associates
Skip link
Welcome to Music & Arts | Lakewood WA
Music is what we live and breathe here at Music & Arts. That's why we're on a mission to get people of all ages, interests and backgrounds connected with the joy and power of music. With over 150 locations nationwide, we're America's most trusted musical resource. We offer name brand instrument and music accessory sales, rentals, repairs, a huge assortment of books and sheet music and phenomenal music lessons. We proudly serve professional musicians and those new to music alike, so no matter where you find yourself in music, you'll always have a home here at Music & Arts!

Welcome to the Lakewood, Washington Music & Arts store page! We're conveniently located on the southeast corner of 100th St SW and Gravelly Lake Dr SW. You can find us north of Ponce De Leon Creek and east of Steilacoom Lake.

We serve the wonderful community here in Lakewood and the surrounding areas of Steilacoom, Parkland, Midland, Summitt, Allison, Eastword, Ketron, Fredrickson, Waller, Tacoma and more!

Are you a local music teacher? Stop in during our Teacher Appreciation Day the first Monday of every month and save 30% on books and sheet music! Music & Arts has a deep appreciation for our nation's hardworking music educators, and we're here to help make your lives just a little bit easier. Thanks for everything you do!

We partner with schools across the country to provide instruments, music accessories and sheet music to our nation's music students. Our Lakewood store proudly serves the following local schools:

CURTIS JUNIOR HIGH SCHOOL
DRUM INTERMEDIATE SCHOOL
HUDTLOFF MIDDLE SCHOOL
IDLEWILD ELEMENTARY SCHOOL
MANN MIDDLE SCHOOL
NARROWS VIEW INTERMEDIATE SCHOOL
OAKBROOK ELEMENTARY SCHOOL
PERRY KEITHLEY MIDDLE SCHOOL
PIONEER MIDDLE SCHOOL
SALTARS POINT ELEMENTARY SCHOOL
SPANAWAY MIDDLE SCHOOL
TRUMAN MIDDLE SCHOOL
WHITTIER ELEMENTARY SCHOOL

Don't see your school? Just let us know! Email LakewoodMGR@musicarts.com, and we will add you!

Playing at the Cultura Event Center soon? With a huge selection of music accessories like reeds, straps, picks and tuners and an expert instrument repair and maintenance team on staff, let us be the last stop before you take the stage! Our store is here to help you be your very best during performances. Break a leg up there!

Inspired by the talented musicians you see playing at Lakewood's Summerfest every year? If you've been dying to learn how to play an instrument or write some music of your own, check out our music lessons! Learn technique, theory and songwriting on guitar, bass, drums or an orchestral instrument with one of our incredible instructors. Ask about our private and group lessons today!

MORE ABOUT MUSIC & ARTS

Founded in a Bethesda, Maryland home back in 1952, Music & Arts has grown to become America's leading provider of instrument sales, rentals, repairs and music lessons. We've gone through an incredible amount of change over the years, but we've never lost sight of our values and music's profound impact on a personal level. From the hardworking music educator to the parent of a young child learning an instrument for the first time, we're here to connect and support everyone with an interest in music. Stop in and see us at our Lakewood location today! Our friendly staff can't wait to meet you!