Find an Instructor
Find an Instructor
East Mesa AZ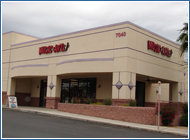 7040 E Hampton Ave
Mesa, AZ 85209
Store Hours
Wednesday
11:00am

-

8:00pm
Thursday
11:00am

-

8:00pm
Saturday
10:00am

-

5:00pm
Store Services
Returns Allowed
Ship To Store
Curbside Pickup
Lessons
Rentals
Meet Our Instructors
Andrew Locke
Music Teacher, Expert
Instructs:
French Horn, Trombone, Trumpet, Tuba
Andrew Locke is a professional music educator and trumpet player in the Arizona valley. He is currently studying at Arizona State University to become a band...
Read more about Andrew Locke
Hi, I'm Asher! I have been playing music for most of my life. I play all sorts of music genres from rock and metal to contemporary jazz fusion.
Read more about Asher Benning
Bella Schwerin
Music Teacher, Professional
Instructs:
Cello, Viola, Violin
My name is Arabella, I am originally from Iowa, I moved to Kansas for undergrad studies, Florida for graduate studies. I have recently moved to the Phoenix area...
Read more about Bella Schwerin
My name is David. I started taking private violin lessons at the age of 11 and played in the orchestra through junior high and high school. Later on, I took up...
Read more about David Seleme
Long-time Mesa, AZ resident with many years teaching experience in voice and piano. A part of Music and Arts teaching staff since 2008. Teaches all ages...
Read more about Deborah Hollenbach
Don Goldstone
Music Teacher, Master
Instructs:
Clarinet, Saxophone
Greetings. Music is my life.I've been involved with music for 58 years. Started playing clarinet at 9 years old ,saxophone at 13, flute at 16. I've...
Read more about Don Goldstone
Donna Miller has been a piano instructor at the Music & Arts East Mesa location (Mesa, AZ) since 2016. She is designated as one of their Master Teachers,...
Read more about Donna Miller
Gavin Munroe
Music Teacher, Expert
Instructs:
Bass Guitar, Guitar
Greetings and salutations, my name is Gavin. I love all music, spanning from jazz to metal, and all the way back again. I have experience preforming in a...
Read more about Gavin Munroe
Jennifer Dock
Music Teacher, Master
Instructs:
Flute, Piano, Piccolo
I grew up in rural North Carolina. There was not much money for education, let alone music education. I played flute in the school band and wanted to be...
Read more about Jennifer Dock
Mark Deangelis
Music Teacher, Master
Instructs:
Banjo, Guitar, Ukulele
Mark started his music career at the age of ten and within two years, he was playing guitar in bands and performing at local dances in the midwest. By the time...
Read more about Mark Deangelis
Robbie
Music Teacher, Expert
Instructs:
Bass Guitar, Guitar
I am a Guitarist from Arizona. I specialize in Jazz performance and was ranked the best jazz guitarist in the state from 2019-2021. I am also very comftorable...
Read more about Robbie
Sarah Peters
Music Teacher, Master
Instructs:
Cello, Viola, Violin
Hello! My name is Sarah Peters.I teach violin, viola and cello. I have been teaching for about 12 years now, and have taught students of many ages and ability...
Read more about Sarah Peters
Meet Our Associates
Hello! My name is Chris and I love music! I'm a giant nerd when it comes to music and I love music history!
Read more about Chris Ortiz
Esteban M
Senior Sales Associate
Expertise:
Clarinets, Concert Percussion, Guitar, Marching Band Accessories, Marching Percussion, Saxophones
Clarinets, Concert Percussion
show more
Hey there! My name is Esteban, I am from Venezuela, I have lived in Houston, Texas, and moved to Arizona in 2013. I have had a passion for music my whole life.I...
Read more about Esteban M
Molly Nieves
Retail Sales Associate
Expertise:
Guitar, Pro Audio
Hey! My name is Molly. I'm a singer/songwriter from Phoenix. I play guitar and produce my own music. I have a huge passion for all things music.
Read more about Molly Nieves
Skip link
Welcome to Music & Arts | East Mesa AZ
Music is what we live and breathe here at Music & Arts. That's why for over 65 years, we've been in the business of connecting people of every age and walk life with every resource they need to thrive in the art form we love. From name brand instrument and music accessory sales, rentals and repairs to incredible music lessons and a wide assortment of books and sheet music, we're America's favorite one-stop music shop. We're proud to serve people at every stage on their musical journey, so you're always welcome at Music & Arts whether you're a student, parent, educator or musician.
Welcome to the East Mesa Music & Arts store page! Visit us in the Mesa Pavilions Shopping Center on East Hampton Avenue. We're here for all your musical needs! You can find us a short walk away from Golden Hills Park and the Flood Control Canal.
>We're proud to serve the wonderful community here in East Mesa and the surrounding areas of Gilbert, Chandler, Chandler Heights, Guadalupe, Tempe, Mesa, Scottsdale, Paradise Valley, Fountain Hills, Apache Junction, Youngberg, Gold Canyon, Queen Creek and more!
Not able to take home a new instrument today? Our layaway program is the answer! For no additional cost, we'll set aside the instrument for you to pick up later. This program is great for everyone from families making music purchases on a tight budget to those who want to keep gifts a secret until just the right moment. Speak to a sales associate today to learn about layaway payment options today!
Are you a local music teacher based in East Mesa? Music & Arts has a huge appreciation for our nation's music teachers, and we're here to help make your lives just a little bit easier. Stop in and see us the first Monday of every month and receive a 30% discount on books and sheet music during our Teacher Appreciation Day! Thanks for all the good you do!
Did you know that country music star Buddy Alan is from Mesa? If you've got a-hankerin' to learn some guitar or to write some songs of your own, check out our private music lessons! Working with one of our talented university-trained teachers can help give you the skills and confidence you need to succeed in music.
Are you a local musician getting ready for a show at the Mesa Encore Theater? With a broad selection of music accessories and an expert instrument repair and maintenance team on staff, we're here to help you be your very best during performances. Let the Music & Arts here in Mesa be your last stop before you take the stage!
MORE ABOUT MUSIC & ARTS
Founded in 1952, the first Music & Arts store was run out of a house in Bethesda, Maryland. Hundreds of locations and six decades later, we owe our remarkable success to the countless relationships we've formed in communities nationwide. We're proud to now be America's leading provider of private music lessons, instrument sales, rentals and repairs, but we've never lost sight of music's profound impact on a personal level. Stop in and see us at our Mesa location tod