Find an Instructor
Find an Instructor
Orlando Millenia FL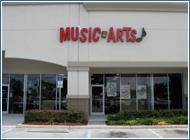 4676 Millenia Plaza Way
Orlando, FL 32839
Store Hours
Wednesday
12:00pm

-

8:00pm
Thursday
12:00pm

-

8:00pm
Saturday
10:00am

-

5:00pm
Store Services
Repairs
Returns Allowed
Ship To Store
Curbside Pickup
Lessons
Rentals
Meet Our Instructors
Janet
Music Teacher, Master
Instructs:
Guitar, Piano, Ukulele, Voice
Music has been my passion most of my life. Whether performing, teaching, going to performances or listening to music in my car or at home, I really love...
Read more about Janet
From a young age, Jaron has had a passion for music. His first inspiration of music was seeing his grandfather, Orville, playing the violin at the age of three....
Read more about Jaron Clark
A musician since childhood, Jeffry has been influenced and shaped by many musical styles and many musicians. With nearly two decades of private study, he...
Read more about Jeffry Kuznicki
Joshua Grossnicklaus
Music Teacher, Master
Instructs:
Baritone, French Horn, Trombone, Trumpet, Tuba
Mr. Joshua Grossnicklaus has been a trumpet player for over 25 years, and has been our brass instructor since 2020. Growing up in Florida, he began playing in...
Read more about Joshua Grossnicklaus
Kanye Mugo
Music Teacher, Master
Instructs:
Bass Guitar, Guitar, Ukulele
Kanye started playing music professionally in the city of Pittsburgh. His first gig was an organ trio, which sparked his love for the Hammond B3 organ. With...
Read more about Kanye Mugo
Katherine Yoon, born in South Korea, started piano when she was 6 years old. As a young child, she attended a missionary school and was an accompanist for many...
Read more about Katherine Yoon
Meet Our Associates
Skip link
Welcome to Music & Arts | Orlando Millenia FL
Music & Arts is on a mission to get people of all walks of life connected with the joy of music. We believe that music makes the world a better place and that everyone should have access to it. As America's most trusted one-stop music shop, we offer everything from phenomenal music lesson options to name brand instrument and music accessory sales, rentals, repairs and a wide assortment of books and sheet music. So no matter where you find yourself in the world of music, you'll always have a home here at Music & Arts.
Welcome to the Orlando Millenia Music & Arts store! We're here to connect you with everything you need to succeed in music. You can find us on the northeast corner of I-4 and Conroy Road in the Millenia Plaza shopping center. We're a short walk away from Lake Millenia and Clear Lake Park.
We're proud to serve the wonderful community here in Orlando and the surrounding areas of Oak Ridge, Pine Castle, Skye Lake, Meadow Woods, Williamsburg, Lake Buena Vista, Doctor Phillips, Lake Butler, Windermere, Gotha, Orlovista, Pine Hills and more!
Nothing makes us happier than seeing the youth in our community thrive through music. That's why we partner with local music education programs nationwide to connect music students with an instrument, music accessories and sheet music. Our store proudly serves the following local schools:
Southwest MS, Hunter's Creek MS, Celebration K-8, Apopka MS, Avalon MS, Chain of Lakes MS, Conway MS, Corner Lake MS, Discovery MS, Freedom MS, Glenridge MS, Gotha MS, Howard MS, Lake Nona MS, Lakeview MS, Lee MS, Legacy MS, Liberty MS, Lockhart MS, Maitland MS, Meadow Woods MS, Meadowbrook MS, Memorial MS, Ocoee MS, Odyssey MS, Piedmont Lakes MS, Robinswood MS, South Creek MS, Sunridge MS, Union Park MS, Walker MS, Westridge MS, Wolf Lake MS, Denn John MS, Discovery Intermediate MS, Horizon MS, Kissimmee MS, Neptune MS, Osceola County School of the Arts, Parkway MS, Saint Cloud MS, Apopka HS, Colonial HS, Cypress Creek HS, Dr. Phillips HS, East River HS, Edgewater HS, Freedom HS, Jones HS, Lake Nona HS, Maynard Evans HS, Oak Ridge HS, Olympia HS, Dr. Phillips HS, Timber Creek HS, University HS, Wekiva HS, West Orange HS, Boone HS, Winter Park HS and more!
Got dreams of performing at The Social or The Abbey someday? Our private and group music lessons can help! Learn theory, technique and songwriting on the guitar, bass, ukulele, drums or an orchestral instrument with one of our university-trained teachers! Whether you want to rock on the guitar or give your child the joy of music, we can help! Ask about our music lessons today!
Did you know that Scott Stapp from the band Creed is from Orlando? If you're gearing up to play some rock music here in town or on the road nationally, let us be your last stop before you take the stage! We carry a massive selection of music accessories and have an expert instrument repair and maintenance on staff able to handle last minute requests. We're here to help you play your best!
MORE ABOUT MUSIC & ARTS
Founded in a Bethesda, Maryland home over six decades ago, we're now America's leading provider of music lessons, instrument sales, rentals and repairs. With well over 150 locations across the nation, we've grown quite a bit over the years, but our commitment of connecting the local communities we serve with the joy of music has never changed. We've been owned and operated by the same family since the very beginning, and our sense of values informs everything we do as a company.
HELP WANTED!
We are currently looking for Music Instructors. For more information on the positions, please click HERE