Find an Instructor
Find an Instructor
Oxon Hill MD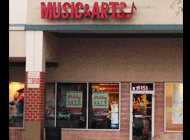 6151 Oxon Hill Rd
Oxon Hill, MD 20745
Store Hours
Wednesday
11:00am

-

8:00pm
Thursday
11:00am

-

8:00pm
Saturday
10:00am

-

5:00pm
Store Services
Returns Allowed
Ship To Store
Curbside Pickup
Lessons
Rentals
Meet Our Instructors
Adrian Mitchell
Music Teacher, Master
Instructs:
Baritone, French Horn, Guitar, Trombone, Trumpet, Tuba
Hello my name is Adrian Mitchell and I am your go to Brass instructor for Music & Arts. I am currently a instrumental music educator in the Prince...
Read more about Adrian Mitchell
Alvin White
Music Teacher, Master
Instructs:
Bass Guitar, Guitar
Alvin grew up in a small town called Brandywine, Maryland. His father, who was aBaptist minister, also sang in the church. Well needless to...
Read more about Alvin White
I am a professional pianist and educator. I graduated from PGGC with an Associate degree of Music, specifically piano. I also studied jazz piano at...
Read more about Frederick Greene
Hi! I'm George Jones and I have been teaching Drum and Percussion in the area for the last 20 years. I graduated from Howard University with a Major in Music...
Read more about George Jones
Violinist Jordan Johnson has freelanced in the Maryland, Virginia, and Washington D.C. Metro areas since 2010. As an instructor, he has taught...
Read more about Jordan Johnson
Ken Landon
Music Teacher, Master
Instructs:
Bass Guitar, Guitar
Ken has been Teaching guitar since studying music at the college level. He is an avid composer, dog lover and Guitar Teacher. He is an alumni of Berklee...
Read more about Ken Landon
Martin Nau
Music Teacher, Master
Instructs:
Clarinet, Flute, Saxophone
Marty Nau is a 41 year veteran of the music business in Washington DC. He spent 20 years in the Navy band Commodores Jazz Ensemble and retired in 1997....
Read more about Martin Nau
Hi! My name is Matt and I have been teaching piano and trombone for over 10 years. I play trombone professionally in the DC/Maryland area, and also love...
Read more about Matthew Thompson
Max Phelps
Music Teacher, Master
Instructs:
Bass Guitar, Guitar
Max Phelps has been playing guitar for twenty years and has taught music professionally for the last ten. He has performed internationally in over 30 countries...
Read more about Max Phelps
Timothy Bias
Music Teacher, Master
Instructs:
Piano, Trombone, Voice
Wilbur Harris
Music Teacher, Master
Instructs:
Bass Guitar, Guitar, Ukulele
Wilbur Roger Harris. A native of Washington, D.C. The home town legend as a child was infatuated with music and musical instruments. His father bought him his...
Read more about Wilbur Harris
Meet Our Associates
Skip link
Welcome to Music & Arts | Oxon Hill MD
Since opening our first store all the way back in 1952, our mission here at Music & Arts has been to open up people of all ages and backgrounds to the incredible power of music. We wholeheartedly believe in music's profound impact on a personal level, and we're honored to connect music lovers across the nation with whatever they need to be successful in music. With over 150 locations nationwide, we provide instrument sales, rentals, repairs, incredible private music instruction and music accessories to students, parents, music educators and musicians of all interests.
Conveniently located minutes away from the National Harbor and Andrews Air Force Base, our Oxon Hill location proudly services schools and families in Prince George's County, MD., Charles County, MD., Calvert County, MD., and Washington DC. Whether it's renting instruments for school programs, or taking private lessons to fuel a hobby or practice for an audition, Oxon Hill offers it all. We're located in Rivertowne Commons near Oxon Hill High School just northeast of the Carey Branch River.
Our in-store specialists can help you find anything and everything you need for band and orchestra class. As a plus, they can also assist you in finding the right guitar, bass, drum set, piano and appropriate accessories and books to go along with the instruments, whether it's for a hobbyist, a beginner, or even a developing player. Looking for recording gear and DJ equipment? Our staff can set you up with exactly what you're looking for as an aspiring producer and songwriter.
Music & Arts is proud to support local music education programs nationwide. Our Oxon Hill location serves music programs in the following schools:
Accokeek Academy, Allenwood Elementary School , Apple Grove Elementary School, Avalon Elementary School, Barnaby Manor Elementary School, Benjamin Foulois Creative And Performing Arts Academy, Brandywine Elementary School, Capitol Heights Magnet Elementary School, Clinton Grove Elementary School, Flintstone Elementary School, Forest Heights Elementary School, Fort Foote Elementary School, Fort Washington Forest Elementary School, Francis T Evans Elementary School, From The Heart Christian Elementary School, Glassmanor Elementary School, Grace Brethren Christian School, Hillcrest Heights Elementary School, Imagine Andrews Public Charter School, Imagine Lincoln Public Charter School, Indian Queen Elementary School, Isaac J Gourdine Middle School, James Ryder Randall Elementary School, John Hanson Montessori School, Maryland International Day School, Maya Angelou French Immersion School, North Forestville Elementary School, Oxon Hill Elementary School, Oxon Hill High School, Oxon Hill Middle School, Potomac Landing Elementary School, Princeton Elementary School, Rosaryville Elementary School, Rose Valley Elementary School, Stephen Decatur Middle School, Tayac Academy, Valley View Elementary School, And Waldon Woods Elementary School.
Lessons
Music & Arts is the nation's largest lesson provider, with over 1.25 Million private lessons taught each year. Our instructors are experienced and well qualified, many of them having more than one college degree in their instrument. They're flexible, and most importantly, they make learning music fun. In Oxon Hill, we have six studios for private instruction, two of which are outfitted with pianos, and one of which is outfitted with two drumsets and another for student and teacher use. At our store, we currently teach over 200 students per week, with lessons taught every day. In addition to teaching the extremely popular instruments such as guitar and piano, we have many teachers daily who teach various band and orchestra instruments. Please check out our Teacher Roster to find out more about the teachers at our store. For more information, fill out a Lesson Request, or call 301-686-0406.
Want to learn how to compose music? Famous composer Sammy Nestico got his start right here in Oxon Hill and you can too with the help of our instructors! With a broad depth of experience ranging from music theory and composition to proficiency on a variety of instruments, the private instruction staff here at Oxon Hill is ready to help!
We're your one-stop-shop when it comes to instrument and gear brands. In the world of combo instruments including guitars, keyboards, and drumsets, we carry all of the top brands including Fender, Taylor, Epiphone, Breedlove, Eastman, Yamaha, Ibanez, Mapex, Meinl, Tama, Pearl, Vox, Ampeg, Mitchell, Jasmine, and many, many more! Our line of band and orchestra instruments is just as impressive––we carry Buffet, Yamaha, Gemeinhardt, Getzen, Jupiter, Bundy, Vincent Bach, Powell, Ventus, Verve, as well as Otto Benjamin string instruments. We're also the only Music & Arts in the Mid-Atlantic to carry a full range of Pro Audio equipment for live sound, and recording. Brands include Mackie, Korg, Harbinger, Yamaha, Audix, Shure, Audio-Technica, Presonus, IK Multimedia, and more!
Whether you're getting ready to play at one of Washington DC's incredible punk venues or a string quartet wedding gig at the Oxon Hill Manor, we're here to connect you with everything you need to make your performance a big success. With everything from guitar tuners and strings to metronomes, sheet music and band and orchestra accessories, we're happy to be a comprehensive resource for every sort of musician.
Rentals
Music & Arts is the largest provider of instrument rentals, with more than 200,000 instruments being rented annually. Our rental program is simple, easy, and 100% rent-to-own! All of your rental payments go towards the purchase of the instrument you're renting. We also offer special payoff options to our rental customers. Along with our program, you have the option of exchanging your rental instrument for another of equal or greater value, and all of your rental money will transfer from one to the other. We highly recommend taking advantage of our rental instrument repair plan. Some repairs can be costly, and it's nice to know that you'll be covered when the time comes for repairs or even routine maintenance.
In Prince George's County, Charles County, Calvert County, and Washington D.C., we carry educator-approved brands, such as Yamaha, Gemeinhardt, Jupiter, and Bundy for band instruments, and Scherl & Roth, Glaesel, and Eastman for string instruments. We also have a full assortment of method books students need for their school classes in school, plus the supplies they'll need to get started and be successful.
For more information about how to rent or our program, please call us at 301-686-0406. You can even rent through our Online Rentals webpage and have your instrument sent to you, or you can pick it up in our store. We have rental instruments available every day of the week!
Repairs
Music & Arts is the largest provider of band and orchestra repair services, with more than 75 repair shops in service across the country. Simply drop off your instrument at our store, and we will send it to our certified repair technicians for all your repair needs. At our Oxon Hill location, we send our repairs to our cutting-edge repair facility in Frederick, Maryland, also home of our corporate headquarters. Our band and string repair shops in Frederick are among the best in the country, and we opened brand-new facilities in 2013. Whether it's repadding a saxophone, pulling a stuck trumpet slide, or even rehairing a violin bow, we can send it to our repair shop. Our shuttle runs from Oxon Hill to Frederick every Monday, Wednesday, and Friday. For more information regarding our Repairs program, please call us at 301-686-0406.
More about Music & Arts
Music & Arts is proud to be the nation's largest provider or band and orchestra instrument sales, private music lessons and instrument rentals. We pride ourselves on delivering a comprehensive shopping experience to musicians ranging from complete beginners to career professionals, and nothing makes us happier than helping our customers thrive in music. Since the very beginning, we've been owned and operated by the same family, and though we've become a big company, we've never lost sight of music's impact on individuals and local communities. Come visit out Oxon Hill location today where our friendly staff will be happy to meet you!