Find an Instructor
Find an Instructor
Summerlin NV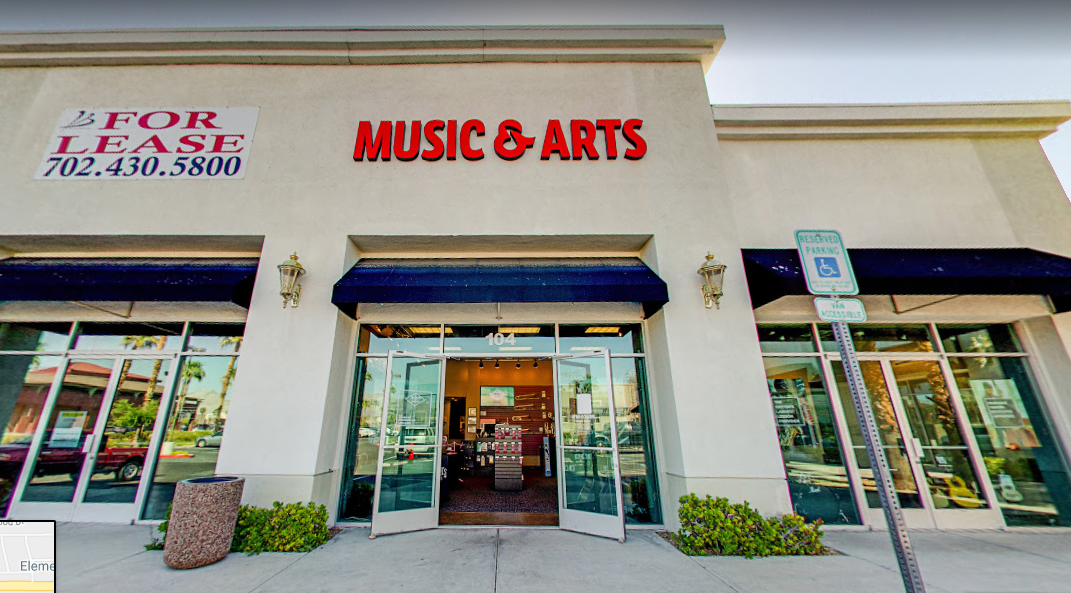 8700 W Charleston Blvd Suite 104
Las Vegas, NV 89117
Special Store Hours
Temporary Hours for Monday, 05/30
11:00am

-

6:00pm
Store Hours
Wednesday
11:00am

-

8:00pm
Thursday
11:00am

-

8:00pm
Saturday
10:00am

-

5:00pm
Store Services
Returns Allowed
Ship To Store
Curbside Pickup
Lessons
Rentals
Meet Our Instructors
I received a Bachelor degree and a Master's degree from UNLV in Violin Performance in 2018. As being a graduate assistant at UNLV, I was teaching theory...
Read more about Dmytro Nehrych
I am a professional singer and pianist who has been performing since the age of twelve. I have sung backup on numerous albums, movies, and TV shows, and...
Read more about Eileen Weiser
Gregory Koenig
Music Teacher, Master
Instructs:
Bass Guitar, Guitar, Mandolin, Ukulele
Greg Koenig is an multi-instrumentalist, music educator, and advocate for arts. He received two Master of Music degrees from the University of Nevada, Las...
Read more about Gregory Koenig
Justin Marquis
Music Teacher, Expert
Instructs:
Clarinet, Flute, Saxophone
Hello! I'm Justin, born and raised near Cincinnati, Ohio. I started with my dad's old saxophone when I was 10 years old and just never stopped. I...
Read more about Justin Marquis
Kevin Balzano
Music Teacher, Expert
Instructs:
Bass Guitar, Guitar
Hello, my name is Kevin Balzano. I'm a Musicians Institute Guitar Program Graduate Class of 2010. Since graduation I've spent the last 10 years teaching guitar...
Read more about Kevin Balzano
Hi there, I'm Kimi! I was born in California, raised in Arizona, and received my Master's degree in Tennessee. I have been playing and performing on violin...
Read more about Kimi Rendahl
Mitchell Hansen
Music Teacher, Master
Instructs:
Baritone, French Horn, Piano, Trombone, Trumpet, Tuba
Mitchell Hansen is a Horn Player currently living in Las Vegas. Born in Chicago IL, Mitchell Hansen has always been inspired by the wonderful horns of the...
Read more about Mitchell Hansen
Riley Chrisman
Music Teacher, Expert
Instructs:
Bass Guitar, Guitar, Trumpet
I am Riley! I am originally from Alabama where I developed my Jazz, blues, and rock and roll background before moving to Vegas to pursue further developing my...
Read more about Riley Chrisman
Tony Monroy
Music Teacher, Expert
Instructs:
Bass Guitar, Guitar
Hello, my name is Tony and I've been instructing guitar and bass guitar for over ten years. My students come from all walks of life. Beginners, Intermediate,...
Read more about Tony Monroy
Meet Our Associates
Mark
Senior Sales Associate
Expertise:
Keyboards & MIDI, Marching Percussion, Percussion
Keyboards & MIDI, Marching Percussion
show more
I have been doing percussion since middle school, and i take a lot of interest in marching band. I am experienced with marching snare drum, marching bass, and...
Read more about Mark
In my senior year of high school, I was the bottle flipping champion for the class of 2017. Started playing guitar when I was 16 and did choir all 4 years of...
Read more about Will Hades
William D
Retail Manager
Expertise:
Amplifiers & Effects, Bass Guitar, Guitar, Pro Audio
Amplifiers & Effects, Bass Guitar
show more
My name is William; I've been playing bass/guitar for over 14 years. I have a diverse performance history, having played with rock bands, jazz outfits, folk...
Read more about William D
Skip link
Welcome to Music & Arts | Summerlin NV
Welcome to your friendly local music store, Music & Arts Summerlin, NV! You can find our store located on W Charleston Rd and Merialdo Ln.We're conveniently located in Boca Park next to the Melting Pot and Shoe Lab.
For over 65 years, it's been our mission to connect people of every age, background and education level with the tools and resources they need to thrive in music. Here at Music & Arts, music is our deepest passion, and we're here to help you thrive in the art form we love whether you're a seasoned professional musician or are learning about music for the very first time. As America's most trusted one-stop music shop, we offer name brand instrument and music accessory sales, rentals, repairs, a massive selection of books and sheet music and incredible private and group music instruction.
In addition to the great community here in Summerlin, we also serve the surrounding areas of Spring Valley, Blue Diamond, North Las Vegas and more!
EDUCATORS
For over six decades, we've been partnering with local schools to provide music students with instruments, music accessories and sheet music nationwide. Our Summerlin store proudly serves the following local schools:

• A Tech• Arbor View HS• Basic HS• Bonanza HS• Boulder City HS• Canyon Springs HS• Centennial HS• Chaparral HS• Cheyenne HS• Cimarron MEM HS• Clark HS• Coronado HS• Cowan/Sunset• Del Sol Academy• Desert Oasis HS• Desert Pines HS• Durango HS• Eldorado HS• Foothill HS• Global Community• Green Valley HS• High Desert Prison• Indian Springs HS• Las Vegas Academy• Las Vegas HS• Laughlin JH/HS• Legacy HS• Liberty HS• Moapa Valley HS• Mojave HS• Morris/Sunset• NW CTA• Palo Verde HS• Rancho HS• Sandy Valley HS• Shadow Ridge HS• Sierra Vista HS• Silverado HS• Spring Valley HS• Sunrise MTN HS• Sunset/Cowan HS• SW CTA• Valley HS• Variety School• Virgin Valley HS• West CTA• West Prep HS• Western HS • Becker MS• Bailey MS• Bridger MS• Brinley MS• Brown MS• Burkholder MS• Cadwallader MS• Canarelli MS • Cannon MS• Cashman MS• Cortney MS• Cram MS• Escobedo MS• Faiss MS• Fertitta MS• Findlay MS• Fremont MS• Garrett MS• Garside MS• Gibson MS• Greenspun MS• Guinn MS• Harney MS• High Desert Prison• Hughes MS• Hyde Park MS• Indian Springs MS• Johnson MS• Johnston MS• Keller MS• Knudson MS• Laughlin JH/HS • Lawrence MS• Leavitt MS• Lied MS• Lyon MS• Mack MS• Mannion MS• Martin MS• Miller MS• Molasky MS • Monaco MS• O'Callaghan MS• Orr MS• Robison MS• Rogich MS• Sandy Valley MS• Saville MS• Sawyer MS • Schofield MS• Sedway MS• Silverstri MS• Smith MS• Swainston MS• Tarkanian MS• Von Tobel MS• Webb MS • West Prep MS• White MS• Woodbury MS

We welcome all elementary school students as well

LESSONS
Want to learn an instrument in a fun, social setting? Our group lessons are a terrific way for friends, families and coworkers to learn something new and bond at the same time! Learning an instrument like the guitar, ukulele or bass is easy when you have the help of not only your instructor but also your peers. Ask about our group lessons today!
Got dreams of performing in a local symphony or into the music conservatory of your dreams? Our private lessons can take you where you want to go musically whether you want to learn how to read music or play the blues by ear. Our incredible university-trained staff has the expertise, talent and passion to help you thrive in music no matter your age and background.
Gearing up for a big show at the Summerlin Library and Performing Arts Center? Whether you play violin professionally or the fiddle for fun, let our store be your last stop before you take the stage! With everything from strings, stands, tuners and sheet music to an expert repair and maintenance team ready to assist with last minute needs, we're here to help you play your best on stage. Break a leg up there!
MORE ABOUT MUSIC & ARTS
Family-owned and operated since the very beginning, Music & Arts is now the nation's leading provider of instrument sales, rentals, repairs and private music lessons. With over 200 locations nationwide, we've grown leaps and bounds over the past 65 years, but nothing means more to us than seeing individuals thrive through music within the many communities we serve. Come visit us at our Summerlin location today! We can't wait to meet you.
Other Locations Nearby
7355 S Rainbow Blvd Suite 120
Las Vegas, NV 89139
Returns Allowed
Ship To Store
Curbside Pickup
Lessons
Rentals
643 N Stephanie St Suite 13
Henderson, NV 89014
Returns Allowed
Ship To Store
Curbside Pickup
Lessons
Rentals