Find an Instructor
Find an Instructor
South Austin TX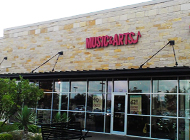 5207 Brodie Ln Suite 220
Sunset Valley, TX 78745
Store Hours
Wednesday
11:00am

-

8:00pm
Thursday
11:00am

-

8:00pm
Saturday
10:00am

-

5:00pm
Store Services
Returns Allowed
Ship To Store
Curbside Pickup
Lessons
Rentals
Meet Our Instructors
Adam Temple
Music Teacher, Master
Instructs:
Guitar, Ukulele
Hello, My name is Adam. As a professional guitar teacher, I combine fundamental skills like tuning, technique, scales, and chords with a...
Read more about Adam Temple
Hello, my name is Alyssa Pasaol and I have been playing the violin for 10+ years. I recently received my bachelor's degree in violin performance from the...
Read more about Alyssa
Hello, I am Charline and I have been involved in music many years. I have a Bachelor of Arts and Music from Southern Methodist University and currently...
Read more about Charline Liu
Dustin Smurthwaite
Music Teacher, Master
Instructs:
Bass Guitar, Clarinet, Guitar, Piano, Saxophone, Trombone, Trumpet
My name is Dustin. I have 27 years of experience as a professional music performer and 18 years of experience as a teacher in urban, suburban, and rural...
Read more about Dustin Smurthwaite
Greg Seale wasn't born with drumsticks in his hands, but he didn't wait long to grab some. At the age of four, after his relentless banging on pots, pans,...
Read more about Greg Seale
Hello, My name is Oscar and I am currently studying music at Austin Community College.I have been playing 18 years and self-taught electric guitar, bass, and...
Read more about Oscar Garcia
Hello, My name is Joshua Salmon and I currently study under the trumpet and education faculty at Texas State University. I have been playing for 10 years...
Read more about Joshua Salmon
Hello, My name is Julianne Tran. I have been playing piano for about 18+ years and I have 8 years of teaching experience. I am currently a college...
Read more about Julianne Tran
Michael Mcmillon
Music Teacher, Master
Instructs:
Bass Guitar, Drums, Piano, Trumpet
Michael was born on September 29th, 1987. Michael, at 7 years old , realized he had a passion for music. In 3rd grade, Michael attended Newton D. Baker School...
Read more about Michael Mcmillon
Shawn Lesure
Music Teacher, Master
Instructs:
Piano, Viola, Violin
Shawn is a graduate of the Oberlin Conservatory and has been playing the violin since the age of ten. He comes from a musical family where his older...
Read more about Shawn Lesure
Tom Raines started learning piano at a young age and moved on to percussion in middle school. Throughout his public-school career, he performed with...
Read more about Tom Raines
Trevor
Music Teacher, Expert
Instructs:
Bass Guitar, Clarinet, Piano, Saxophone
Hi, My name is Trevor and I am a woodwind specialist with over 10 years of experience as a saxophonist. I have an Associates degree in Saxophone...
Read more about Trevor
Meet Our Associates
Alexxa B
Senior Sales Associate
Expertise:
Drums & Percussion, Guitar
Howdy, my name is Alexxa! I learned percussion in school for seven years as well as being a self taught drummer and guitarist of over 10 years. I have played...
Read more about Alexxa B
As a passionate musician, I strongly believe music to be a powerful and universal language which can be an incredible form of expression among individuals. My...
Read more about Eric Gronneberg
Vance V
Retail Manager
Expertise:
Brass, Brass Accessories, Clarinets, Drums & Percussion, Flutes & Piccolos, Marching Percussion, Orchestral Strings, Orchestral Strings Accessories, Percussion, Pro Audio, Woodwind Accessories, Woodwinds
Brass, Brass Accessories
show more
I was born in Austin, Texas, and grew up in Ft. Worth, Texas. I have had a love for music and have been playing drums and percussion for as long...
Read more about Vance V
Skip link
Welcome to Music & Arts | South Austin TX
Here at Music & Arts, it's our mission to connect people of all ages, interests and backgrounds with the resources they need to thrive in music. With over 150 locations nationwide, we're America's most trusted music resource. We offer a comprehensive music shopping experience to students, parents, music educators and musicians that includes excellent private music instruction, name brand instrument and music accessory sales, rentals, repairs and a wide selection of books and sheet music. Whether you're a seasoned career musician or are learning how to play an instrument for the first time, we're here to help you thrive in music.
Welcome to your friendly local music store, South Austin, Texas! We're conveniently located near the MoPac Expressway and US Highway 290 on Brodie Lane. Our store has the good fortune of being located between the Sunset Valley Nature Area and Gaines Greenbelt. After you're finished shopping with us, we invite you to take in some gorgeous central Texas nature!
In addition to the wonderful community here in South Austin, we also serve the surrounding areas of Bluff Springs, Colton, Moores Crossing, Pilot Knob, Manchaca, San Leanna, Bear Creek, Cedar Valley, Bear Creek, Bee Cave, Lost Creek, Rollingwood, West Lake Hills, Austin, Daffan, Hornsby Bend, Garfield, Elroy, Wyldwood, Creedmoor, Bluff Springs, Mountain City and more!
For over six decades, Music & Arts has partnered with local music education programs in schools nationwide to provide instruments, music accessories and sheet music to students. Our South Austin location is proud to serve the following local schools:
PUBLIC SCHOOLS
Austin ISD - Gordon Bailey MS, Gorzycki MS, Small MS, Covington MS, Ann Richards MS, Bedichek MS, Kealing MS, Murchison MS, O'Henry MS, Paredes MS, Wayside Sci-Tech, Lamar MS, Bowie HS, Akins HS, Austin HS, Westwood HS and Fulmore MS.
Dripping Springs ISD - Dripping Springs MS and Dripping Springs HS.
Eanes ISD - Hill Country MS, West Ridge MS and Westlake HS.
Hays ISD - Wallace MS, Chapa MS, McCormick MS, Barton MS, Dahlstrom MS, Simon MS, Hays HS and Lehman HS.
Lake Travis ISD - Lake Travis MS, Hudson Bend MS and Lake Travis HS.
PRIVATE SCHOOLS
Veritas Academy
The Brentwood School
St. Andrew's Episcopal School
St. Michael's Academy
The Khabele School
Austin Waldorf School
Regent's School of Austin
COLLEGES
University of Texas
Texas State University
Austin Community College
It's no secret that Austin is one of the best places on the planet to see live music. With venues like Stubbs, The Mohawk and Antone's Nightclub, our incredible city is home to some of the most talented musicians in the country. If you're gearing up to play one of Austin's incredible music venues, let us be your last stop before you take the stage! With everything from guitar strings and drumsticks to helpful music books and instrument maintenance services, we're here to help you perform your best.
Interested in learning how to play an instrument for the first time? Whether it's your goal to perform at the Sunset Valley Concert series or just to play an instrument for fun, we can help! Our talented team of music instructors have experience teaching technique, songwriting and theory on instruments like guitar, bass, keys and drums as well as anything you'd hear in an orchestra. Our lessons are perfect whether you're looking for fun lessons for your kids or enhanced instruction on an instrument you've been playing for decades.
More About Music & Arts
Since 1952, we've been owned and operated by the same family, and our values inform everything we do as a company. We've grown quite a bit over the past 65 years––we're now the nation's leading provider of private music lessons, band and orchestra instrument sales, rentals and repairs––but we've never forgotten music's profound impact on individuals in the communities we serve. We truly believe in music's power to change lives for the better, and we're here to be a resource for anyone who needs us. Our remarkable story of growth is rooted in the countless relationships we've formed with students, parents, music educators and musicians of every stripe since 1952. No matter what you're up to in the wide world of music, we're here to help you succeed. Come visit our South Austin location today! Our friendly staff can't wait to meet you.