Find an Instructor
Find an Instructor
Timonium MD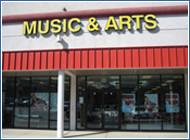 1940 York Rd
Foxtail Shopping Center
Timonium, MD 21093
Special Store Hours
Temporary Hours for Friday, 09/29
12:30pm

-

8:00pm
Temporary Hours for Monday, 10/02
12:30pm

-

8:00pm
Store Hours
Wednesday
11:00am

-

8:00pm
Thursday
11:00am

-

8:00pm
Saturday
10:00am

-

5:00pm
Store Services
Clearance
Returns Allowed
Ship To Store
Lessons
Rentals
Meet Our Instructors
Hello! My name is Bailey and I cannot wait to work with you!About myself: I have been playing the cello for 14 years, having graduated with a Music Performance...
Read more about Bailey Dicus
Caleb Ruby
Music Teacher, Professional
Instructs:
Bass Guitar, Guitar
Caleb is a multi-instrumentalist, music producer, and film score composer currently attending Towson University. Caleb has loved creating music since his...
Read more about Caleb Ruby
Devin Rauson
Music Teacher, Master
Instructs:
Clarinet, Flute, Saxophone
Devin Rauson is a multi-instrumentalist, licensed educator, and composer who specializes in woodwinds, piano, theory, and composition. Devin has been a...
Read more about Devin Rauson
Greg Small
Music Teacher, Master
Instructs:
Piano, Trumpet
An established talent in the Baltimore-Washington music community, Greg maintains a multi-faceted presence as a pianist, trumpeter, educator, and composer. As a...
Read more about Greg Small
Jake Neville
Music Teacher, Professional
Instructs:
Clarinet, Flute, Saxophone
Joseph Weaver
Music Teacher, Master
Instructs:
Bass Guitar, Guitar, Ukulele
Matthew Perich
Music Teacher, Master
Instructs:
Bass Guitar, Guitar, Ukulele
Matt Perich has been playing guitar for over 30 years. While his first love was rock and heavy metal, he has expanded his musical tastes into other genres...
Read more about Matthew Perich
I have a Bachelor of Arts in Music (cello performance) from the Sunderman Conservatory of Music at Gettysburg College, graduated in 2010. Since then, I...
Read more about Paul Drutz-Hannahs
Sanil Kumar
Music Teacher, Expert
Instructs:
Bass Guitar, Guitar, Ukulele
Sanil has been recording and performing as a metal and rock guitarist for 8 years. Primarily an electric guitarist, Sanil has also performed and recorded as a...
Read more about Sanil Kumar
Ms. Dabova is a Russian-born American teacher and pianist. She first started learning Music and playing piano at the age of 5, in her hometown St....
Read more about Tsvetanka Dabova
Victoria has been studying vocal technique for over eight years. They graduated from Towson University with a bachelor's degree in classical vocal performance...
Read more about Victoria Delgado
Meet Our Associates
Charles Duncan
Retail Manager
Expertise:
Concert Percussion, Marching Percussion, Percussion
Concert Percussion, Marching Percussion
show more
Josef M
Senior Sales Associate
Expertise:
Amplifiers & Effects, Guitar
Hi, my name is Scott. After graduating from Yale University in 1996 with a Master of Music in Guitar Performance, I moved down to Baltimore to pursue a second...
Read more about Josef M
Renee Audette
Senior Sales Associate
Expertise:
Orchestral Strings, Orchestral Strings Accessories, Print Music, Violas, Violins, Voice
Orchestral Strings, Orchestral Strings Accessories
show more
Welcome! I was born and raised in Baltimore, Maryland and have played violin for over a decade. I have experience with all string instruments, accessories,...
Read more about Renee Audette
Skip link
Welcome to Music & Arts | Timonium MD
To say that music is our passion is an understatement. Here at Music & Arts, our goal is to connect people of all ages, backgrounds and interests with the resources they need to thrive in music, and we're avid believers in music's impact on an individual level. We offer a comprehensive music shopping experience to local communities that includes a wide selection of instruments, music accessories, rentals, repairs and phenomenal private instruction. With 150 locations nationwide, we're proud the be the nation's most steadfast music resource.
Ellicott City, welcome to your neighborhood music store! The Ellicott City Music & Arts location is one of our oldest and largest stores. Located off of the Baltimore National Pike and the Columbia Pike, we're right next the Plumtree Branch and St. John's Cemetery. In addition to serving the great people of Ellicott City, we also serve the surrounding areas of Woodmark, West Friendship, Gleneg, Dayton, Glenwood, Cooksville, Woodstock, Marriottsville, Randalstown, Milford Mills, Windsor Mill, Woodlawn, Lochearn, Pikesville, Roland Park, Catonsville, Hampden, Artubus, Sunshine, Olney, Jessup, Clarksville, Fulton, Columbia. Savage, Clarksville, Fort Meade, Laurel and more!
Nothing makes us happier than seeing the students we serve thrive, and we provide instruments and music materials to music education programs nationwide. Our Ellicott City location is proud to partner with Howard County public schools and service the local community through our support of Atholton ES, Atholton HS, Bellows Spring ES, Bollman Bridge ES, Bonnie Branch ES Bryant Woods ES, Burleigh Manor MS, Bushy Park ES, Centennial HS, Centennial Lane ES, Clarksville ES, Clarksville MS, Clemens Crossing ES, Cradlerock ES, Dayton Oaks ES, Deep Run ES, Ducketts Lane ES, Dunloggin MS, Elkridge ES, Elkridge Landing MS, Ellicott Mills MS, Folly Quarter MS, Forest Ridge ES, Fulton ES, Glenelg HS, Glenwood MS, Gorman Crossing ES, Guilford ES, Hammond ES, Hammond MS, Hammond HS, Harper's Choice MS, Hollifield Station ES, Howard HS, Ilchester ES, Jeffer's Hill ES, Lake Elkhorn MS, Laurel Woods ES, Lime Kiln MS, Lisbon ES, Long Reach HS, Longfellow ES, Manor Woods ES, Marriots Ridge HS, Mayfield Woods MS, Mount View MS, Mt Hebron HS, Murray Hill MS, Northfield ES, Oakland Mills HS, Oakland Mills MS, Patapsco MS, Patuxent Valley MS, Phelps Luck ES, Pointers Run ES, Reservoir HS, River Hill HS, Rockburn ES, Running Brook ES, St John's Lane ES, Steven's Forest ES, Swansfield ES, Talbott Springs ES, Thomas Viaduct MS, Thunder Hill ES, Triadelphia Ridge ES, Veterans ES, Waterloo ES, Waverly ES, West Friendship ES, Wilde Lake HS, Wilde Lake MS, and Worthington ES.
Local music teachers can save 30% on music books and sheet music on our monthly Teacher Appreciation Day! Music & Arts has a deep appreciation for music educators, and we're here to connect you with everything you need to better instruct your students. We know how tough your job can be, so we're here to make your job just a little bit easier!
Want to learn how to play incredible jazz guitar like virtuosic musician Ken Navarro? Well, the guitarist and composer got his start right here in Ellicott City and you can too with some private and group guitar lessons taught right in our store! With a combined decades of experience teaching children and adults, our incredible staff of music teachers are here to help you thrive no matter where you're at on your musical journey. Our instructors teach everything from technique and proficiency on a wide variety of instruments to songwriting and music theory.
Whether you're gearing up for a nationwide tour with your punk band or a wedding gig with just you and your classical guitar, let the Ellicott City Music & Arts store be your last stop before you take the stage! We're here to connect you with whatever resources you need to make your performances successful. With everything from guitar strings to sheet music, our staff will help get you ready for your show.
More About Music & Arts
Since 1952, we've been owned and operated by the same family, and strong values are always in the forefront of our mind as a company. We've become pretty big––the nation's largest provider of private music lessons, band and orchestral instrument sales, rentals and repairs––but we've never lost focus of music's profound importance on an individual level. Our remarkable story of growth has everything to do with our unshakable commitment to the communities we serve, and parents, students, music educators and musicians of every stripe have relied on us for their musical needs for over 65 years. Come see our Ellicott City location today! Our incredible staff will be happy to meet you!