Find an Instructor
Find an Instructor
Cedar Hill TX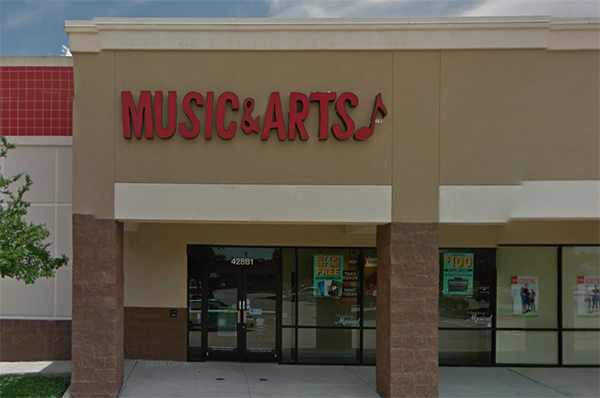 428 North Hwy 67 Suite B1
Cedar Hill, TX 75104
Store Hours
Wednesday
12:00pm

-

8:00pm
Thursday
12:00pm

-

8:00pm
Saturday
10:00am

-

5:00pm
Store Services
Clearance
Returns Allowed
Ship To Store
Curbside Pickup
Lessons
Rentals
Meet Our Instructors
Ike
Music Teacher, Master
Hello,My name is Ike Ollison, and I am a musician, music educator, and private lessons instructor. I have over 30 years experience in music with 19 years...
Read more about Ike
I have been playing Double Bass/Bass Guitar for 11 years and from the time I started it grew into a core passion of mine. I've grown to enjoy teaching during my...
Read more about Jonah McAlister
I've been playing piano for 15 years and teaching piano lessons for 8 years. I come from a family full of musicians and have been involved in music for most of...
Read more about Laura Irons
Hi there! My name is Monique. I have been playing the flute since 2010 and piccolo since 2012. I am currently pursuing my Bachelors Degree in Flute Performance...
Read more about Monique Sanford
I began playing the guitar at 9 years old and have continued my journey through the course of 45 yrs of this stringed instrument. Soon after, I began formal...
Read more about Ricardo Castillo
Stephen Nutt
Music Teacher, Master
Instructs:
Bass Guitar, Guitar, Music Theory
Stephen Nutt is a graduate of the University of North Texas, where he completed a Bachelor of Music degree in Jazz Studies. After taking a year off, he...
Read more about Stephen Nutt
Vicki has been playing violin for over 50 years and teaching for over 20 years. She enjoys teaching many different styles of music like, pop, classic, and even...
Read more about Vicki Blackwell
Meet Our Associates
Ayden
Senior Sales Associate
Expertise:
Amplifiers & Effects, Guitar, Pro Audio
Amplifiers & Effects, Guitar
show more
I've been playing guitar for a few years now, and I just love being around music and instruments. I enjoy the feeling of getting a new instrument so the...
Read more about Ayden
My names Caydin and music has always been a big part of my life. I play Piano and was in choir at a younger age. I hope to learn more and more about music...
Read more about Caydin Kosak
Josh Mendoza
Retail Manager
Expertise:
Hip Hop, Keyboards, Keyboards & MIDI, Pro Audio, Trumpets
Hip Hop, Keyboards
show more
Skip link
Welcome to Music & Arts | Cedar Hill TX
We are the newest Music & Arts in the Dallas area! Located in Cedar Hills Crossing, our store serves students and educators in Southwest Dallas, Duncanville, DeSoto, Mansfield, and Southeast Arlington. We offer musical instruments to rent or purchase, accessories, repairs, and private lessons taught by some of the best teachers in our community.
Our Cedar Hill, TX location services a majority of the school districts in Southern Dallas including Cedar Hill ISD, Duncanville ISD, Desoto ISD, Midlothian ISD, Lancaster ISD, Red Oak ISD, Waxahachie ISD, Grand Prairie ISD and more! The specialists and educators at this location share nearly 100 years of combined music industry knowledge and performance experience, and they are your perfect resource for band, orchestra, rock band, and pro-audio related questions!
Cedar Hill's professional instructors offer private lessons on a wide array of instruments at this location, including piano, violin, viola, voice, guitar, bass, drums, percussion, clarinet, flute, saxophone, banjo & ukulele and more. Our unique blend of instructors come to us from amazing schools ranging from North Texas, to Berkeley and Juliard, and lessons are available 7 days a week!
Our Educational Representative, Jeff Fort, has years of experience interacting with area music programs and ensuring each band and orchestra program has the instruments and accessories its students and directors want and need.
Learn Music, Take Lessons
The first Music & Arts was located in a small house in Bethesda, MD and run by founder Benjamin O'Brien. When Music & Arts opened its doors in 1952, we offered printed music, music lessons, dance lessons, and art supplies. Ben decided shortly after opening his business that he wanted to focus on music to better serve his customers – a decision that remains intact to this day.
Since the 1990s, Music & Arts has expanded nationwide through organic growth and a series of acquisitions and mergers with other music dealers. In 2005, Music & Arts joined forces with American Music, a division of Guitar Center, to become the largest band and orchestra instrument retailer in the United States.
Still run by the O'Brien family, Music & Arts now comprises close to 500 retail and affiliate locations and over 100 educational representatives nationwide. Now based in Frederick, MD, the company of trained musicians offers friendly service and everything musical for students, parents, and educators, including instruments, lessons, music books and accessories, rentals and repairs.
Music & Arts is designed to provide the most comprehensive offerings for student musicians and music educators. Our goal is to create the best possible multichannel experience for our customers. As a result of this, Music & Arts has earned notoriety as:
The nation's largest lesson provider, with over 1.25 Million private lessons taught each year
The largest provider of instrument rentals, with more than 200,000 instruments rented annually
The largest school music dealer, serving more than 5000 schools nationwide
The largest fleet of outbound salespeople, with over 100 educational representatives visiting schools
The largest provider of B&O repair services, with more than 75 repair shops in service across the country
Our Vision: To excite people about playing music, teaching music, and supporting musicians and their passion for music
Our Mission: To be the music retailer of choice for student musicians and music educators
WE PROUDLY SUPPORT LOCAL SCHOOLS FROM THE FOLLOWING DISTRICTS*
PUBLIC SCHOOLS
Cedar Hill ISD—Bessie Coleman Middle School, Bray Elementary, Cedar Hill Collegiate High School, Cedar Hill High School, Disciplinary Alternative Education Program, High Pointe Elementary, Highlands Elementary, Joe Wilson Intermediate, Lake Ridge Elementary, Ninth Grade Center, Permenter Middle School, Plummer Elementary, Waterford Oaks Elementary, West Intermediate
Duncanville ISD—Acton Elementary School, S. Gus Alexander, Jr. Elementary School, Bilhartz Elementary School, Central Elementary School, Fairmeadows Elementary School, Hastings Elementary School, C.J. and Anne Hyman Elementary School, Merrifield Elementary School, Smith Elementary School, Grace R. Brandenburg Intermediate School, H. Bob Daniel Intermediate School, Glenn C. Hardin Intermediate School, W.H. Byrd Middle School, Kennemer Middle School, J. Herman Reed Middle School, Duncanville High School, Pace (Alternative School) Summit Education Center (alternative school for Duncanville ISD)
DeSoto ISD—Amber Terrace Elementary, Cockrell Hill Elementary, DeSoto Freshman Campus, DeSoto High School, East Middle School, Frank D. Moates Elementary, McCowan Middle School, Northside Elementary, Ruby Young Elementary, The Meadows Elementary, West Middle School, Woodridge Elementary
Lancaster ISD—Belt Line Elementary, Houston Elementary, Lancaster Elementary, Pleasant Run Elementary, Rolling Hills Elementary, Rosa Parks Millbrook Elementary, West Main Elementary, G.W. Carver 6th Grade STEM Learning Center, Elsie Robertson Middle School, Lancaster High School, J.D. Hall Learning Center
Midlothian ISD—T.E. Baxter Elementary, Mt. Peak Elementary, Longbranch Elementary, LaRue Miller Elementary, J.R. Irvin Elementary, J.A. Vitovsky Elementary, Walnut Grove Middle School, Frank Seale Middle School, Midlothian Heritage High School, Midlothian High School,
Red Oak ISD—D.T. Shields Elementary, Eastridge Elementary, H.A. Wooden Elementary, iScholars Magnet Academy, Red Oak Elementary, Red Oak Intermediate, Red Oak Junior High School, Red Oak High School,
Dallas ISD—Bryan Adams High School, John Q. Adams Elementary, Nathan Adams Elementary, W.H. Adamson High School, Birdie Alexander Elementary, Gabe P. Allen Charter School, William M. Anderson Elementary, Maya Angelou High School, Arcadia Park Elementary, William Hawley Atwell Law Academy, Balch Springs Middle School, Bayles Elementary, Mary McLeod Bethune Elementary, William A. Blair Elementary, Annie Webb Blanton Elementary, Felix G. Botello Elementary, James Bowie Elementary, Jimmie Tyler Brashear Elementary, T.W. Browne Middle School, John Neely Bryan Elementary, Harrell Budd Elementary, Rufus C. Burleson Elementary, David G. Burnett Elementary, George Herbert Walker Bush Elementary, W.W. Bushman Elementary, William L. Cabell Elementary, F.P. Caillet Elementary, Adelfa Botello Callejo Elementary, John W. Carpenter Elementary, C.F. Carr Elementary, David W. Carter High School, George Washington Carver Learning Center, Edward H. Cary Middle School, Casa View Elementary, Central Elementary School, Cesar Chavez Learning Center, Leonides Gonzalez Cigarroa M.D. Elementary, Nancy Cochran Elementary, E.B. Comstock Middle School, S.S. Conner Elementary, Emmett J. Conrad High School, Leila P. Cowart Elementary, Gilbert Cuellar Sr. Elementary, Billy Earl Dade Middle School, Dallas Environmental Science Academy, Dallas ISD Evening Academy, Lorenzo de Zavala Elementary, George Bannerman Dealey Montessori Vanguard and International Academy, Everette L. DeGolyer Elementary, L.O. Donald Elementary, Julius Dorsey Elementary, Frederick Douglass Elementary, Paul L. Dunbar Learning Center, Amelia Earhart Learning Center, Thomas A. Edison Middle Learning Center, Elementary DAEP-Dallas, J.N. Ervin Elementary, Tom W. Field Elementary, Fred F. Florence Middle School, Stephen C. Foster Elementary, Anne Frank Elementary, Benjamin Franklin Middle School, Hector P. Garcia Middle School, Trinidad Trini Garza Early College, W.H. Gaston Middle School, Charles A. Gill Elementary, Kathlyn Joy Gilliam Collegiate Academy, Henry B. Gonzalez Elementary, Tom C. Gooch Elementary, W.E. Greiner Exploratory Arts Academy, Frank Guzick Elementary, Lenore Kirk Hall Elementary, Ebby Halliday Elementary, Nathaniel Hawthorne Elementary, Margaret B. Henderson Elementary, Onesimo Hernandez Elementary, Victor H. Hexter Elementary, Highland Meadows Elementary, Robert T. Hill Middle School, Hillcrest High School, James. S. Hogg Elementary, H.I. Holland Elementary, Zan Wesley Holmes Jr. Middles School, Oliver W. Holmes Middle School and Classical Academy, John B. Hood Middle School, Lida Hooe Elementary, L.L. Hotchkiss Elementary, Sam Houston Elementary, John Ireland Elementary, Stonewall Jackson Elementary, Thomas Jefferson High School, Albert Sidney Johnston Elementary, Anson Jones Elementary, Jerry R. Junkins Elementary, Louise Wolff Kahn Elementary, John F. Kennedy Learning Center, Kennedy-Curry Middle School, Edwin J. Kiest Elementary, Justin F. Kimball High School, Martin Luther King Jr. Learning Center, Kleberg Elementary, Obadiah Knight Elementary Arthur Kramer Elementary, Richard Lagow Elementary, Lakewood Elementary, Harold Wendell Lang Sr. Middle School, Sydney Lanier Expressive Arts Vanguard, Dr. Wright L. Lassiter Jr. Early College High School at El Centro College, Learning Alternative Center for Empowering Youth (Lacey), Robert E. Lee Elementary, Umphrey Lee Elementary, Lincoln High School, Lincoln Humanities/Communications Magnet, William Lipscomb Elementary, J.L. Long Middle School, Henry W. Longfellow Career Exploration Academy, Jack Lowe Sr. Elementary, B.H. Macon Elementary, James Madison High School, Barbara M. Manns Education Center, Maple Lawn Elementary, Herbert Marcus Elementary Thomas L. Marsalis Elementary, Thomas C. Marsh Preparatory Academy, Esperanza Hope Medrano Elementary, Francisco F. Pancho Medrano Middle School, Ben Milam Elementary, William Brown Miller Elementary, Roger Q. Mills Elementary, Moises E. Molina High School, Maria Moreno Elementary, Nancy Moseley Elementary, Mount Auburn Elementary, Multiple Careers Magnet Center, North Dallas High School, Barack Obama Male Leadership Academy, Clara Oliver Elementary, John Leslie Patton Jr. Academic, George Peabody Elementary, Elisha M. Pease Elementary, John F. Peeler Elementary, John J. Pershing Elementary, L.G. Pinkston High School, Pleasant Grove Elementary, K.B. Polk Vanguard Center for Academically Talented and Gifted, Preston Hollow Elementary, Raul Quintanilla Sr. Middle School, Irma Lerma Rangel Young Women's Leadership School, J.W. Ray Elementary Learning Center, John H. Reagan Elementary, Martha Turner Reilly Elementary, Reinhardt Elementary, Joseph J. Rhoads Learning Center, Charles Rice Learning Center, Ann Richards Middle School, Thelma Elizabeth Page Richardson Elementary, Oran M. Roberts Elementary, Dan D. Rogers Elementary, Franklin D. Roosevelt High School, Rosemont Elementary, Rosemont Primary School-Chris V. Semos Campus, Edna Rowe Elementary, John W. Runyon Elementary, Thomas J. Rusk Middle School, Clinton P. Russell Elementary, Arturo Salazar Elementary, Julian T. Saldivar Elementary, W.W. Samuell High School, San Jacinto Elementary, Judge Barefoot Sanders Magnet Center For Public Service: Govt., Law & Law Enforcement, Alex Sanger Elementary, School Community Guidance Center, School for the Talented and Gifted at Yvonne A. Ewell Townview Center, School of Business and Management at Yvonne A. Ewell Townview Center, School of Health Professions at Yvonne A. Ewell Townview Center, School of Science and Engineering at Yvonne A. Ewell Townview Center, Seagoville Elementary School, Seagoville High School, Seagoville Middle School, Seagoville North Elementary, Ascher Silberstein Elementary, Skyline Career Development Center, Skyline High School, A. Maceo Smith New Tech High School, Larry G. Smith Elementary, Rosie M. Collins Sorrells School of Education and Social Services, Celestino Mauricio Soto Jr Elementary, South Oak Cliff High School, Alex W. Spence Middle Learning Center & Talented/Gifted Academy, H. Grady Spruce High School, J.P. Starks Math, Science and Technology Vanguard, Leslie A. Stemmons Elementary, Stevens Park Elementary, L.V. Stockard Middle School, Harry Stone Montessori Academy, Jill Stone at Vickery Meadow Elementary, Boude Storey Middle School, Sunset High School, Sam Tasby Middle School, C.A. Tatum Jr. Elementary, T.G. Terry Elementary, Robert L. Thornton Elementary, School, Edward Titche Elementary, Thomas Tolbert Elementary, William B. Travis Academy/Vanguard for the Academically Talented and Gifted, George W. Truett Elementary, Adelle Turner Elementary, Mark Twain Leadership Vanguard, Urban Park Elementary, E.D. Walker Middle School, Walnut Hill Elementary, Booker T. Washington High School for the Performing and Visual Arts, Daniel Webster Elementary, Martin Weiss Elementary, W.T. White High School, Sudie L. Williams Elementary, Wilmer-Hutchins Elementary, Wilmer-Hutchins High School, Woodrow Wilson High School, Winnetka Elementary, Harry C. Withers Elementary, Whitney M. Young Jr. Elementary, Ignacio Zaragoza Elementary, Sarah Zumwalt Middle School
Grand Prairie ISD—Adams Middle School, Austin Elementary, Bonham EEC, Bowie Elementary, Crockett 5th Grade Center, Crosswinds High School, David Daniels Elementary Academy of Science and Math, Dickinson Elementary, Dubiski Career HS, Eisenhower Elementary, Ellen Ochoa STEM Academy at Ben Milam Elementary, Fannin Middle School, Florence Hill Elementary, Garcia Elementary, Garner Fine Arts Academy, Global Leadership Academy at Barbara Bush Elementary, GP Fine Arts Academy, Grand Prairie Collegiate Institute, Grand Prairie High School, HOPE Academy, Jackson Middle School, Johnson DAEP, Lee Elementary, Lorenzo de Zavala Environmental Science Academy Moore Elementary, Moseley Elementary, Powell Elementary, Rayburn Elementary, Reagan Middle School, School for the Highly Gifted
Waxahachie ISD—Clift Elementary, Dunaway Elementary, Felty Elementary, Marvin Elementary, Northside Elementary, Shackelford Elementary, Wedgeworth Elementary, Finley Junior High School, Howard Junior High School, Ninth Grade Academy/Waxahachie High School, Waxahachie Global High School, Waxahachie High School of Choice, Waxahachie Challenge Academy
But if you are not in one of these school districts still come by and we would be happy to make sure we get you what you need!
PRIVATE SCHOOLS
Legacy Christian Academy, DeSoto Private School, Ashleys Private School, Walnut Creek Private School
Northstar School, Cambridge Square Private School, Kiddie Korner Private School, Berne Academy, Merryhill School, Grace Preparatory Academy, The Academy at Walnut Creek, Private Christian School, St. Paul's Prep, Willowbend Academy, Ovilla Christian School, Bishop Dunne Catholic School, Oakridge School, Texas Success Academy, Pantego Christian Academy, Merryhill School, St. Elizabeth Catholic School, The Montessori Academy of Arlington, Pettigrew Academy, Life School, Waxahachie Preparatory Academy, Waxahachie Faith Family Academy, First Christian Church, Promise Childe Development Center, St. Joseph Catholic School, Community Christian Academy, Metro Christian Academy, Summit Christian Academy, Crossroads Academy, Merrywood School, Fellowship Christian Academy, Cambridge Square Private School, Hampton Preparatory, The Canterbury Episcopal School, Brook Hollow Christian Academy, Faith Family Academy, First Methodist School, Iboc Christian Academy, Cedar Valley Christian Academy, Berne Academy,
And MORE!
COLLEGES
Cedar Valley College Center, Navarro College, UNT Dallas, Paul Quinn College, Tarrant County College, Mountain View College, University of Texas in Dallas (UTD), Texas Women's University, Southern Methodist University
LESSONS
We believe that private lessons are the building blocks to a lifelong relationship with music. Our strong commitment to music education is fundamental to our business, and we work hard to find instructors who are experts in their field/instrument.
-Learn from professional instructors who play in symphonies, local ensembles, and acclaimed bands.
-Prepare for performances, auditions, competitions, and gigs.
-Customize lessons based on interests and abilities.
-Showcase your progress and perform at in-store recitals, jam sessions, open mics, and more!
Want to learn to play like the greats? Our teachers make learning music fun!
Band
Bach, Buffet, Conn, Eastman, Fox, Gemeinhardt, Getzen, Haynes Classic, Holton, Jupiter, LeBlanc, Schilke, Selmer, Ventus, Yamaha, and Yanagisawa
Strings
Doetsch, Dragon, Eastman, Emiliani, Frederich Wyss, Howard Core, Klier, Kohr, Lewis, Otto Benjamin, Paesold, and Sandner
Want to set up an appointment to try out an instrument?
Email us at cedarhillmgr@musicarts.com
RENTALS
Featuring rentals from these brands and more:
-Yamaha, Buffet, Bach, King, Jupiter, Eastman, Gemeinhardt, Selmer
Click below to setup your rental:
REPAIRS
We do band and orchestra repair!
-Keeping your instrument in top shape is very important. Whether it's re-hairing a violin bow, overhauling a flute, repadding a saxophone, soldering a brass instrument or reconditioning an entire tuba, our professionals can handle any kind of instrument repair or restoration. Our repair technicians are well-trained professionals, who deliver work that is affordable, timely, and unconditionally guaranteed.
-We recommend having your instrument checked out every 3-4 months, even if it seems like nothing is wrong. Our preventative maintenance mentality will help keep your instrument in your hands and not in the shop. Next time you're in, ask us about our maintenance plan!