Find an Instructor
Find an Instructor
Salisbury MD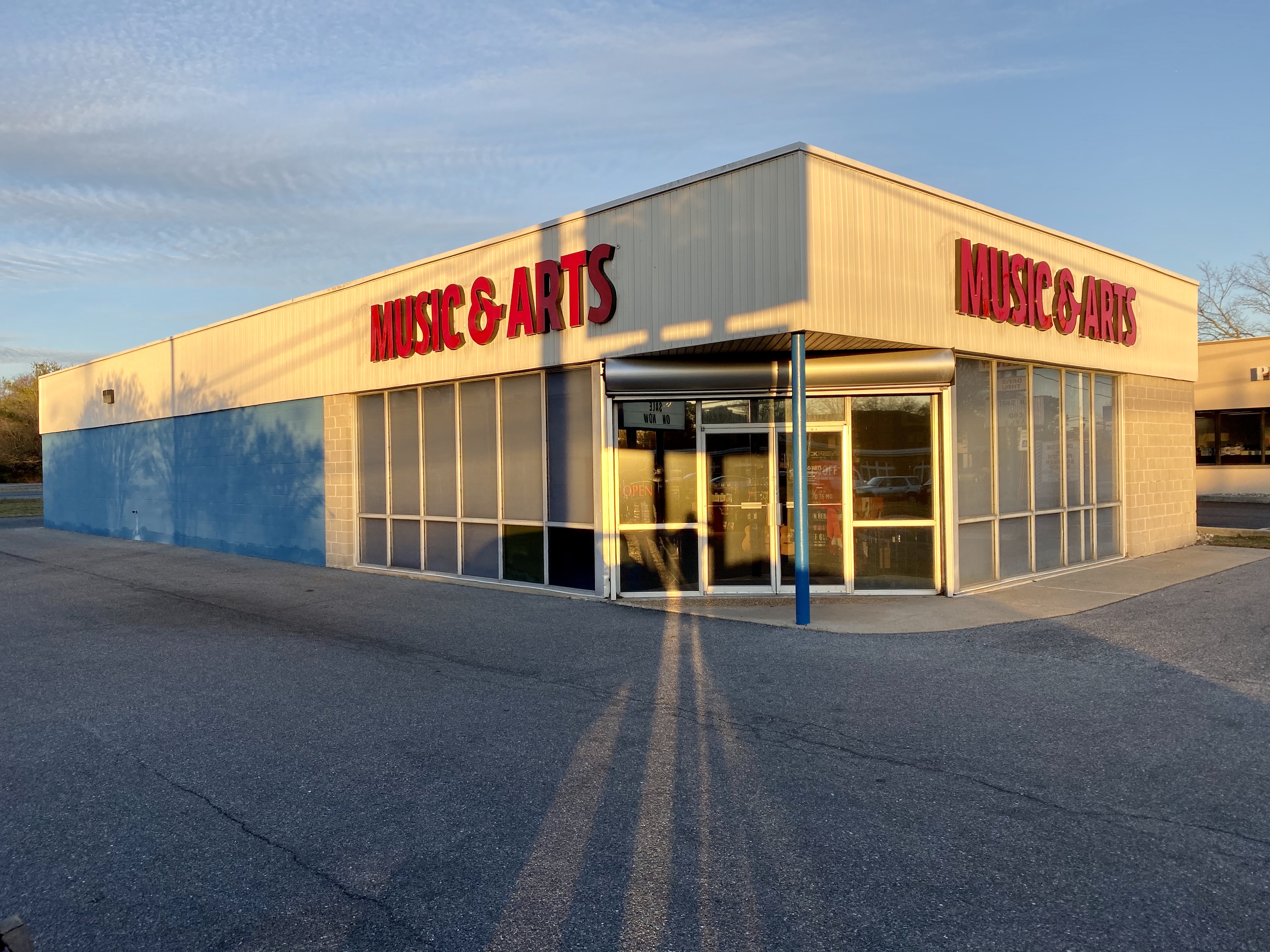 1205 MOUNT HERMON RD
Salisbury, MD 21804
Store Hours
Wednesday
11:00am

-

8:00pm
Thursday
11:00am

-

8:00pm
Saturday
10:00am

-

5:00pm
Store Services
Repairs
Returns Allowed
Ship To Store
Curbside Pickup
Lessons
Rentals
Meet Our Instructors
Amby
Music Teacher, Professional
Amby has been playing percussion since elementary school where she was in marching band. She went on to pursue playing in bands being involved in the Rock and...
Read more about Amby
A native of Cambridge, Maryland, Ashley Watkins began her musical journey at 10 years old playing in the fourth grade band. As she grew older, music began to be...
Read more about Ashley Watkins
Dean Kidd
Music Teacher, Professional
Instructs:
Bass Guitar, Guitar
Dean has been in the music industry for 10 years. He has performed in a nationally touring band, helped produce and record albums for various bands and local...
Read more about Dean Kidd
Everett Spells began his love of the Saxophone in elementary school which compelled him to get his B.A. in Music from Norfolk State University in Va. He...
Read more about Everett Spells
Garrison
Music Teacher, Professional
Instructs:
Baritone, Trumpet
Garrison has been playing music since he's been 5 growing up in churching playing the drums. He always had a love for musicians. 5th grade he decided to pick up...
Read more about Garrison
Geri Smith grew up playing piano and guitar. She earned her degree in Music Education from West Chester University, but instead of going into teaching full...
Read more about Geri Sparre
Josh
Music Teacher, Master
Instructs:
Bass Clarinet, Clarinet
Josh Snively is a clarinetist, instrument repairman, and composer/producer. As a performer, he has traveled across the United States and to Europe. From...
Read more about Josh
I grew up in a home filled with arts and music. My father had been singing and playing guitar for me since I was born. My family always implored me to find what...
Read more about Patricia Rose
Rebekah fell in love with piano at age six when her older sister taught her to play the melody of "Joy to the World." Wanting to learn more, she begged her...
Read more about Rebekah McKelvey
Seth L
Music Teacher, Professional
Seth has played the drums and percussion for over half of his life. He has performed live with multiple groups and is continuing to pursue this passion. He...
Read more about Seth L
I grew up in the Shenandoah Valley of Virginia and began piano lessons after my dad bought me an old piano at an estate auction on my 8th birthday. I...
Read more about Shannon Flynn
As a percussionist I have been teaching all aspects of percussion for the last 50 years. I currently teach percussion at Salisbury University and have led...
Read more about Edward Nichols
Meet Our Associates
Hello there, my name is Avery, and I've been playing music, in bands and on my own, since I was about 10. My main instrument is drums, but I like to think I'm...
Read more about Avery M
Christopher D
Retail Manager
Expertise:
Amplifiers & Effects, Books, Sheet Music & Media, Guitar
Amplifiers & Effects, Books
show more
Hi my name is Chris! I graduated from Broadneck High School's PVA magnet program in May of 2017. I am now studying at AACC with a focus in jazz composition. My...
Read more about Christopher D
Nathan Luck
Senior Sales Associate
Expertise:
Amplifiers & Effects, Bass Guitar, Guitar, Technology
Amplifiers & Effects, Bass Guitar
show more
Nathan is a seasoned guitarist, bassist, and singer that comes from a family full of musicians. Over the years he has been honing his craft in...
Read more about Nathan Luck
Zoe Koch
Senior Sales Associate
Expertise:
Amplifiers & Effects, Bass Guitar, Guitar
Amplifiers & Effects, Bass Guitar
show more
Zoe is a guitarist, bassist, and vocalist that has played in a variety of local bands. Some of the bands Zoe has played in have also gone on to record...
Read more about Zoe Koch
Skip link
Welcome to Music & Arts | Salisbury MD
Previously B&B Music and Sound
For over 65 years, Music & Arts has been driven by a mission of connecting the world with the magic of music. As America's favorite one-stop music shop, we offer name brand instrument and music accessory sales, rentals, repairs, books and sheet music, and fantastic private and group music lessons. From hardworking music educators to students learning about music for the very first time, we're proud to be a home for anyone with an interest in music.
Music & Arts is honored to carry forward the local musical legacy of B & B Music & Sound with instrument sales, rentals, lessons, and more! We're here to help local Salisbury residents thrive through music. You can find us on Mt Hermon Rd across from Ocean Gateway US 50. Our store is lucky to be just a short walk from the Wicomico County Stadium and Fairfield Park.
We serve the incredible community of Salisbury and the surrounding areas of Fruitland, Westover Hills, Whayland, Woods Edge, Hebron, Delmar, DE, Parsonsville, Pittsville, Poweville, Whiton, and Princess Anne.
From high school band directors to local choral teachers, Music & Arts is a huge fan of our nation's music educators. To show our gratitude, we're offering local music teachers special discounts on books, sheet music, and accessories the first Monday of every month. Thanks for everything you do!
>Whether you're a musician on a tight budget or a parent trying to keep a musical gift a secret until just the right moment, our layaway program is a great way to go if you can't take home one of our instruments today. With a small down payment, we'll set aside that special instrument for you to take home when you're ready. Ask one of our friendly sales associates for more details!
Famous film and TV composer Jesse Frederick is from right here in town. If you've got the itch to create some music of your own, consider taking some music lessons taught here in our store! Our passionate, university-trained teaching staff has the experience and vision to help your reach your music goals! All ages, experience levels, and interests accepted.
Are you a local musician gearing up for another performance at Salisbury's National Folk Festival? If so, let the Music & Arts here in town be your last stop before you take the stage! With an expert instrument repair and maintenance team and more music accessories than you can shake a stick at, we're here to help you put on your best musical performance. Break a leg up there!
MORE ABOUT MUSIC & ARTS
We're avid believers in the profound good music can do in a person's life. With hundreds of locations nationwide, we've grown leaps and bounds over the decades, but we've never lost sight of our values and music's impact on a human level. We're proud to be America's leading provider of music lessons, instrument sales, rentals and repairs. No matter where you find yourself in the wide world of music, you can always count on us to help you thrive. Thanks for choosing Music & Arts!