Find an Instructor
Find an Instructor
Camden DE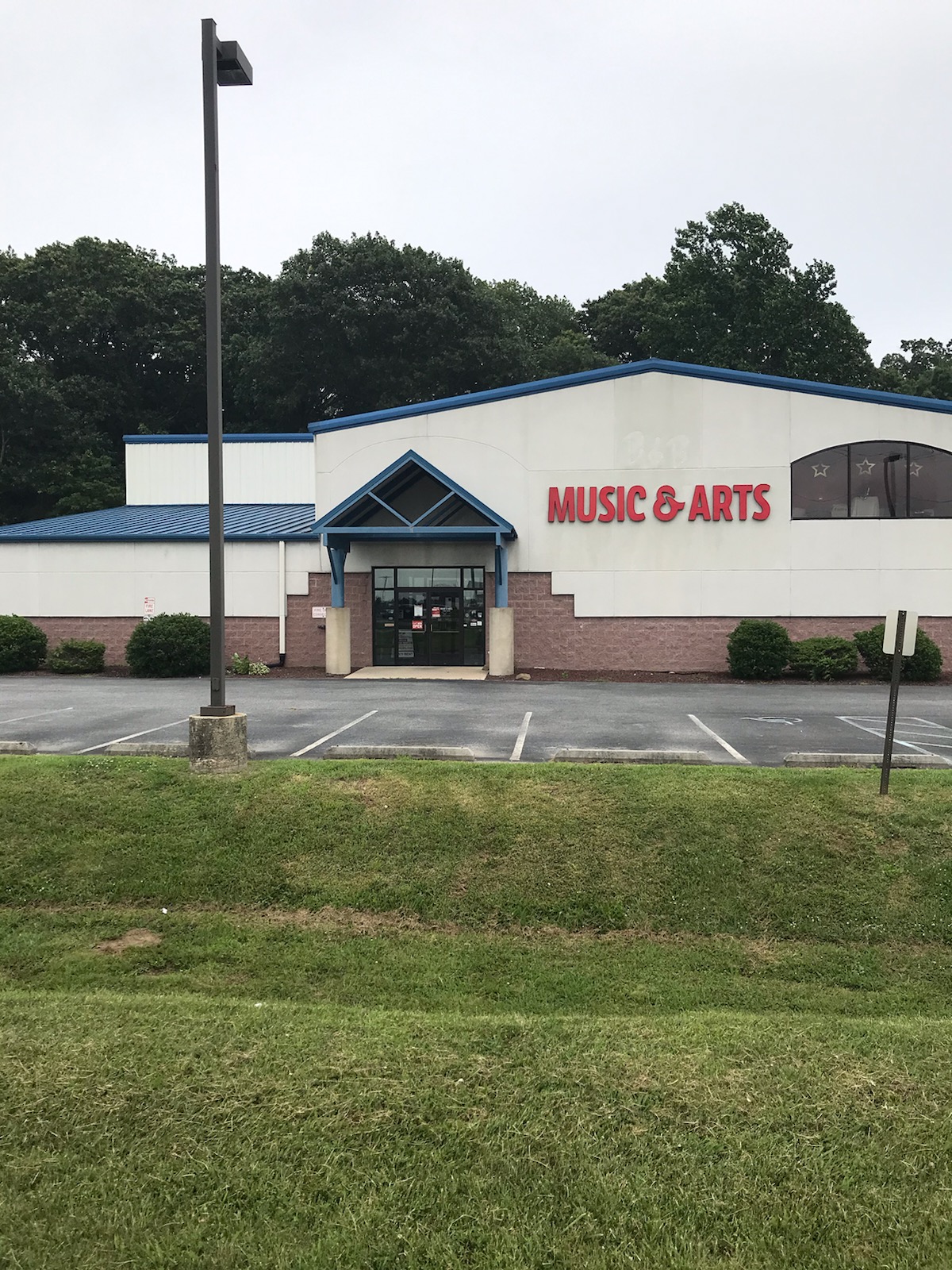 3443 S Dupont Hwy
Camden Wyoming, DE 19934
Store Hours
Wednesday
11:00am

-

8:00pm
Thursday
11:00am

-

8:00pm
Saturday
10:00am

-

5:00pm
Store Services
Repairs
Returns Allowed
Ship To Store
Curbside Pickup
Lessons
Rentals
Meet Our Instructors
Charlene has a Certified Music Education degree and a Bachelor of Communicative Disorders from West Chester University in West Chester, PA., including Graduate...
Read more about Charlene Bryant
I am a professional musician with many years of experience. My Mission is to bring the joy of music and guitar to all my studentsEARLY YEARSPrivate guitar...
Read more about Christopher Horne
Daniel Collins
Music Teacher, Master
Instructs:
Baritone, French Horn, Guitar, Piano, Saxophone, Trombone, Trumpet
Greetings! I first started playing trumpet as a fourth grade band student in 1969 and have since learned to play and teach all brass instruments in all...
Read more about Daniel Collins
I started playing and learning fairly late, at the age of 16 and I was completely engrossed and passionate about it since. I didn't have a piano at the time, so...
Read more about Devontay Thomas
Evan
Music Teacher, Expert
Dr. B
Music Teacher, Master
For over 29 years, Dr. Harvey D Bullock, Jr. has educated and enlightened young minds through the medium of music. A graduate of Elizabeth City State...
Read more about Dr. B
Jason Blythe
Music Teacher, Professional
Instructs:
Cello, Flute, Music Theory, Saxophone
Jason Blythe is a musician specializing in woodwinds. He has been playing saxophone professionally since 2015. Throughout his formative years, he enjoyed...
Read more about Jason Blythe
Luke Pickrahn
Music Teacher, Professional
Instructs:
Bass Guitar, Guitar
I specialize in guitar. I appreciate music no matter what the genre and I love to play all types of music. While I have been playing for close to 15 years, I...
Read more about Luke Pickrahn
Mr. Paul Midiri, along with his brother Joe, direct the 18 piece Midiri Brothers Orchestra as well as various small group ensembles. The Midiri Brothers Sextet...
Read more about Paul Midiri
Steve Elmy
Music Teacher, Master
Instructs:
Bass Guitar, Guitar
Hi! My name is Steve Elmy and I'm a guitar/ bass guitar teacher at Music and Arts. I earned a Bachelors in Music in Jazz Studies from the Hartt...
Read more about Steve Elmy
Tynisha Hearne, a native Delawarean, has played the violin for over twenty-five years. Beginning her classical studies at the age of 8, she has performed...
Read more about Tynisha Hearne
I have fifteen+ years experience playing guitar and studied music education at Delaware State University. During my time at University I played with several...
Read more about Zackary Papen
Meet Our Associates
Skip link
Welcome to Music & Arts | Camden DE
Welcome to Music & Arts in Camden, DE!
Previously B & B Music and Sound
Music & Arts is committed to connecting the world with the magic of music. With hundreds of locations scattered around the country, we're proud to be America's favorite music store. We're a one-stop music shop, offering name brand instrument and music accessories, a wide assortment of books and sheet music, instrument repairs, rentals, and incredible music lessons. Whether you've been playing an instrument for decades or are interested in picking one up for the first time, we're here to help you thrive through music.
We're proud to carry on B & B Music and Sound's local legacy with instrument sales, music rentals, lessons, and more! You can find us on South Dupont Highway south of W Lebanon Road. Our store has the great fortune of being just a short walk away from both the parks of Sandy Hill and Eagles Nest.
Our store serves the wonderful community of Camden and the surrounding areas of Dover, Wyoming, Willow Grove, Pearsons Corner, Woodside, Petersburg, White Hall, Viola, Highland Acres, Rodney Village, Rising Sun-Lebanon, Woodside East, and Magnolia.
Local music educators are crucial when it comes to sharing the gift of music with younger generations. We'd like to say thanks to our hardworking Camden music educators for enriching the lives of local kids through music. Stop in and see us the first Monday of every month and receive special discounts on books, sheet music, and accessories!
Can't take home that special instrument you've been dreaming about today? Don't despair! With a modest down payment, we'll set aside the instrument for you to pick up at a later date. Whether you're a musician on a shoestring budget or a parent that needs to keep a big-box music gift a secret until the perfect moment, our layaway program is a great option.
We're here to be your last stop before you take the stage, with an expert instrument repair and maintenance team and loads of music accessories. Got a show coming up at the Rockshop Performing Arts Center? Whether you need new strings, reeds, and pics, or an instrument tune-up, we've got you covered.
If you're inspired by the bands you see performing at the Firefly Music Festival every year, consider making some music of your own with some private music lessons taught here in our store! From guitar to singing lessons to music notation and theory, our incredible team of university-trained teachers instruct students of all ages and backgrounds. All experience levels accepted!
MORE ABOUT MUSIC & ARTS
Since 1952, we've been on a mission of getting people excited about music. Our six-decade legacy began with a single store that was humbly operated out of a home in Bethesda, Maryland. Today, we're the nation's leading provider of private music lessons, instrument sales, rentals, and repairs. We've grown leaps and bounds over the years, but our commitment to our values and the educators, students, musicians, and parents we serve around the nation has never changed. We're thrilled to have the opportunity to share music with people, and we're honored that you've put your trust in us. Thanks for choosing Music & Arts!