Find an Instructor
Find an Instructor
Wilmington DE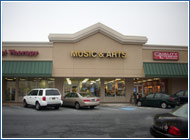 4707 Kirkwood Hwy
Midway Plaza
Wilmington, DE 19808
Store Hours
Wednesday
11:00am

-

8:00pm
Thursday
11:00am

-

8:00pm
Saturday
10:00am

-

5:00pm
Store Services
Repairs
Returns Allowed
Ship To Store
Curbside Pickup
Lessons
Rentals
Meet Our Instructors
I have been loving and playing the piano for about fourteen years. Of those, I have been teaching for about eight years now, striving to personalize my lessons...
Read more about Amy Shah
Starting out with a drum set in the garage of his uncle's house, Ben began playing in his teen years. After years of practice and lessons, he began auditioning...
Read more about Ben Small
Carol Grandell Scott grew up in a musical home where her father and brother play guitar and bass. She enjoyed playing with them at home and professionally after...
Read more about Carol Scott
Carol Stinson
Music Teacher, Master
Instructs:
Clarinet, Saxophone
I have been a professional clarinet player my entire adult life. I was fortunate enough to be the Principal Clarinetist of the Houston Grand Opera Orchestra for...
Read more about Carol Stinson
Daniel Collins
Music Teacher, Master
Instructs:
Baritone, French Horn, Guitar, Piano, Saxophone, Trombone, Trumpet
Greetings! I first started playing trumpet as a fourth grade band student in 1969 and have since learned to play and teach all brass instruments in all...
Read more about Daniel Collins
My name is Delbert Boyer, I was born in West Chester Pa in 1956.I love playing the guitar I prefer jazz but I enjoy all styles!
Read more about Delbert Boyer
Joseph Fuller
Music Teacher, Master
Instructs:
Banjo, Bass Guitar, Guitar, Mandolin, Piano, Ukulele
Born in raised in New Castle, DE, I picked up the guitar for the first time in 1965 at the age of 9, and began taking lessons and playing in school music...
Read more about Joseph Fuller
Josephine Moran
Music Teacher, Professional
Instructs:
Bass Guitar, Guitar, Music Theory, Piano
Jozie's interest in music began when she was very young, growing up hearing her dad play piano. She's been playing piano and percussion for 15+ years,...
Read more about Josephine Moran
Lilah Mittelstaedt Knox received a Bachelor of Music degree in piano performance from Morningside College, Sioux City, Iowa where she studied with Arne...
Read more about Lilah Knox
Michael Truss
Music Teacher, Master
Instructs:
Baritone, French Horn, Trombone, Trumpet, Tuba
I am from Atlantic City, New Jersey and have a Bachelor of Science in music education from Hampton University. I have taught in public schools for 25 years. I...
Read more about Michael Truss
Born in Lancaster PA, Tim's family moved to Wilmington when he was 10 to be closer to the AI DuPont institute. His brother was born with spina bifida, and at...
Read more about Timothy Laushey
Vincent Lardear
Music Teacher, Master
Instructs:
Clarinet, Flute, Saxophone
Vincent Lardear, Alto SaxophonistVince Lardear is a native of Wilmington, Delaware. As a high school senior he was selected to the McDonald's All-American...
Read more about Vincent Lardear
Meet Our Associates
Aaron Knestaut
Senior Sales Associate
Expertise:
Books, Sheet Music & Media, Piano, Saxophones, Technology
Books, Sheet Music & Media
show more
My name is Aaron and I graduated from the University of Delaware in 2022, and I joined the Music and Arts team shortly after. While my degree was in computer...
Read more about Aaron Knestaut
Greetings, My name is Alex Bancer and I am the Repair Shop Manger for Music& Arts in Wilmington DE'I have been repairing at this location for over 23...
Read more about Alex Bancer
Brock comes from a musical family. He spent most of his youth involved in his churches youth choir, participating in school plays and school band. At the age of...
Read more about Brock Miller
Louis Tamburro
Senior Sales Associate
Expertise:
Amplifiers & Effects, Bass Guitar, Drums & Percussion, Keyboards & MIDI, Marching Band Accessories, Marching Percussion, Pro Audio, Technology
Amplifiers & Effects, Bass Guitar
show more
My name is Louis and I graduated The College of New Jersey in 2017 with a bachelor's degree in Music Education. I joined the Music & Arts team in June 2022....
Read more about Louis Tamburro
Skip link
Welcome to Music & Arts | Wilmington DE
Here at Music & Arts, our greatest passion is connecting people of every age, background and education level with everything they need to thrive in music. With everything from a wide selection of books and sheet music to incredible music instruction and name brand instrument sales, rentals and repairs, we're the nation's most trusted one-stop music shop. Whether you're a seasoned professional musician or the parent of a child learning about music for the very first time, you'll always have a home here at Music & Arts.
Host of the Delaware Horns A Plenty, we're proud to serve the wonderful community here in Wilmington! Conveniently located in the Midway Shopping Center, you can find our store on the western corner of Kirkwood Highway and Limestone Road. We're located just to the east of Limestone Park and Mill Creek.
In addition to the wonderful community here in Wilmington, we also serve the surrounding areas of Wood Mill, Birche Pointe, West Meadow, Pine Creek, Woodshade, Brookside, Melanie, Wilmington Manor, Alban Park, Duncan Woods, New Castle, Collins Park, Spring Park, North Star, Stanton and more!
Teach music here in Wilmington? Music & Arts has a huge appreciation for our nation's music educators and we can't thank you enough for everything you do. Come in the first Monday of every month and save 30% on books and sheet music during our Teacher Appreciation Day! We're here to make your life just a little easier.
For over six decades, we've been helping music students across the nation thrive by partnering with local music schools to provide instruments, music accessories, books and sheet music. Our Wilmington, DE location proudly serves the following local schools:
Linden Hill Elementary, Avon-Grove Intermediate and Charter, Southern Elementary, The Tatnall School, The Independence School, Marbrook Elementary, Maclary, Brandywine Springs and many more!
Got a big show coming up at The Queen? With everything from strings, straps and sheet music to an expert repair and maintenance team ready to accommodate last-minute requests, the Music & Arts location here in Wilmington is here to help you perform at your best. Break a leg up there!
Did you know that legendary blues artist George Thorogood is from here in town? If you're interested in learning how to master the blues, check out our private music lessons! With combined decades of experience, our team of expert music instructors have the passion and training to help you thrive in music no matter what your goals are. Whether you're an old dog interested in learning some new musical tricks or are just looking for some great music lessons for your kids, we can help!
More About Music & Arts
The first Music & Arts location humbly ran out of a Bethesda, Maryland home back in 1952. Over 65 years and 150 locations later, we've experienced a remarkable amount of growth and success, but we've never lost our values and focus on music's profound impact on a personal level. We've been owned and operated by the same family since the very beginning, and nothing makes us happier than seeing individuals thrive through music in the many communities we serve.