Find an Instructor
Find an Instructor
Commack NY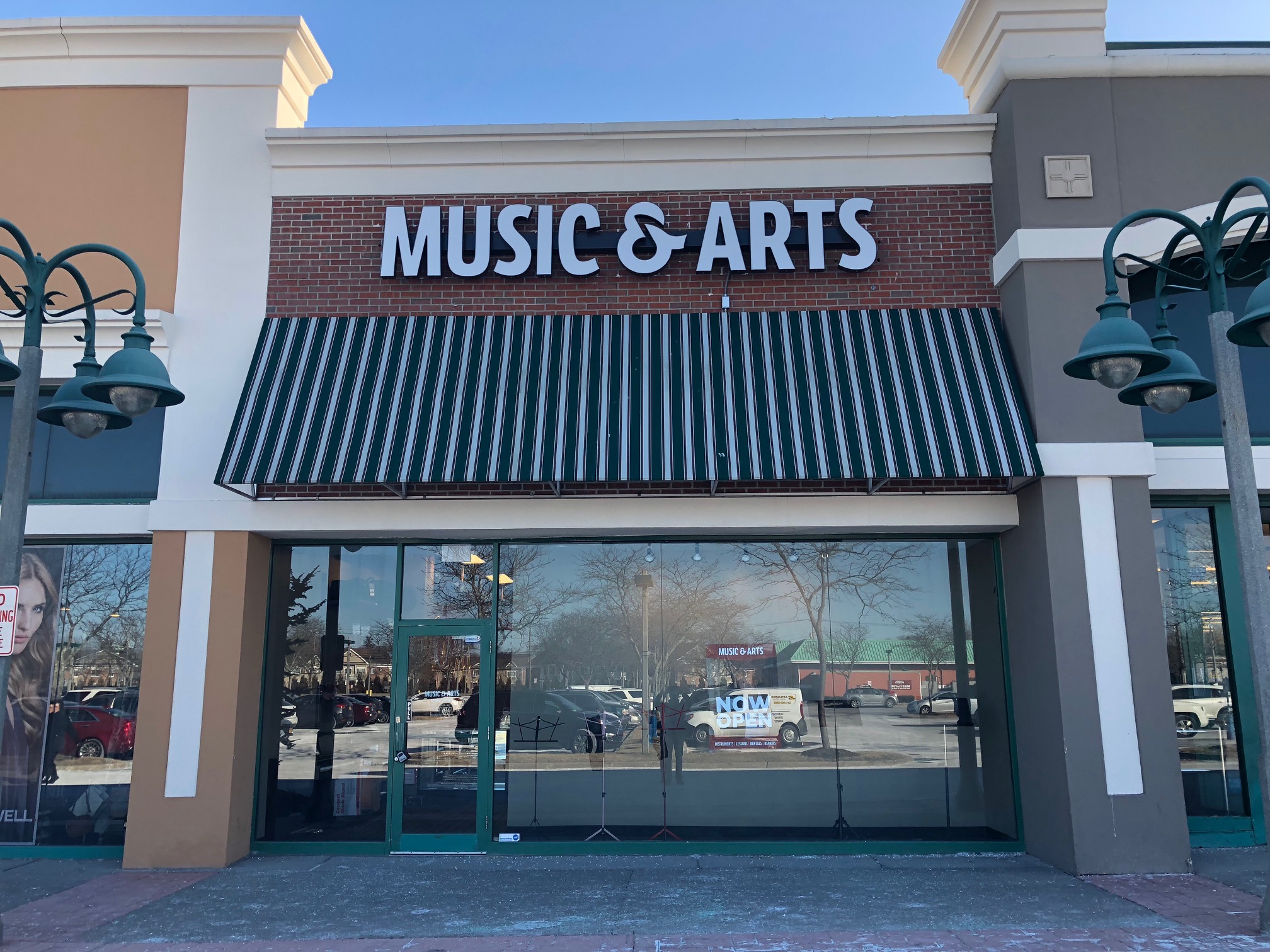 116 Jericho Tpke
Mayfair Shopping Center
Commack, NY 11725
Store Hours
Wednesday
11:00am

-

8:00pm
Thursday
11:00am

-

8:00pm
Saturday
10:00am

-

5:00pm
Store Services
Returns Allowed
Ship To Store
Curbside Pickup
Lessons
Rentals
Meet Our Instructors
Andres is a composer, pianist, guitarist and educator who loves telling stories. He holds a Masters Degree in Music Composition from the Aaron Copland School of...
Read more about Andres
August DuBeau is a current master's student at Stony Brook University studying viola performance under the tutelage of Lawrence Dutton and Matthew Lipman....
Read more about August
Brian Anderson is a violin and viola teacher from Northern Virginia working towards a Master's degree in viola at Stony Brook University under the direction...
Read more about Brian Anderson
Dylan E.
Music Teacher, Master
Instructs:
Cello, Mandolin, Music Theory, Piano, String Bass, Technology, Viola, Violin
Dylan Ebrahimian (b. 1991, Manhattan) is a violinist, composer, teacher and sound artist that operates out of New York and Shanghai. His teachers...
Read more about Dylan E.
Francis Rimando
Music Teacher, Expert
Instructs:
Bass Guitar, Guitar, Piano, Ukulele, Voice
I have been learning music since I was 6, when I plucked out the melody of the Star Wars theme on the piano.Ever since, I've been dabbling in all kinds of...
Read more about Francis Rimando
Hello everyone! My name is Jeffrey Kautz. I'm the percussion instructor at Music & Arts in Commack, NY. I'm currently the Timpanist of the Manhattan...
Read more about Jeffrey
Maia Gonzalez is a classically trained soprano pursuing her Graduate Degree at the Manhattan School of Music under the tutelage of Ashley Putnam. Ms. Gonzalez...
Read more about Maia Gonzalez
Meaghan L.
Music Teacher, Expert
Instructs:
Bass Clarinet, Clarinet, Flute, Piccolo, Saxophone
Meaghan has been playing flute for over 14 years. She is currently a student teacher on Long Island pursuing a Music Education degree from SUNY Fredonia, where...
Read more about Meaghan L.
Mike
Music Teacher, Expert
I want to share my lifelong passion for music with you. Among my earliest memories is my older cousin dropping the needle on the Beatle's latest hit "Ticket to...
Read more about Mike
Patrick Lynch is a musician, educator, and composer specializing in guitar. He enjoys playing all genres of music from jazz to rock to blues to classical....
Read more about Patrick Lynch
Rene Sanchez
Music Teacher, Professional
Instructs:
Clarinet, Flute, Saxophone, Trombone, Trumpet
Multi-Instrumentalist and composer, playing saxophone for 14 years. Experience performing in an array of genres including classical, pop, hip-hop, R&B,...
Read more about Rene Sanchez
Ricardo
Music Teacher, Expert
Speaks:
English, Spanish, Italian
Born in Montevideo, Uruguay, Ricardo began his studies at the National school of Lyrical arts ( Escuela Nacional de Arte Lirico). Under the tutelage of his...
Read more about Ricardo
Tyler
Music Teacher, Professional
Instructs:
Baritone, French Horn, Trombone, Trumpet
Tyler Zapata is a 21 year old musician and trumpet player from Long Island, New York. He will receive his Bachelor's Degree in Music Education from the Crane...
Read more about Tyler
Zachary Ashland, an accomplished oboist, is currently pursuing his Masters degree at Stony Brook University under the guidance of the esteemed James Austin ...
Read more about Zachary Ashland
Meet Our Associates
Skip link
Welcome to Music & Arts | Commack NY
We've been on a mission to get the world excited about music for over 65 years. As America's favorite music store, we're proud to offer incredible music instruction, instrument and music accessory sales, rentals, repairs, and a massive selection of books and sheet music. From seasoned educators and professional musicians to the parents of children learning an instrument for the first time, we're proud to serve anyone with an interest in music. Stop in and see us today!
Commack, New York, welcome to your friendly local music store. We're here to connect you with everything you need to be successful in music. You can find us off the Jericho Turnpike just east of Veterans Memorial Highway and Sunken Meadows State Parkway. We're in the Mayfair Shopping Center, right next to Rite Aid and Harry Charles Salon & Spa!

We're proud to serve the residents of Commack and the surrounding communities of Kings Park, East Northport, Greenlawn, Elwood, South Huntington, Dix Hills, Melville, Deer Park, Brentwood, Baywood, Central Islip, Long Island, Hauppauge, Smithtown and more.
Music & Arts has been connecting local students across the nation with instruments and music resources for over 65 years. Our Commack location proudly serves the following local school districts:

Babylon Union Free School District
Bay Shore Union Free School District
Bethpage Union Free School District
Brentwood Union Free School District
Central Islip Union Free School District
Cold Spring Harbor Central School District
Commack Union Free School District
Connetquot Central School District
Deer Park Union Free School District
East Islip Union Free School District
Elwood Union Free School District
Farmingdale Union Free School District
Half Hollow Hills Central School District
Harborfields Central School District
Hauppauge Union Free School District
Huntington Union Free School District
Islip Union Free School District
Kings Park Central School District
Lindenhurst Union Free School District
North Babylon Union Free School District
Northport-East Northport Union Free School District
Plainedge Union Free School District
Plainview-Old Bethpage Central School District
Smithtown Central School District
South Huntington Union Free School District
West Babylon Union Free School District
West Islip Union Free School District
Wyandanch Union Free School District


Got your eye on one of our instruments? Consider checking out our layaway program! With a small down payment, you'll be able to set aside an instrument to purchase at a later date. This is a great option for families on a tight budget or those wanting to keep big box gifts a secret until the perfect moment. Ask one of our friendly sales associates for more details today!

If you're a social learner looking for a new challenge, check out our group music lessons! This is the perfect way to learn an instrument like the guitar, bass or ukulele and bond with friends and family at the same time. By design, students learn as much from their peers as they do from the instructor in group lessons. Check out our group lessons today!
Are you a local musician gearing up to play this year's Long Island Music Festival? Let our store be your last stop before you take the stage! We've got everything you need to put on a stellar performance, from reeds, strings, sheet music, and drum heads to an expert repair and maintenance team. Break a leg up there! (Not literally, of course).
Do you love the incredible live music you see perform at the Feast of Mother Cabrini Italian Festival every year? If you've always learn an instrument, check out the private lessons we hold in our store! Whether you're a complete newbie or have been playing music for decades, our phenomenal teaching staff can help you reach your musical goals.
MORE ABOUT MUSIC & ARTS

The first Music & Arts store opened in a Bethesda, Maryland home back in 1952. Over 65 years and hundreds of stores later, we're proud to now be America's leading provider of music lessons, private music lessons, instrument sales, rentals and repairs. We've grown leaps and bounds over the decades, but we've never lost focus on connecting the communities we serve with music any way we can. We've been owned by the same family since the very beginning, and our passion for being ambassadors of music has never changed. We can't wait to connect you with everything you need to be successful in music!