Find an Instructor
Find an Instructor
The Woodlands TX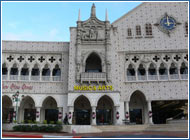 19075 Interstate 45 S Suite 111H
Shenandoah, TX 77385
Special Store Hours
Temporary Hours for Monday, 05/30
11:00am

-

6:00pm
Store Hours
Wednesday
11:00am

-

8:00pm
Thursday
11:00am

-

8:00pm
Saturday
10:00am

-

5:00pm
Store Services
Clearance
Repairs
Returns Allowed
Ship To Store
Curbside Pickup
Lessons
Rentals
Meet Our Instructors
I began playing at the age of 7, self-taught learning basics with the Mel Bay series of instructional books. I am left-handed and played with the strings...
Read more about Alfredo Montez
Amanda Merrick is a musician in the Houston area and regularly performs in various productions. Her love of music began at an early age when her grandmother...
Read more about Amanda Merrick
Born and raised in Texas, and fell in love with music at an early age when watching my dad play Tejano music while making his guitar talk. I played Trombone in...
Read more about Christopher Martinez
Chris Whitaker is a versatile session drummer with 13 years of musical experience. An avid performer in studio and on tour, Chris has been fortunate to share...
Read more about Chris Whitaker
Darryl Richards
Music Teacher, Expert
Instructs:
Clarinet, Flute, Saxophone
Darryl Richards has had an illustrious career as a performer and educator, in both classical and jazz genres. He grew up in Humble, Texas, and holds a Bachelor...
Read more about Darryl Richards
Jason Stephens is currently a junior at Sam Houston State University pursuing his degree in music performance with a specialization on the bassoon. My goal is...
Read more about Jason Stephens
Joanna
Music Teacher, Master
Instructs:
Cello, Piano, Viola, Violin
Bachelor of MusicOver 25 years of teaching experienceHeld various pianist positions throughout the years as well as participated in orchestras and quartets
Read more about Joanna
Born with an ear for Music, Johnny learned to sing and write songs on his own, as well as play the Organ and piano. Johnny also played Clarinet, Bass...
Read more about Johnny Foster
Kalista Nguyen
Music Teacher, Master
Instructs:
Cello, Piano, String Bass, Viola, Violin
Kalista is a violist and native Houstonian that has been teaching and performing in DFW for the past few years. She started her musical journey at the age of...
Read more about Kalista Nguyen
Luis Miron
Music Teacher, Professional
Instructs:
Bass Guitar, Guitar, Piano
My name is Luis Miron. I am an American citizen, and I was born in Guatemala city in Central America. I teach and perform Piano, Guitar,...
Read more about Luis Miron
Luke Vacca
Music Teacher, Master
Instructs:
Baritone, French Horn, Trombone, Trumpet
Luke Vacca is a trombonist and music educator currently based in Spring, TX. He is the brass lesson instructor at Music & Arts in The Woodlands....
Read more about Luke Vacca
Being that I've played guitar for about 12 years now, and dedicating half of my life towards music, I felt Music & Arts was the perfect place for me to...
Read more about Stephen Stark
Meet Our Associates
Skip link
Welcome to Music & Arts | The Woodlands TX
Music and Arts' mission is to get people of all backgrounds and interests excited about music. We're avid believers in music's profound impact on a person's life, and we're proud to be a resource for students, parents, music educators and musicians of every stripe in the local communities we serve nationwide. Music & Arts is a one-stop music shopping experience that provides private music lessons, a wide assortment of sheet music and books as well as instrument sales, rentals and repairs to everyone from seasoned career musicians to complete beginners. We're here to support you no matter where you find yourself in the wide world of music.
Shenandoah, Texas, welcome to your friendly local music store! Our Woodlands location is conveniently located on I-45 and Tamina Road in the Portofino Shopping Center. You can find us right next to the Woodforest Bank Stadium and just northwest of Lake Woodlands. We're here to be your resource for everything music no matter what your interest and background is.
We proudly serve the wonderful community at The Woodlands and the surrounding areas of Sleepy Hollow, Woodloch, Chateau Woods, Oak Ridge North, Grogan's Mill, Avonak, Willow, Egypt, Conroe, Cut and Shoot, Wigginsville, Grangerland, Porter Heights, Spring and more!
Teach music in The Woodlands? Music & Arts has a deep appreciation for everything you do, and we're here to make your job just a little bit easier. Come in during our monthly Teacher Appreciation Day and save 30% on books and sheet music! Thanks for enriching our nation's kids lives through music!
For over six decades, Music & Arts has been connecting students in music education programs nationwide with the tools they need to be successful in music. The Woodlands Music & Arts location proudly serves the following schools:
PUBLIC SCHOOLS
Conroe ISD
Magnolia ISD
Willis ISD
Montgomery ISD
Kline ISD
Aldine ISD
Spring ISD
Humble ISD
PRIVATE SCHOOLS
The Woodlands Christian Academy
The John Cooper School
Trinity Lutheran
COLLEGES
Sam Houston State University
University of Houston
Houston Community College
Lone Star College System
Whether you're gearing up for an important classical performance at The Cynthia Woods Mitchell Pavilion or for a country music tour around the great state of Texas, let Music & Arts be your last stop before you take the stage! With everything from sheet music and instructional books to name brand instruments and accessories, we're here to help your performances run as smoothly as possible.
Need your guitar or bass restrung before your next show? Let our maintenance and repair team handle it for you! Before an important show, the last thing you should be doing is finding time to put strings on your guitar, so drop off your axe with us and we'll get it cleaned and restrung in no time to help you can get back to what's important––music!
Want to learn how to play music like country icons Hayes Carll and Jack Ingram? Well, they got their start right here in The Woodlands and you can too with some private music lessons taught here in our store! With a combined decades of experience teaching children and adults, our incredible private lesson staff teaches a variety of styles and methods on everything from the guitar and keyboard to any instrument you'd hear in an orchestra.
Our instrument rental program is a terrific option for anyone interested in learning how to play music for the first time. With all of our instruments in the program 100% rent-to-own, this is a great option for testing the musical waters without committing to a serious purchase. With every monthly payment contributing towards the purchase of an instrument, this is a great option for adults and young children.
More About Music & Arts
Our story of incredible growth has everything to do with the unshakable relationships we've formed within the communities we serve. Since opening our first store in 1952, we've become a big company––with over 150 locations nationwide, we're the nation's leading provider of private music lessons, band and orchestra instrument sales, rentals and repairs––but nothing means more to us than seeing music's impact on an individual level within the communities we serve. No matter what you're doing in the wide world of music, we've got your back. Come visit our Woodlands location today! Our incredible staff can't wait to meet you.
Our staff has extensive knowledge of the following brands and many more:
65 Amps, A Designs, Akai Professional, AKG, Alesis, Alto, Altus, Ampeg, Antelope Audio, Antoine Courtois Paris, Apogee, Apple, Audio Technica, Arturia, Auralex, Avanti, Axl, B3 Guitars, Bach, Bad Cat, Beats By Dre, Bedell, Behringer, Benchmark, Benchmark Media Systems, Besson, Black Cat, Blackstar, Blue, Bogner, Bosch, Bose, Boss, Breedlove, Bricasti, BSS Audio, Buffet Crampon, Bugera, Carl Martin, Casio, Cerwin-Vega, Chameleon Labs, Chandler Limited, Charvel, Chauvet, Cloud, Conn, Cordoba, Courtois, Crown, Cusack Effects, Dangerous Music, DBX, DDrum, Dean, Death By Audio, Diamond Pedals, Digitech, Disney by Washburn, DLS Effects, Dunnett, DW, EBS, Eden, Elation, Electro-Harmonix, Electro-Voice, Elysia, Emerson, Eminence, Emma Electronic, Empirical Labs, Empress Effects, Engl, Epiphone, ESP, Eventide, EVH, Fano Guitars, Fender, Fender Custom Shop, Fishman, Focusrite, Fox, Fuchs, Fulltone, G7th, Gallien Kruger, Gemeinhardt, Genz Benz, Gibson, Gibson Custom, Gibson USA, Giffin Guitars, GNI Pedals, Godlyke, Golden Age, Gold Tone, Great Divide, Great River, Gretsch Drums, Gretsch, Guild, Hagstrom, Hao, Harden Engineering, Harmon, Haynes, Hercules, Hohner, Holton, Ibanez, J Puchner, Jackson, JamHub, Jasmine by Takamine, JBL, Jupiter, K&M, Kanstul, Kawai, Keeley, Keith McMillen, Keilwerth, King, Kemper, Koll Guitars, Korg, Kramer, KRK, Kurzweil, Kush Audio, Larsen, Langevin, Leblanc, Lexicon, Line 6, LovePedal, LP (Latin Percussion), LsL Instruments, Luna Guitars, M-Audio, Mackie, Mad Professor, Malekko Heavy Industry, Manley, Mapex, Marshall, Martin, Martin-Leblanc, Meinl, Meinl Weston, Mesa Boogie, Miraphone, Mogami, Moog, MOTU, Music XPC, Neumann, Neve, Novation, Nord, Numark, NS Design, On-Stage Stands, Option 5, Ovation, Ortofon, P. Mauriat, Paiste, PDP, Pearl, Pearl Flutes, Peavey, Pelonis Sound and Acoustics, Perri's, Phonic, Pigtronix, Pioneer, Powell, Powell-Sonare, Prelude by Conn-Selmer, PreSonus, Proo-Ject, PRS, QSC, Rainsong, Rane, Reunion Blues, Rivera, RME, RockStand by Warwick, Rockbag by Warwick, Rockcase by Warwick, Rockbass by Warwick Rode Microphones, Roland, Royer, Sabian, Schecter Guitar Research, Schreiber, Schroeder Guitars, Selmer, Selmer Paris, Sennheiser, Shure, Solid State Logic, Sonivox, Soundcraft, Squier, Stanton, Steinberger, Sweet Sound Electronic, SWR, Takamine, TASCAM, Taylor, Thermionic Culture, Toadwords, Tobias, Toca, Tone King, Tortuga, T-Rex Engineering, True Systems, Two Rock, Universal Audio, Vestax, Vito, Voodoo Lab, VOX, Wampler, Washburn, Weber Speakers, Xotic Effects, Yamaha, Yamaha Band & Orchestra, Yanagisawa, ZVex, Zoom, Altus, Antoine Courtois Paris, Bach, Besson, Buffet Crampon, Burkart, B&S, Conn, Courtois, Di Zhao, Emerson, Fox, Gemeinhardt, Getzen, Haynes, Hans Hoyer, Holton, Jupiter, Kanstul, Keilwerth, King, Martin-Leblanc, Miraphone, Muramatsu, P. Mauriat, Pearl Flutes, Powell, Powell-Sonare, Prelude by Conn-Selmer, Selmer, Selmer Paris, Shires, Vito, Yamaha Band & Orchestra, Yanagisawa, and many more.