Find an Instructor
Find an Instructor
Kempsville VA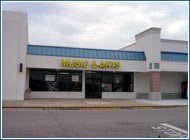 5244 Providence Rd
Fairfield Shopping Center
Virginia Beach, VA 23464
Special Store Hours
Temporary Hours for Monday, 07/04
Closed
Store Hours
Wednesday
11:00am

-

8:00pm
Thursday
11:00am

-

8:00pm
Saturday
10:00am

-

5:00pm
Store Services
Repairs
Returns Allowed
Ship To Store
Curbside Pickup
Lessons
Rentals
Meet Our Instructors
Barbara Moss
Music Teacher, Master
Instructs:
Guitar, Music Theory, Piano, Voice
I was born in NY and lived in Virginia Beach for the past 15 years. I began playing piano at age 7 and the guitar at age 14.My B.A. degree solidified my already...
Read more about Barbara Moss
Originally just a piano student and trumpet player in marching band during high school, I ended up taking a slightly different path toward choral music and...
Read more about William Boardman
Chris
Music Teacher, Master
A violinist of 16 years, Christopher Taylor is a lover of all music and topics associated with the violin. Chris has a special interest in classical...
Read more about Chris
Frank Jones
Music Teacher, Master
Instructs:
Bass Clarinet, Clarinet, Flute
Frank has been teaching flute and clarinet lessons for over 25 years. He has a degree in Music Education and was a band director with the public school system...
Read more about Frank Jones
Herbert Smith
Music Teacher, Master
Instructs:
Bass Guitar, Guitar
Dr. 'KC' James
Music Teacher, Master
Instructs:
Cello, String Bass, Viola, Violin
Dr. James has been involved with music, from his ealiest days as a youth, in Philadelphia, Pa. He teaches the fundamentals of all orchestral strings: violin,...
Read more about Dr. 'KC' James
Kevin Turner
Music Teacher, Master
Instructs:
Banjo, Bass Guitar, Guitar, Ukulele
Kevin Turner was born and raised in Chesapeake, Virginia and got his start in music during elementary school by singing in chorus. Kevin has always been a...
Read more about Kevin Turner
Steve
Music Teacher, Professional
Instructs:
Bass Guitar, Guitar
Teresa Browndorf
Music Teacher, Master
Instructs:
Cello, Clarinet, Flute, Saxophone, Viola, Violin
Native of Levittown, PA. Studied Flute, Violin and Cello with members of The Pittsburgh Symphony Orchestra. Worked in string instrument repair before...
Read more about Teresa Browndorf
Meet Our Associates
Skip link
Welcome to Music & Arts | Kempsville VA
Here at Music & Arts, we're avid believers in the power of music. Our goal is to connect people of all ages, interests and backgrounds with whatever resources they need to be successful in music. With over 150 locations nationwide, we offer a comprehensive music shopping experience to our clients that includes phenomenal private music instruction, instrument sales, rentals, repairs, music accessories, books and sheet music. Wherever music takes you, we're here to help you thrive.
Virginia Beach, VA, welcome to your friendly local music store! Music & Arts has been proud to service the musical needs of students, teachers, and professional musicians in Virginia Beach City for years now, and we're happy to connect you with whatever music resources you need. Located in Kempsville, we specialize in instrument rentals and sales, music lessons, instrument repairs, accessories sales, and we offer the area's largest selection of sheet music. We're conveniently located on the southeast corner of the intersection of Kempsville Road and Providence Road in the Fairfield Shopping Center. You can find us just to the south of the Elizabeth River and a little north of Lake James.
In addition to the lovely community of Virginia Beach, we also serve the surrounding areas of Arrowhead, Easton Forest, Janaf, Military Circle, Norfolk, Woodbine, Bayside, Chic's Beach, Bay Island, Dam Neck, Woodhouse Corner, Princess Anne, Pungo, Sigma, Sandbridge, Albemarle Acres, Greenbrier East, Salem, Great Bridge, Chesapeake, Portsmouth and more! Interested in getting your child enrolled in music lessons but aren't sure if they'll stick with it? Check out our instrument rental program! With all of our instruments 100% rent-to-own, you can rest assured knowing that every monthly payment is going straight toward the cost of purchasing the instrument and that you can also take it back any time.
For over 65 years, Music & Arts has provided music programs across the nation with instruments, instructional materials and music accessories. Being a small part of the musical growth and development of so many of our nation's children has been a complete honor.
We're proud to serve the following local schools:
Brandon, Salem, Kempsville, Larkspur, Independence, and Bayside Middle Schools, Tallwood, Salem, Kempsville, Green Run and Bayside High Schools, Arrowhead, PointOView, White Oaks, Kempsville, Kempsville Meadows, Bayside, Hermitage, Shelton Park, Indian Lakes, Glenwood, Providence, Fairfield, Woodstock, College Park, Tallwood, and Centerville Elementary schools
Need your guitar restrung? Got a crack in your upright bass you need fixed asap? Our store's got you covered! With a team of instrument maintenance and repair experts ready to help, we're here to get your axe cleaned, strung up and ready to play!
Local music teachers, rejoice! Come in and save 30% on sheet music and books during our monthly Teacher Appreciation Day! We think the world of our nation's music teachers, and this is our small way of saying thanks!
Want to learn how to write, record and produce music like Pharrell Williams? Well, the man behind the smash hit "Happy" got his start right here in Virginia Beach and you can too with some private music lessons! With an incredible music instructor team with experience teaching music theory and songwriting on instruments like the guitar, bass, keyboard, violin, saxophone and more, we can help introduce you to the world of music! Whether you're interested in sharpening skills on an instrument you've been playing for years or some phenomenal private lessons for your child, we've got you covered!
Got an important wedding gig at the Royal Courtyard with your string quartet coming up? Let the Kempsville Music & Arts location help you get ready for your performance! With everything from violin strings and bows to tuners, picks and a massive assortment of sheet music, our job is to get you everything you need to have an incredible performance. We're your last stop before you take the stage!
More About Music & Arts
Since opening our first store in Maryland over 65 years ago, we've prided ourselves on helping the communities we serve find everything they need to be successful in music. We've always been owned and operated by the same family, and our values inform everything we do as a company. We're the nation's largest provider of instrument sales, rentals, repairs and private music lessons, but nothing means more to us than seeing individuals thrive in the communities we serve. Come check out our Kempsville location today! Our incredible staff can't wait to meet you.