Find an Instructor
Find an Instructor
Western Branch VA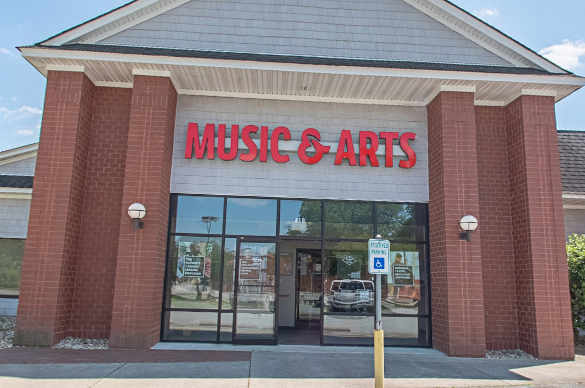 3304 Taylor Rd Suite A
Chesapeake, VA 23321
Special Store Hours
Temporary Hours for Monday, 07/04
Closed
Store Hours
Wednesday
11:00am

-

8:00pm
Thursday
11:00am

-

8:00pm
Saturday
10:00am

-

5:00pm
Store Services
Repairs
Returns Allowed
Ship To Store
Curbside Pickup
Lessons
Rentals
Meet Our Instructors
Bradford Hooker has been playing for over 50 years and has been teaching for over 40 years. He has a vast amount of knowledge and expierence in music history,...
Read more about Bradford Hooker
Carl Olson is a full-time professional pianist in the Hampton Roads area. He started piano at age 8 and was classically trained for 10 years before...
Read more about Carl Olson
My primary instrument is flute, which I've been playing for about 13 years. I've been playing piano and casual guitar for about 5 years. While...
Read more about Claudia Diener
David Wiley
Music Teacher, Master
Instructs:
Piano, Trombone, Trumpet
David Wiley has been teaching professionally since 1991. He recieved his bachelor degree from Ohio State University. He has a Masters of Education from Old...
Read more about David Wiley
Devon Gronka
Music Teacher, Master
Instructs:
Banjo, Bass Guitar, Guitar, Mandolin, String Bass, Ukulele
Devon Gronka graduated from Reinhardt College in 2009 with a BA in music performance, focusing on classical guitar. He is currently pursuing a Master's of Arts...
Read more about Devon Gronka
Jim has been playing guitar for most of his life. He is an extremely passionate player who enjoys playing all styles of Music. Some of his favorite genres...
Read more about James Muhlenbruch
Kevin has been teaching and playing professionally since 2007. He enjoys playing different types of Rock and Roll music, including classic rock, alternative,...
Read more about Kevin Brinson
I received a Bachelor's of Music in Music Media from Norfolk State University. I am a piano instructor who specializes in beginner level playing and I enjoy and...
Read more about Kimberly Jones
Lori A Selvy currently works for Music and Arts Centers as a piano instructor, at the Western Branch location Chesapeake Virginia. Previously, she...
Read more about Lori Selvy
"Jazz Saxophonist/ Producer, Michael Giamille reigns from Chesapeake, VA. After receiving his bachelor's degree in Music Media from Norfolk State...
Read more about Michael Giamille
Ricky has been teaching and playing professionally over 25 years. He school Mississippi Valley State University for a Bachelors Degree of Music Education. He...
Read more about Ricky Micou
A musician since 6 years old, starting on classical piano, Robb has known music most of his life. By 12 & 13 he'd taught himself bass and guitar and at 21...
Read more about Robert Van De Riet
Ryan McEwen is an American born percussionist from Virginia Beach, VA. With roots in classical percussion, he went to the Visual & Performing Arts Academy...
Read more about Ryan McEwen
Scott Cozart
Music Teacher, Professional
Instructs:
Bass Guitar, Guitar, Voice
Scott is a lifetime musician. After retiring from the military, he decided to make music his new career. His military experience led to his outstanding...
Read more about Scott Cozart
Travis Sykes
Music Teacher, Master
Instructs:
Bass Guitar, Guitar, Technology, Ukulele
Travis Sykes has been teaching for over 10 years. He recieved a degree from the Berklee College of Music. Travis was apart of the international touring...
Read more about Travis Sykes
Meet Our Associates
Skip link
Welcome to Music & Arts | Western Branch VA
Music is what we live, dream and breathe here at Music & Arts. That's why we've been on a mission to get people of all walks of life excited about the art form we love for over 65 years. More than just a music store, we're America's most trusted music resource, offering music lessons, name brand instrument and music accessory sales, rentals, repairs, and a wide selection of books and sheet music. We proudly serve all people wherever they're at on their musical journey, so no matter where you find yourself in the wide world of music, you'll alway have a home here at Music & Arts.
Welcome to the Western Branch Music & Arts store page! Our store is located southeast of I-664 and Taylor Road on Bruce Road. We're a short walk away from Drum Point Creek and the Chesapeake Public Trail.
We're proud to serve the wonderful people here in Chesapeake, VA and the surrounding areas of Norfolk, Portsmouth, Suffolk, Windsor, Isle of Wight, Benns Church, Carrollton, Smithfield, Rescue, Hampton, Virginia Beach and more!
>Are you a local music educator based here in Chesapeake? We have a huge appreciation for our nation's hardworking music educators, and we can't thank you enough for enriching the lives of our local kids through music. Stop in and see us the first Monday of every month and save 30% on books and sheet music during our Teacher Appreciation Day! Thanks for everything you do!
If you're dying to take home an instrument today but aren't able to, consider putting it on layaway! We'll set aside the instrument for you to pick up at a later date. This is a great option for everyone from families making music purchases on a tight budget to those who want to keep big gifts a secret until just the right moment. Ask one of our sales associates for more details.
Did you know that former member of Bruce Springsteen's E Street Band Clarence Clemons is from here in town? If you're interested in learning how to master the tenor sax like him or in learning another instrument like the guitar, check out our private music lessons! Our incredible university-trained teaching staff has the passion and experience to help you succeed in music no matter what your goals are.
Let the Music & Arts here in Chesapeake be your last stop before you take the stage! Whether you're getting ready for a show at Willett Hall or are planning a big national tour, we've got everything you need to shine on stage, from picks, strings, tuners and sheet music to an instrument expert repair and maintenance team.
MORE ABOUT MUSIC & ARTS
Our first store was founded and run out of a Bethesda, Maryland home back in 1952. Hundreds of locations and over six decades later, we're proud to now be America's leading provider of instrument sales, rentals, repairs and music lessons. We've experienced a massive amount of growth and change over the years, but our steadfast commitment to sharing the magic of music with people has never changed. We're still operated by the same family and have never lost sight of our values. Stop in to our Western Branch store today!