Find an Instructor
Find an Instructor
Yorktown VA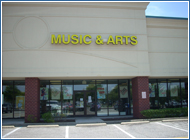 209 Village Ave Suite I
Kiln Creek Shopping Center
Yorktown, VA 23693
Special Store Hours
Temporary Hours for Monday, 05/30
11:00am

-

6:00pm
Store Hours
Wednesday
11:00am

-

8:00pm
Thursday
11:00am

-

8:00pm
Saturday
10:00am

-

5:00pm
Store Services
Returns Allowed
Ship To Store
Curbside Pickup
Lessons
Rentals
Meet Our Instructors
Adrien Gaines
Music Teacher, Master
Instructs:
Clarinet, Flute, Oboe, Saxophone
Mr. Adrienne Gaines is a dynamic and dedicated music professional equally comfortable in the teaching studio as well as on the concert stage. He earned a...
Read more about Adrien Gaines
Carl Olson is a full-time professional pianist in the Hampton Roads area. He started piano at age 8 and was classically trained for 10 years before...
Read more about Carl Olson
Carol Allen has a lifelong love of music and playing the clarinet. Carol began clarinet lessons at the age of 12, and studied with Julie DeRoche, and later, Don...
Read more about Carol Allen
At a young age I developed a love for music and the drums through my parents. They introduced me to a wide range of musical textures which...
Read more about Chad Hasty
David Brogan
Music Teacher, Master
Instructs:
Baritone, French Horn, Piano, Trombone, Trumpet, Tuba
Dorian Black
Music Teacher, Master
Instructs:
Drums, Music Theory, Piano
I am a music educator and I love to teach percussion, drum set, rudimental snare techniques, piano/keyboard, music production, and music theory. I received my...
Read more about Dorian Black
Doris is a vocalist and pianist from Chesapeake Virginia. She was a member of groups such as the Chesapeake Civic Chorus from 2015- 2019. Doris is currently a...
Read more about Doris Patterson-Brown
Hello! My name is Hunter Troyer and I am a recent graduate of Christopher Newport University. I graduated with a Bachelor's in Music, with concentrations in...
Read more about Hunter Troyer
Hello everyone! My name is Ian Griffith and I am 25 years old. I live in Hampton, Virginia BUT My wife and I are originally from the state of Wisconsin. Yes,...
Read more about Ian Griffith
Curtis Rakes
Music Teacher, Master
Instructs:
Banjo, Bass Guitar, Guitar, Ukulele
My name is Jay and i have loved music all my life,I started playing the guitar when i was 8 years old and have been playing the guitar for 50+years and still...
Read more about Curtis Rakes
Kasey is pursuing a degree in Piano Performance and Music Education. Piano is a very influential piece of her life, and she wants to share her passion for music...
Read more about Kasey Watkins
Kevin Turner
Music Teacher, Master
Instructs:
Banjo, Bass Guitar, Guitar, Ukulele
Kevin Turner was born and raised in Chesapeake, Virginia and got his start in music during elementary school by singing in chorus. Kevin has always been a...
Read more about Kevin Turner
Taylor began playing the violin at age 5 and has not put it down since. She has participated in many ensembles including regional orchestra, all state...
Read more about Taylor Williamson
Timothy C
Music Teacher, Master
Instructs:
Bass Guitar, Guitar, Mandolin, Ukulele
Timothy's musical journey began during his senior year in highschool by taking piano lessons and teaching himself guitar. He then was lucky enough to take...
Read more about Timothy C
Meet Our Associates
Skip link
Welcome to Music & Arts | Yorktown VA
Here at Music & Arts, nothing makes us happier than seeing the communities we serve thrive in music. For over 65 years, we've faithfully connected students, parents, music educators and musicians of all stripes with music resources. We offer a comprehensive music shopping experience to our guests that includes phenomenal private instruction, instrument sales, rentals and repairs. We're here to connect you with everything you need to be successful no matter where music takes you!
Yorktown, VA, welcome to your friendly local music store! Music & Arts has serviced the musical needs of students, teachers, and professional musicians in Yorktown, Hampton, Newport News, Gloucester and Williamsburg-James City counties for decades. Located right in Yorktown close to Newport News, we specialize in instrument rentals and sales, music lessons, instrument repairs, accessories sales and offer the area's largest selection of sheet music. We're located near I-64 and Victory Blvd. in the Kiln Creek Shopping Center. We're just to the east of Brick Kiln Creek and to the south of Virginia's beautiful Hardwoods Mill Reservoir.
In addition to serving the wonderful community in Yorktown, we also serve the surrounding areas of Kiln Creek, Denbigh, Newport News, Aberdeen Gardens, Coliseum Central, Hampton, Buckroe Beach, Poquoson, Seaford, Acree Acres, Grafton and more!
Since opening our first store all the way back in 1952, Music & Arts has partnered with local schools to provide instruments, sheet music and accessories to students across the nation. Our Yorktown location proudly serves our local schools:
Berkeley Middle School, Bethel Christian, Bethel High School, Booker T Washington Middle School, Bruton High School, Crittenden Middle School, Denbigh High School, Dozier Middle School, Eaton Middle School, Gildersleeve Middle School, Gloria Dei, Gloucester High School, Grafton Middle School, Grafton High School, Hampton Roads Academy, Hampton Christian, Heritage High School, Hines Middle School, Hornsby Middle School, Huntington Middle School, James River Elementary School, Jamestown High School, Jones Magnet Middle School, Mathews High School, Matthew Whaley Elementary School, Menchville High School, Our Lady of Mt. Carmel, Page Middle School, Mary Passage Middle School, Peasley Middle School, Phenix Middle School, Poquoson Middle School, Phoebus High School, Poquoson High School, Queens Lake Middle School, Rawls Byrd Elementary School, Smithfield High School, Spratley Middle School, Tabb Middle School, Tabb High School, Thomas Hunter Middle School, Toano Middle School, Warwick High School, Woodside High School, Yorktown Middle School and York High School.
Are you a local music educator? Music & Arts is here to make your life easier! Come in and save 30% on music books and sheet music during our monthly Teacher Appreciation Day! We know how difficult your job can be and we appreciate everything you do, so this is our little way of saying thanks. Interested in learning how to play an instrument but aren't sure if you'll stick with it? Check out our 100% rent-to-own instrument rental program! This program is an excellent way to test the musical waters without committing to a serious purchase.
Want to learn how to sing like Ella Fitzgerald? She grew up in Newport News, just a few minutes away from our store! She got her start here and you can too with some private singing lessons taught right in our store! Our incredibly talented staff of private music teachers have experience teaching everything from vocal, guitar and piano lessons to music theory and songwriting!
Whether you're gearing up to perform the National Anthem at Todd Stadium with a choir you're leading or a national tour with your jazz ensemble, let Music & Arts be your last stop before you hit the stage! With everything from premium instrument brands to music accessories like guitar strings, violin bows and tuners, we've got everything you need to make sure your performances run smoothly. We support musicians of every age, background and musical interest, and we love to see our customers thrive.
More About Music & Arts
Since opening our first store in Bethesda, Maryland back in 1952, we've been owned and operated by the same family, and values inform everything we do as a company. We've become a large company––the nation's largest provider of private music lessons, band and orchestra instrument sales, rentals and repairs––but we've never lost focus of music's incredible impact on a personal level. Our remarkable story of growth has everything to do with our unshakable commitments to the local communities we serve. Whether you play viola in an orchestra or are a parent looking for music instruction for your child, we're here to serve you and your unique musical needs. Come visit our Yorktown location today! Our friendly staff can't wait to meet you!