Find an Instructor
Find an Instructor
Fairfield CT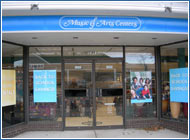 1863 Post Rd
Fairfield, CT 06824
Store Hours
Wednesday
11:00am

-

8:00pm
Thursday
11:00am

-

8:00pm
Saturday
10:00am

-

5:00pm
Store Services
Returns Allowed
Ship To Store
Curbside Pickup
Lessons
Rentals
Meet Our Instructors
Benji studied Classical Voice at Hartwick College, in Oneonta, NY. He is the Founder and Choral Director for Hartwick Men's Chamber Choir for 3 years and the...
Read more about Benji Mcclary Smith
EducationThe University Of North Texas.Master of Music in violin performance, 1988Indiana UniversityBachelor Of Music in Violin performance, 1982Principal...
Read more about Farzad Khozein
Glenn Mariconda is a member of the Mariconda family of musicians and educators. He studied drums with CT's Harry Ashmore and later with New Orleans...
Read more about Glenn Mariconda
Jackie Chasen
Music Teacher, Master
Instructs:
Bass Clarinet, Clarinet, Flute, Piano, Piccolo, Saxophone
Jackie studied music at the Berklee College of Music and jazz composition at the University of Massachusetts. She's been performing and composing ever since....
Read more about Jackie Chasen
I have been providing lessons in piano and voice at Music & Arts, Fairfield since 2011.I was teaching in public and private schools, with emphasis on vocal...
Read more about James Bruni
Jameson is a highly experienced music teacher who has been helping young musicians develop their skills since 2002. He is a trumpet player who studied under...
Read more about Jameson Forsythe
Jesse L
Music Teacher, Professional
Instructs:
Bass Guitar, Guitar
Hello! My name is Jesse Lowe and I've had a passion for guitar since 2005. I studied and performed music at Franklin Pierce University and have picked up...
Read more about Jesse L
Luther Blackwell received private training and secondary training at Berklee School of Music in Boston, Massachusetts, Oberlin Conservatory of Music in...
Read more about Luther Blackwell
Marcus McPherson is a talented musician who has performed for several years in several different genres of music, and is a graduate from Lander University,...
Read more about Marcus McPherson
Niall Reynolds
Music Teacher, Expert
Instructs:
Clarinet, Flute, Saxophone
Niall Reynolds performs, composes, conducts, and teaches about music. He specializes in woodwinds and holds degrees in clarinet and music education from the...
Read more about Niall Reynolds
Paul Fredericks
Music Teacher, Master
Instructs:
Banjo, Bass Guitar, Drums, Guitar, Music Theory, Piano, Technology, Ukulele
Paul Fredericks is a 32 year old Music Teacher & Freelance Musician from CT. He has studied at multiple universities such as Yale School of Music,...
Read more about Paul Fredericks
Peter Bugarchich
Music Teacher, Expert
Instructs:
Bass Guitar, Cello, Piano, String Bass
I am Classically trained, energetic, experienced and creative music teacher with a proven ability to get the very best out of pupils; experienced in identifying...
Read more about Peter Bugarchich
Sally Finck
Music Teacher, Professional
Instructs:
Cello, Piano, Voice
Ms. Finck grew up in a singing family, and graduated with an MA in Piano fromCentral Missouri State University. She acquired a cello in 2018 and has played...
Read more about Sally Finck
M. S. in Education from Southern Connecticut State University; B.S. in English with a minor in Music and History from Southern Connecticut State University;...
Read more about Maria Teresa Orlowski
Zach has been performing for over 10 years; playing both acoustic and electric guitar, as well as singing. He is a graduate of Western Connecticut State...
Read more about Zach Dransfield
Meet Our Associates
Skip link
Welcome to Music & Arts | Fairfield CT
Here at Music & Arts, our greatest passion is getting people of all walks of life excited about music. We're America's most trusted music resource, offering everything from phenomenal music instruction to name brand instrument and music accessory sales, rentals, repairs and a wide assortment of books and sheet music. We proudly serve everyone from professional musicians to the parents of children venturing out into the world of music for the very first time. So no matter who you are, you'll always have a home here at Music & Arts.
Fairfield, CT, our store is here for all your musical needs! You can find us just south of 1-95 and Mill Plain Road on Post Road. We're just to the south of the St. Thomas Cemetery near Pine Creek.
We're proud to serve the wonderful community of Fairfield and the surrounding areas of Bridgeport, Westport, Weston, Norwalk, Trumbull, Stratford, Millford and more!
Not able to take home an instrument today? The Music & Arts layaway program is the answer! For no additional cost, we'll put aside the instrument for you to pick up at a later date. Layaway is the perfect solution for families making music purchases on a tight budget and folks who want to keep big-box gift items a secret until just the right moment. Ask about our Layaway program today!
Nothing makes us happier here at Music & Arts than seeing young people thrive through the power of music. That's why we partner with music programs in schools nationwide to connect music students with instruments, music accessories and sheet music.
We're proud to serve the following schools and districts:
Fairfield, Westport, Weston, Norwalk, Stratford, Stratfield, Trumbull, Orange, and Milford. These schools include Silvermine Elementary, Wolfpit Elementary, Nathan Hale Middle School, Columbus Magnet School, Jefferson Elementary, Coleytown Middle School, Staples High School, Frenchtown Elementary, Middlebrook Elementary, Booth Hill Elementary, Trumbull High School, Roger Ludlowe High School, Fairfield Warde High School, David Wooster Middle School, Franklin Elementary, Wilcoxson Elementary, Matthewson Elementary, Harry B Flood Elementary, Meadowside Elementary, Orchard Hills Elementary, Like Oaks Elementary, Orange Ave Elementary, Turkey Hill Elementary, Racebrook Elementary, John F Kennedy Elementary, Bedford Middle, Burr Elementary, Calf Penn Meadow Elementary, Chapel St Elementary, Coleytown Elementary, Daniels Farm Elementary, Dwight Elementary, Fairfield Woods Middle, Greens Farms Academy, Greens Farms Elementary, Holland Hill, Jennings Elementary, Kings Highway Elementary, Long Lots Elementary, Mckinley Elementary, Mill Hill Elementary, Nathan Hale Middle, Nichols Elementary, North Stratfield Elementary, Osborn Hill Elementary, Pumpkin Delight Elementary, Riverfield Elementary, Roger Ludlowe Middle, Saugatuck Elementary, Second Hill Elementary, Sherman Elementary, St James School, Stratfield Elementary, Stratford Academy Johnson House, Tomlinson Middle, Weston Intermediate, and Weston Middle.
Did you know that Grammy Award-winning blues songwriter and guitarist John Mayer is from Fairfield? If you want to learn to play guitar like him, check out our music lessons! Our incredible university-trained teaching staff can help you play an instrument, learn music theory or write some music of your own. Ask about our private and group lesson options today!
Playing a big show at StageOne soon? Whether you play drums in a metal band or the flute in a chamber ensemble, we're here to help you shine on stage! With everything from reeds, sheet music and guitar strings to an expert instrument repair and maintenance staff, let the Music & Arts here in Fairfield be your last stop before you take the stage!
MORE ABOUT MUSIC & ARTS
Owned and operated by the same family since 1952, Music & Arts is proud to be America's most steadfast musical resource. Now the nation's leading provider of instrument sales, rentals, repairs and music lessons, we've grown significantly over the years, but we've never lost focus of music's profound impact on a human level. We owe our success to the countless unshakable relationships we've formed with parents, students, educators and musicians over the years. For all your musical needs, we're here to serve you.