Find an Instructor
Find an Instructor
Olney MD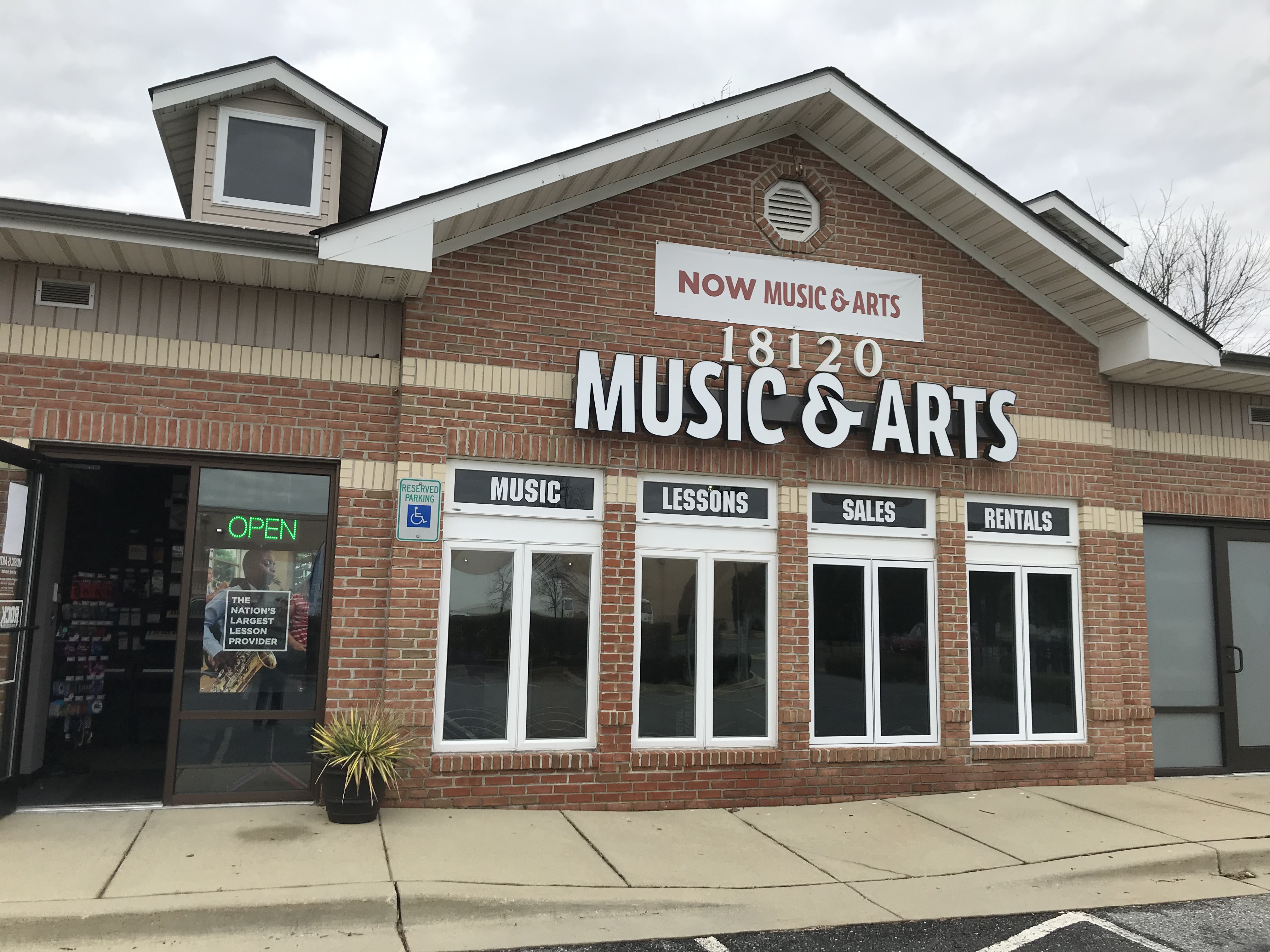 18120 Hillcrest Ave
Olney, MD 20832
Special Store Hours
Temporary Hours for Monday, 05/30
11:00am

-

6:00pm
Store Hours
Wednesday
11:00am

-

8:00pm
Thursday
11:00am

-

8:00pm
Saturday
10:00am

-

5:00pm
Store Services
Repairs
Returns Allowed
Ship To Store
Curbside Pickup
Lessons
Rentals
Meet Our Instructors
Bonnie McManaman
Music Teacher, Master
Instructs:
Clarinet, Flute, Saxophone, Violin
Bonnie McManaman is a full time musician. She is a performer, composer, arranger, and educator of music. Bonnie earned her Master of Music degree with an...
Read more about Bonnie McManaman
I started different instruments at different times...Piano lessons at age 5, Trumpet at age 8, and then Drums/Guitar/Bass when I was a teenager (I wanted...
Read more about Christopher Compton
Eugene Sidorov
Music Teacher, Master
Instructs:
Clarinet, Music Theory, Oboe, Piano, Saxophone
Based in Montgomery County, Eugene has been offering a variety of music lessons, ranging from the music theory, traditional woodwind instruments, and the piano,...
Read more about Eugene Sidorov
Joel R Karner, MMABorn and raised in Chicago, IllinoisTwo (2) Bachelor Degrees from The American Conservatory of Music (Chicago)Master Degree from Columbia...
Read more about Joel R Karner, MMA
Mark Washburn
Music Teacher, Professional
Instructs:
Bass Guitar, Guitar
Ive been playing and teaching music professinaly for over40years. Im currently looking for a company to work for so I can give back some of my experience and...
Read more about Mark Washburn
Matt Weiner
Music Teacher, Expert
Instructs:
Bass Guitar, Guitar, Ukulele
Learning to play guitar can be fulfilling in many ways and having the right guide on your journey can make a world of difference!I've been playing guitar for...
Read more about Matt Weiner
I love music, all kinds! For a drummer/percussionist, that creates all kinds of opportunities, from tapping rhythms with pencils on a schoolbook, to a crescendo...
Read more about Paul Simonetti
Russell Graham is a violinist and guitarist who lives in Montgomery Village, Maryland. He's been here for ten years, and enjoys the vibrant...
Read more about Russell Graham
Meet Our Associates
Skip link
Welcome to Music & Arts | Olney MD
Here at Music & Arts, we believe that music is much more than a hobby. From enriching the lives of students through education to giving hope, passion and purpose to people of all ages, we're avid believers in the power of music. We're proud to be America's most trusted one-stop music shop, offering name brand instrument sales, rentals, repairs, a massive selection of books and sheet music and the best music instruction around. We're on a mission to bring music to people of all ages, interests and education levels, so no matter where you find yourself on your musical journey, you'll always have a home here at Music & Arts!
Olney, Maryland, welcome to your friendly local music store! We're here for all of your musical needs. You can find us on the northeast corner of Georgia Avenue and Olney Sandy Spring Road. We're south of Greenwood Park and just to the west of James Creek. In addition to the wonderful community here in Olney, we also serve the surrounding areas of Anscroft, Norbeck, Leisure World, Layhill, Layhill South, Redland, Brookeville, Derwood, Rockville, Sunshine, Ashton-Sandy Spring and more!
We're huge fans of our nation's hardworking music educators. That's why the first Monday of every month we offer local music teachers 30% off during our Teacher Appreciation Day. We know how difficult your jobs can be, so we're here to make life just a little bit easier. Thanks for everything you do!
Music & Arts is proud to serve local music education programs across the country. Our Olney location works with local schools including Belmont Elementary School, Brooke Grove Elementary School, Bullis School, Burtonsville Elementary School, Bushy Park Elementary School, Cashell Elementary School, Charles Drew Elementary School, Cloverly Elementary School, Earl B. Wood Middle School, Fairland Elementary School, Farquhar Middle School, Flower Valley Elementary School, Forest Oak Middle School, Frederick Classical Charter School, Galway Elementary School, Georgetown Prepatory School, Glenelg Country School, Glenwood Middle School, Goshen Elementary School, Greenwood Elementary School, Judith Resnick Elementary School, Kensington-Parkwood Elementary School, Laytonsville Elementary School, Lois Rockwell Elementary School, Lucy Barnsley Elementary School, Maryvale Elementary School, Mill Creek Towne Elementary School, Olney Adventist Prepatory School, Olney Elementary School, Our Lady of Good Counsel High School, Redland Middle School, Rosa Parks Middle School, Sargent Shriver Elementary School, Sandy Spring Friends School, Sequoyah Elementary School, Shady Grove Middle School, Sherwood Elementary School, Sherwood High School, St. John the Baptist Catholic School, St. John's Episcopal School, Stonegate Elementary School, Washington Christian Academy, Wheaton and Woods Elementary School.
Has your instrument seen better days? Whether you've got a cracked violin or an electric bass with a broken string, you can't sound your best when your instrument isn't up to shape. Luckily, we're here to help! Our instrument repair and maintenance team has the expertise to help get your instrument back in shape in no time!
Got a social learner in the family? Check out our group music lessons! By design, students learn as much from their peers as they do from the instructor in these lessons, making them a great way to learn a new instrument and bond with friends and family at the same time. Ask a staff member for more details about our group lessons today!
Gearing up for a big performance coming up at the Olney Theater? Let the Music & Arts store here in town help you get ready to take the stage! With everything from music accessories like strings, straps, tuners, metronomes and picks to an expert instrument repair and maintenance team on staff, we're here to help you play your best. Good luck up there!
If you've got big dreams of performing with the Olney Big Band someday, we can help you get there! No matter what your musical goals are, taking private lessons here in our store can give you the technique, confidence and experience you need. Our incredible teaching staff has combined decades of experience instructing students of every age how to play instruments like the guitar, drums, bass, keys and anything you'd hear played in an orchestra.
MORE ABOUT MUSIC & ARTS
Humbly founded in a Bethesda, Maryland home back in 1952, Music & Arts has been operated by the same family for over 65 years. Now the nation's leading provider of music lessons, instrument sales, rentals and repairs, we've grown in some remarkable ways over the years, but we've never lost sight of music's profound impact on the many communities we serve. Our values mean the world to us, and no decision is made by our company without them in mind. Come visit us in Olney today! We can't wait to meet you!