Find an Instructor
Find an Instructor
Germantown MD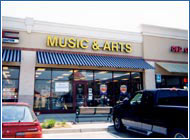 21040 Frederick Ave Suite B
Milestone Center
Germantown, MD 20876
Store Hours
Wednesday
11:00am

-

8:00pm
Thursday
11:00am

-

8:00pm
Saturday
10:00am

-

5:00pm
Store Services
Returns Allowed
Ship To Store
Curbside Pickup
Lessons
Rentals
Meet Our Instructors
Meet Our Associates
Ariana Patterson
Retail Manager
Expertise:
Amplifiers & Effects, Classroom & Kids, Drums & Percussion, Guitar, Marching Percussion, Percussion
Amplifiers & Effects, Classroom & Kids
show more
My path to Music & Arts is a great story! I'm a self-taught indie rock musician from Baltimore, who grew up overseas, the daughter of a foreign...
Read more about Ariana Patterson
David Perez
Senior Sales Associate
Expertise:
Guitar, Latin, Pro Audio
Guitar, Latin
show more
George Johnson
Senior Sales Associate
Expertise:
Classroom & Kids, Drums & Percussion, Hip Hop
Classroom & Kids, Drums & Percussion
show more
Music has been in my blood since my parents took me to see my first Jazz concert at the age of 6 months old. From playing drums with bands in high school and...
Read more about George Johnson
Trey Williams
Senior Sales Associate
Expertise:
Drums & Percussion, Pro Audio
Trey is a drummer and audio/visual systems installer. If you are looking for any drumming related answers Trey is your best resource. He's spent the last 13+...
Read more about Trey Williams
Skip link
Welcome to Music & Arts | Germantown MD
Here at Music & Arts, nothing makes us happier than seeing people of all ages and backgrounds thrive in music. Our mission is to serve students, parents, music educators and musicians across the nation with a comprehensive shopping experience that includes everything from phenomenal private music instruction to instrument and music accessory sales, repairs and rentals. With over 150 store locations nationwide, we're a big company, but we've never lost sight of our values and music's profound importance on a personal level.
You can find our Germantown store in the Milestone Center in Germantown, MD. Conveniently located on the southwest corner of the intersection of Frederick Road and Ridge Road, our store is fortunate enough to be located near an incredible park system. We're just to the west of Ridge Road Recreational Park, North Germantown Greenway Stream Valley Park, Goshen Branch Stream Valley Park and Great Seneca Stream Valley Park. After you're done shopping with us, check out this incredible park system!
We're proud to serve the good people of Germantown and the surrounding areas of Wildcat Forest, Damascus, Clarksburg, Hyattsville, Comus, Barnesville, Sellman, Dickerson, Beallsville, Poolesville, Dawsonville, Darnestown, Seneca, Travilah, North Potomac, Rockville, Gaithersburg, Derwood, Washington Grove, Redland, Montgomery Village, Stewart Town, Laytonsville and more!
Music & Arts serves local music education programs across the nation. Our Germantown location is proud to serve the following local schools:
Academy of Fine Arts, Capt James Daly Elementary, Cedar Grove Elementary, Centerville Elementary, Church of the Redeemer Christian School, Clarksburg Elementary, Clarksburg High, Clearspring Elementary, Clopper Mill Elementary, Damascus Elementary, Hallie Wells Middle, Damascus High, Darnestown Elementary, Diamond Elementary, Dr. Sally K. Ride Elementary, Fields Road Elementary, Fox Chapel Elementary, Gaithersburg Middle, Germantown Elementary, Goshen Elementary, Great Seneca Creek Elementary, John T. Baker Middle, Jones Lane Elementary, Kingsview Middle, Lake Seneca Elementary, Lakelands Park Middle, Laytonsville Elementary, Little Bennett Elementary, Lois Rockwell Elementary, Mary of Nazareth Catholic, Monocacy Elementary, Neelsville Middle, Poolesville Elementary, Rachel Carson Elementary, Roberto Clemente Middle, Rocky Hill Middle, Ronald McNair Elementary, Rosemont Elementary, S Christa McAuliffe Elementary, South Lake Elementary, Spark Matsunaga Elementary, Stedwick Elementary, Stone Mill Elementary, Thurgood Marshall Elementary, Travilah Elementary, Washington Christian Academy, Waters Landing Elementary, Watkins Mill Elementary, Whetstone Elementary, William B Gibbs Jr. Elementary and Woodfield Elementary.
Local music instructors, come in and save 30% on music books and sheet music during our monthly Teacher Appreciation Day! We cherish the local music educators we serve, and we know just how difficult your job can be, so we're here to make your life a little bit easier.
Got a wedding gig with your string quartet at the Kentlands Mansion? We're here to help make sure your performance runs smoothly whether you play classical music with the viola or the bass guitar with a punk band! We offer everything from instrument sales and accessories like guitar strings and tuners to instrument repairs, maintenance and rentals, so let the Germantown Music & Arts store be your last stop before you hit the stage.
Here's some Germantown trivia for you: What do the bands Hootie and The Blowfish and Clutch have in common? Both bands went to Seneca Valley High School and started their music careers right here in Germantown and you can too with some excellent private music lessons taught right here in our store! Whether you want to learn how to rock on the guitar or how music theory works in the context of an instrument you've known how to play for decades, we can help! Our private music teachers have experience teaching everything from basic technique on band and orchestral instruments to songwriting and music theory on the guitar, bass, piano and a huge variety of other instruments.
More About Music & Arts
It's hard to believe that our remarkable story of growth began with one humble store back in 1952. Since the very beginning, we've been owned and operated by the same family, and our success has everything to do with the close relationships we've formed with local schools, music educators and musicians across the country. We're avid believers in the power of music, and we're elated to serve local communities with whatever they need in music. We're now the nation's leading provider of music lessons, band and orchestral instrument sales and rentals, but nothing means more to us than seeing the communities we serve thrive in music. Come visit our Germantown location today! Our phenomenal staff will be happy to see you!