Find an Instructor
Find an Instructor
South Frederick MD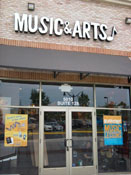 5010 Buckeystown Pike Suite 128
Westview Village Shopping Center
Frederick, MD 21704
Store Hours
Wednesday
11:00am

-

8:00pm
Thursday
11:00am

-

8:00pm
Saturday
10:00am

-

5:00pm
Store Services
Returns Allowed
Ship To Store
Curbside Pickup
Rentals
Meet Our Instructors
Andrew Zhang
Music Teacher, Professional
Instructs:
Clarinet, Saxophone
Hi, I'm Andrew and I'm a premiere clarinetist in the Maryland and Virginia area. I have extensive experience in all genres of music including early classical...
Read more about Andrew Zhang
Byron has studied piano from the age of 5, and he began singing not long after that. He studied General and Choral Music Education at George Mason...
Read more about Byron Smith
Catherine Dyer
Music Teacher, Expert
Instructs:
Clarinet, Flute, Saxophone
Catherine J. Dyer is a Woodwind teacher with experience teaching both privately and through Music & Arts. Catherine believes that everyone of all ages...
Read more about Catherine Dyer
Chase Turner of New Windsor, MD is a fourth-year music education major with an emphasis on Choral Education. Chase has studied under Dr. Bobb Robinson for vocal...
Read more about Chase Turner
Dane has been playing the violin for 15 years as a hobby. He has been classically trained by professional musicians in various orchestras such as the...
Read more about Dane Jo
Dorothy Griffin is a classically trained guitarist based in the Washington D.C. area. She has received her degree, Bachelor of Music in Classical Guitar...
Read more about Dorothy Griffin
John Miner is currently enrolled at Shepherd University pursuing a degree in Music Performance with a concentration in trumpet. He began studying trumpet in 6th...
Read more about John Miner
Kathryn (Katie) Blake has studied viola for 13 years and earned her Bachelor of Arts in Music Composition with a Minor in Psychology from the University of...
Read more about Katie Blake
Ken Bussey
Music Teacher, Master
Instructs:
Banjo, Bass Guitar, Guitar, Ukulele
Ken is a professional Musician with over 20 years of teaching and performing music. He began his teaching career at Music and Arts in 1996 and quickly...
Read more about Ken Bussey
Laurie Arenas PIANO and VOICE A Frederick County native, Laurie Arenas comes from a musical family where she began singing and playing piano at the age of...
Read more about Laurie Arenas
Hi! My name is Maru Martinez, I'm a Guitar and Ukulele instructor. I'm from Montevideo, Uruguay where I began my music education at a young age. I received...
Read more about Maru Martinez
Miles Lieder is a Frederick, MD based professional drummer and drum instructor. Miles began taking drum lessons from the eager age of six in 1998 and...
Read more about Miles Lieder
Steve began his musical career as a 4th grader at Connecticut Park Elementary School in Wheaton Maryland. Over the next several years, his love of music grew...
Read more about Steve Francella
Stephen Parezo has been a professional drummer for over 30 years and toured with Country Music Hall of Fame Singer/Songwriter Jim Owen. A private drum...
Read more about Stephen Parezo
Tyler Joyce
Music Teacher, Master
Instructs:
Bass Guitar, Guitar, Ukulele
Areas of instruction – Electric Guitar, Acoustic Guitar, Bass guitar, Piano and UkuleleTyler Joyce is an experienced guitar instructor with over 10 years of...
Read more about Tyler Joyce
Meet Our Associates
Skip link
Welcome to Music & Arts | South Frederick MD
Our mission here at Music & Arts is simple. We're emphatic about getting people of all ages and backgrounds excited about music. We provide musicians and educators with everything they need to support their passion in music. With over 150 locations across the US, Music & Arts is a one-stop shop for music lessons, instrument rentals, repairs and sales. For over 65 years, everyone from parents and students to professional musicians and educators have relied on us a one-stop shop for all their musical needs.
Our South Frederick Music & Arts store is located at Westview Village Center on Buckeystown Pike near the historic Monocacy Battlefield. We're located off Executive Way and Westview Dr. right next to Ballenger Creek. Whether you're looking for music lessons for your child or are interested in picking an instrument yourself, we've got you covered. Our incredibly talented team of private music instructors have experience working with students of every age, skill level and background. Our instructors have experience teaching everything from popular instruments like guitar and keyboard to brass, woodwinds and other orchestral instruments. Before you conquer famous music cities like DC and Baltimore, master the basics on your instrument with our terrific staff of private music instructors.
Looking to sharpen your music theory knowledge? Our private music instructors can help you master music theory basics in the context of your instrument to give you a powerful new understanding of music. Whether you're an old dog wanting to learn new musical tricks or are a parent looking for great private lessons for your child, the team of music teachers at our South Frederick location is ready for you!
The South Frederick location proudly services local communities including Urbana, Buckeystown, Adamstown, Urbana, Brunswick, Point of Rocks, Knoxville, Jefferson, Burkittsville, Smithburg, New Market, Monrovia, Ijamsville, Mount Airy (Mt. Airy), Dickinson, Poolesville, Myersville, Middletown, Boonsboro, Keedysville, Lovettsville, VA, Harper's Ferry, WV, Shepherdstown, WV, Charles Town, WV and more.
For well over half a century, Music & Arts has been deeply committed to music education and our local schools. Music & Arts is proud to have worked with thousands of local music educators in our 65 years, and we pride ourselves on being an invaluable musical resource to the local schools we serve. The South Frederick location is proud to serve the following local schools:
Elementary Schools: Ballenger Creek, Brunswick, Carroll Manor, Centerville, Deer Crossing, Emmitsburg, Glade, Green Valley, Hillcrest, Kemptown, Lewistown, Liberty, Lincoln, Middletown, Monocacy, Myersville, New Market, New Midway, North Frederick, Oakdale, Orchard Grove, Parkway, Pleasant Valley, Poolesville, Sabillasville, Spring Ridge, Thurmont, Tuscarora, Twin Ridge, Urbana, Valley, Walkersville, Waverley, Whittier, Wolfsville, and Yellow Springs.
Middle Schools: Ballenger, Brunswick, Crestwood, Middletown, Monocacy, New Market, Oakdale, John Poole, Urbana, Walkersville, and Windsor Knolls.
High Schools: Brunswick, Catoctin, Frederick, Gov. Thomas Johnson, Linganore, Middletown, Oakdale, Poolesville, Tuscarora, Urbana, and Walkersville.
Baltimore Archdiocese Schools: Academy of The Visitation, Mother Seton School, Saint John's Catholic Prep and Saint John Regional Catholic School.
We are deeply committed to serving musicians of every age and level of experience in Frederick, Maryland and across the rest of the country, and nothing makes us happier than helping young students thrive in music. Want to play a classical concert at the historic Weinberg Center For The Arts someday? Our incredible staff of music teachers can help you get started. Need some guitar strings before you play a Thursday Night Live set over at the Flying Dog Brewery? Music & Arts has everything you need when it comes to instrument and equipment sales, rentals, lessons and repairs.
More about Music & Arts
Now the nation's largest band and orchestra instrument retailer, provider of private music lessons and instrument rentals, Music & Arts has been operated by the same family since its first store in Bethesda, Maryland opened its doors back in 1952. We owe our incredible success due to our unwavering commitment to values, our community and music education. Music & Arts is all things music, and we're proud to be a comprehensive resource for students, parents, educators and musicians. Like all of our locations, our South Frederick store is deeply invested in forming relationships with local musicians, parents, students and music educators. Our friendly staff here in South Frederick is happy to help serve you and all your musical needs.