Find an Instructor
Find an Instructor
Rockville MD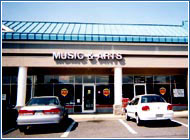 12274 Rockville Pike Suite K
Federal Plaza
Rockville, MD 20852
Store Hours
Wednesday
11:00am

-

8:00pm
Thursday
11:00am

-

8:00pm
Saturday
10:00am

-

5:00pm
Store Services
Returns Allowed
Ship To Store
Curbside Pickup
Lessons
Rentals
Meet Our Instructors
Anthony Staiti
Music Teacher, Master
Instructs:
Bass Guitar, Guitar, Ukulele
Anthony Staiti is an experienced guitarist operating primarily in the worlds of rock, jazz, and experimental music. His principal interests are genre-bending...
Read more about Anthony Staiti
Singer and recording artist Chayah Miranda (pronounced "kai-yah") has spent most of her life around the gospel music of her church and of the jazz influences...
Read more about Chayah Miranda
Gantt Kushner
Music Teacher, Master
Instructs:
Bass Guitar, Guitar
Gantt Kushner began playing music at the tender age of 5 when his parents signed him up for music class in which all the kids played "Tonettes" - little...
Read more about Gantt Kushner
Hoda Entenzari
Music Teacher, Master
Speaks:
Farsi, Russian, English, Italian
Hello, I am Hoda Entenzari. I live in Maryland. I am 40 years old and have more than 20 years of music-related experience and over 12 years as a...
Read more about Hoda Entenzari
Started in Berklee College of Music, New England Conservatory, BANFF School of Fine Arts in Canada, with over 20 years of experience teaching drums, guitar, and...
Read more about Joseph Link
Hello! My name is John Rodgers. I've taught Classical Guitar for many years at the Rockville location, along with hundreds of solo and ensemble performances in...
Read more about John Rodgers
Hello! My name is Kathy and I'm a piano, flute, and recorder instructor here at the Rockville Music and Arts. I attended Centenary College in Louisiana and...
Read more about Kathryn Fisher
Ney De Mello Mattos
Music Teacher, Master
Speaks:
Portuguese, English, Spanish, French, Italian
Instructs:
Bass Guitar, Guitar, Ukulele
Ney Mello, is an internationally-recognized Jazz and classical artist who is also very active in the rock and pop world. He has a professional...
Read more about Ney De Mello Mattos
Nick White has been teaching music lessons with Music and Arts in three states for over 5 years and outside of the company for almost a decade. As a...
Read more about Nick White
Paula is a dynamic and energetic Piano Teacher with more than 30 years teaching experience. She possesses both excellent communication skills and time...
Read more about Ms. Paula
Sepehrdad was born in Iran. He began playing the violin at the age of 9 despite the difficulties to study music in Iran. Prior to beginning of the Violin...
Read more about Sepehrdad Aazami
Terry Koger
Music Teacher, Master
Instructs:
Bassoon, Clarinet, Oboe, Saxophone
Terry Koger, native of Trenton, New Jersey, graduated from Morgan State University with a degree in music education and additional studies at Peabody...
Read more about Terry Koger
Meet Our Associates
Skip link
Welcome to Music & Arts | Rockville MD
Here at Music & Arts, we're avid supporters of the purpose music serves in local communities. We're proud to be the nation's most trusted musical resource, and we aim to serve musicians of all ages and backgrounds with an unparalleled one-stop music shopping experience. We offer everything from a wide selection of instruments and music accessories to instrument rentals, repairs and private lessons. For over sixty five years, the nation has relied on Music & Arts to help fulfill its musical needs, and we owe our success to the unshakable relationships we've formed with students, parents, music educators and musicians of every kind.
One of the oldest stores in the company, the Music & Arts location in Rockville has been an institution in Montgomery County for decades. We're located on the Rockville Pike in the Federal Plaza Shopping Center, offering private music lessons, rentals, repairs, and a huge selection of band and orchestra instruments, guitars, keyboards, drums, print music, and supplies for students and educators. We're conveniently sandwiched between Rock Creek and Old Farm Creek, and our customers sometimes like to practice their instrument under the shade of a tree in Parque Final Phoenix, located just to the east of our store.
For decades, we've been proud to serve Rockville, Montgomery County and the surrounding areas of Rollins Park, North Bethesda, New Mark Commons, Aspen Hill, Kensington, North Kensington, Wheaton-Glenmont, Chevy Chase View, Kemp Mill, White Oak, Aspen Hill, Layhill, Layhill South, Norbeck, Derwood, Gaithersburg, Kentlands, North Potomac, Travilah, Potomac and more!
Music & Arts is proud to serve local music education programs across the country. Our Rockville location works with local schools including Arcola Elementary School, Ashburton Elementary School, Bannockburn Elementary School, Beall Mill Elementary School, Bells Mill Elementary School, Bethesda Elementary School, Beverly Farms Elementary School, Bradley Hills Elementary School, Burning Tree Elementary School, Cabin John Middle School, Cannon Road Elementary School, Carderock Springs Elementary School, Cashell Elementary School, Charles E Smith Jewish Day School, Chevy Chase Elementary School, Clearspring Elementary School, Cloverly Elementary School, Cold Spring Elementary School, College Gardens Elementary School, Diamond Elementary School, Dr Charles R Drew Elementary School, Earle B Wood Middle School, Fairland Elementary School, Fallsmead Elementary School, Farmland Elementary School, Flora M Singer Elementary School, Flower Valley Elementary School, Forest Knolls Elementary School, Galway Elementary School, Garrett Park Elementary School, Georgetown Day School, Glen Haven Elementary School, Glenallen Elementary School, Greencastle Elementary School, Greenwood Elementary School, Herbert Hoover Middle School, Highland Elementary School, Jackson Road Elementary School, Julius West Middle School, Kensington-Parkwood Elementary School, Lakewood Elementary School, Landon School, Lucy Barnsley Elementary School, Luxmanor Elementary School, Maryvale Elementary School, Mclean Elementary School, Meadow Hall Elementary School, Montrose Christian School, North Bethesda Middle School, North Chevy Chase Elementary School, Noorwood School, Oak View Elementary School, Oakland Terrace Elementary School, Olney Elementary School, Our Lady of Mercy, Pine Crest Elementary School, Potomac Elementary School, Redland Middle School, Ritchie Park Elementary School, Robert Frost Middle School, Rock Creek Forest Elementary School, Rock Creek Valley Elementary School, Rock View Elementary School, Rolling Terrace Elementary School, Seven Locks Elementary School, Sherwood Elementary School, Silver Creek Elementary School, Sligo Creek Elementary School, Somerset Elementary School, St Jane de Chantal School, Stone Mill Elementary School, Stonegate Elementary School, Strathmore Elementary School, Takoma Park Middle School, The Bullis School, Thomas W Pyle Middle School, Tilden Middle School, Travilah Elementary School, Twinbrook Elementary School, Viers Mill Elementary School, Walter Johnson High School, Washington Christian Academy, Washington Episcopal School, Wayside Elementary School, Weller Road Elementary School, Westbrook Elementary School, Westland Middle School, Westover Elementary School, William Tyler Page Elementary School, Wood Acres Elementary School, Woodlin Elementary School, and Wyngate Elementary School.
Have big dreams of performing at famous concert halls like The Music Center at Strathmore someday? Our talented staff of private music instructors can help! With a combined century of experience teaching everything from band and orchestra instruments to music theory and songwriting on a variety of conventional instruments, our expertly trained staff is here to help whether you're looking for music lessons for your kids or help with an instrument you've been playing for decades.
Rockville might've gotten some bad press in R.E.M's song, "(Don't Go Back To) Rockville", but we're not taking it too personally. With tons of awesome local venues and the Mid Atlantic Jazz Festival happening every year right next door, we're pretty happy to be in Rockville. Are you a local music teacher? If so, come in and save during our monthly Teacher Appreciation Day where local music educators can save 30% on books and sheet music. Our store hosts everything from local music recitals to open mic nights, so check out our calendar to see what's happening in the next few months!
More About Music & Arts
Since 1952, we've been owned and operated by the same family. Community and values mean the world to us, and we believe our remarkable story of growth has everything to do with our focus and attention to the power of music on an individual level. With over one hundred and fifty locations nationwide, we're here to serve musicians ranging from complete beginners, up to seasoned career professionals. We're the nation's largest provider of music lessons, band and orchestral instruments and instrument rentals, but we've never lost sight of the communities we serve. Want to see what we're all about? Come visit our Rockville location today and see for yourself!