Find an Instructor
Find an Instructor
Wilmington NC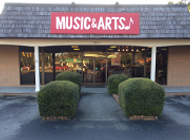 2340 S 17th St
Wilmington, NC 28401
Store Hours
Wednesday
10:00am

-

8:00pm
Thursday
10:00am

-

8:00pm
Saturday
10:00am

-

5:00pm
Store Services
Repairs
Returns Allowed
Ship To Store
Curbside Pickup
Lessons
Rentals
Meet Our Instructors
I have taught music to students of all ages in the public school system in addition to my earlier experience teaching private lessons in piano and...
Read more about Annette Harton
Hello everyone, My name is Darryle Watkins and I am a violinist. I have 14 years of experience playing in orchestras and ensembles in the Raleigh/Wilmington...
Read more about Darryle Watkins
I am a guitarist of 7 years, and am currently studying at CFCC for my associates in Fine Arts-Music. As well as being proficient on guitar, I am also capable of...
Read more about Gabriel Moore
John Fonvielle
Music Teacher, Master
Instructs:
Bass Guitar, Guitar, Mandolin
John is a singer/ songwriter with over 40 years of performance experience. He has played in a variety of bands from country and bluegrass to funk, punk, blues...
Read more about John Fonvielle
Lou
Music Teacher, Master
Born to Louis & Josephine Iandoli in Portsmith, VA in 1954. I had 2 siblings Robert and Donna. We moved to Long Island, NY and spent most of my elementary...
Read more about Lou
Bachelor of Science in Music Recording Technology Student of guitar for 28 yearsGuitar instructor for 20 years' Performed with a variety of acts over the...
Read more about Madison Bunting
Hi. I'm looking forward to sharing my enjoyment and knowledge of music with you or a family member (age 5+ to 65+). I have utilized my communication...
Read more about Mr.Mark
Hello there! My name is Megan Batson & I am a local violinist from Wilmington, NC. With over 20 years of experience in playing & performing, I also...
Read more about Megan Batson
Patrick Carr
Music Teacher, Expert
Instructs:
Bass Guitar, Guitar, Mandolin, Ukulele
Patrick Carr With over 15 years experience playing guitar, Patrick brings a wealth of practical knowledge along with a deep love of the instrument to all of his...
Read more about Patrick Carr
Paul Glaser
Music Teacher, Professional
Instructs:
Bass Guitar, Guitar
A lifelong musician, Paul Glaser started learning guitar at age 6 and was instructed in a number of styles over the years ranging from bluegrass, folk, and...
Read more about Paul Glaser
Spencer started playing guitar at the age of nine, and has been performing regularly since he was eleven. He received the North American Scholarship from...
Read more about Spencer Carlson
Theodore Burgh
Music Teacher, Master
Instructs:
Clarinet, Flute, Piano, Saxophone
Born in New York and reared in North Carolina, Burgh started playing flute in junior high school. There was no money for private lessons, so Burgh diligently...
Read more about Theodore Burgh
Meet Our Associates
Amanda is a 2001 graduate of Western Iowa Technical College, after which she moved to Wilmington, NC and spent the next 10 years servicing the instruments of...
Read more about Amanda C
Hi! I'm Andrew! I've been playing music since the age of 10 and have bounced around between keyboards, percussion, guitar, as well as vocal performance. I...
Read more about Andrew Poplaski
Christian A
Senior Sales Associate
Expertise:
Drums & Percussion, Pro Audio
Hi everyone, my name is Christian Aldridge. I am a drummer with over ten years of experience. I have a Bachelor of Arts in Music Technology from UNCW where I...
Read more about Christian A
Kennith
Senior Sales Associate
Expertise:
Marching Band Brass, Marching Percussion, Pro Audio, Technology, Trombones
Marching Band Brass, Marching Percussion
show more
Hey! I'm Kennith Watts, Jr. I got my Bachelors of Arts in General Music at UNC Wilmington. Beyond college, I've spent over a decade working with several groups...
Read more about Kennith
Miranda W
Retail Manager
Expertise:
Concert Percussion, Drums & Percussion, Marching Percussion
Concert Percussion, Drums & Percussion
show more
Hello everyone, my name is Miranda. I recently received my Master of Arts in Music Business from Berklee College of Music and my undergraduate here at UNC...
Read more about Miranda W
Hello! Born in New Bern, NC, I grew up surrounded by the great musical tastes of my family. I picked up the guitar around the age of 8, and...
Read more about Wyatt Ray
Skip link
Welcome to Music & Arts | Wilmington NC
With over 150 locations across the country, we're the nation's most steadfast music resource. Our mission here at Music & Arts is to get people of all ages, interests and backgrounds excited about music. With everything from phenomenal private and group instruction to name brand instrument and music accessory sales, rentals, repairs and a wide selection of sheet music, we're a one-stop music shop for everyone from seasoned career musicians to young students learning how to play an instrument for the first time. No matter where you find yourself in the wide world of music, we're here to help you thrive.
Welcome to your friendly local music store, Wilmington, NC! We're conveniently located on Shipyard Blvd and South 17th Street in southeast Wilmington. You can find us just north of Greenlawn Memorial Park and east of the Cape Fear River.
We serve the wonderful community here in Wilmington and the surrounding areas of Silver Lake, Myrtle Grove, Old Town, Sea Breeze, Carolina Beach, Boiling Spring Lakes, Bolivia, Winnabow, Leland, Navassa, Belville, Sandy Creek, Delco, Ridgewood, Wrightsboro, Castle Hayne, Kings Grant, Murrayville, Ogden and more!
Interested in learning how to play an instrument for the first time but not sure you'll stick with it? Our instrument rental program is a great option for someone wanting to test the musical waters without committing to a serious purchase. All of our instruments are 100% rent-to-own, so you can rest assured knowing each of your monthly payments is contributing to the cost of the instrument should you choose to stick with it––and we hope you do!
For over six decades, Music & Arts has partnered with local music education programs in schools nationwide to provide instruments, music accessories, books and sheet music to students. Our Wilmington location proudly services and supports all the local schools in New Hanover County, Brunswick County, and Pender County:
Acme-Delco Middle School, Burgaw Middle School, Cape Fear Academy, Cape Fear Center for Inquiry, Cape Fear Middle School, Cedar Grove Middle School, D C Virgo Prep School, Hallsboro Middle School, Holly Shelter Middle School, Leland Middle School, Murray Middle School, Myrtle Grove Middle School, Noble Middle School, Penderlea Middle School, Roland-Grise Middle School, Shallotte Middle School, South Brunswick Middle School, St Marks Catholic School, St Mary's Catholic School, Topsail Middle School, Trask Middle School, Waccamaw Middle School, West Pender Middle School, Williston Middle School, Wilmington Christian Academy, Hoggard High School, Ashley High School, New Hanover High School and Laney High School.
Are you a local music teacher here in Wilmington? Come in and save 30% on books and sheet music during our monthly Teacher Appreciation Day! We know how difficult your job can be, so we're here to make your life just a little bit easier. Thanks for enriching the lives of our local students through music!
Did you know that country music legend Charlie Daniels grew up in Wilmington? The legendary performer and songwriter got his start here and you can too with some private lessons taught here in our store! Our incredible teaching staff has years of experience educating children and adults in technique, songwriting and theory on instruments like guitar, bass, drums, keys and more. Ask about our group and private lessons today!
Got a big show coming up at the Greenfield Lake Amphitheatre? Whether you play oboe in an orchestra or synths in an indie rock band, we're here to help you perform your best. We carry everything from guitar picks and rosin for violin strings to a massive selection of books and sheet music, so let the Music & Arts here in Wilmington be your last stop before you take the stage!
More About Music & Arts
Music & Arts has been owned and operated by the same family since 1952, and nothing means more to us than our values. We've grown leaps and bounds over the past six decades––with over 150 locations across the country, we're now the nation's leading provider of private music lessons, band and orchestral instrument sales, rentals and repairs––but nothing means more to us than seeing individuals succeed through music in the many communities we serve. No matter where music takes you, we're here to help you be your best. Come visit our Wilmington location today! We can't wait to meet you!
Other Locations Nearby
5075 Morganton Rd Unit 10B
Fayetteville, NC 28314
Returns Allowed
Ship To Store
Curbside Pickup
Lessons
Rentals