Find an Instructor
Find an Instructor
Fayetteville NC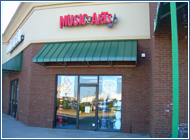 5075 Morganton Rd Unit 10B
Fayetteville, NC 28314
Store Hours
Wednesday
11:00am

-

8:00pm
Thursday
11:00am

-

8:00pm
Saturday
10:00am

-

5:00pm
Store Services
Returns Allowed
Ship To Store
Curbside Pickup
Lessons
Rentals
Meet Our Instructors
Meet Our Associates
Skip link
Welcome to Music & Arts | Fayetteville NC
Our mission here at Music & Arts is to get people of all ages, interests and backgrounds excited about music. We're the nation's most steadfast music resource, serving students, parents, music educators and musicians of all stripes. As a one-stop music shop, we provide phenomenal private and group music instruction, name brand instrument and music accessory sales, rentals, repairs and a massive selection of books and sheet music. We're proud to serve everyone from seasoned career musicians to students learning hot to play an instrument for the first time, so no matter what you're doing in the wide world of music, we're here to help you thrive.Fayetteville, North Carolina, welcome to your friendly local music store! We're conveniently located near the All American Freeway and Skibo Road on Morganton Road in the Cross Pointe Center shops. We're just east of Fayetteville's McFayden Lake and a couple miles south of Fort Bragg.
In addition to the wonderful community here in Fayetteville, we also serve the surrounding areas of Rockfish, Hope Mills, Silver City, Raeford, Lumber Bridge, Parkton, Cedar Creek, Judson, Vander, Autryville, Clement, Eastover, Wade, Falcon, Linden, Fonville, Bunnlevel, Harnett, Anderson Creek, Spring Lake and more!
Since 1952, Music & Arts has been partnering with local music education programs in schools nationwide to provide instruments, music accessories, books and sheet music to students. Our Fayetteville location proudly serves the following local schools:
Cumberland County High Schools:
Cape Fear, Douglas Byrd, E.E. Smith, Gray's Creek, Jack Britt, Massey Hill Classical, Pine Forest, Reid Ross Classical, Seventy-First, South View, Terry Sanford, & Westover.
Cumberland County Middle Schools:
Anne Chesnutt, Douglas Byrd, Gray's Creek, Hope Mills, Ireland Drive, John Griffin, Lewis Chapel, Luther Nick Jeralds, Mac Williams, Max Abbott, New Century International, Pine Forest, Reid Ross Classical, Seventy-First Classical, Spring Lake, South View, & Westover.
Cumberland County Elementary Schools:
Alderman Road, Alma Easom, Armstrong, Ashley, Beaver Dam, Ben Martin, Brentwood, Bill Hefner, Cliffdale, College Lakes, Cumberland Mills, Cumberland Road, C. Wayne Collier, District 7, Eatover Central, E.E.Miller, Elizabeth Cashwell, Ed V. Baldwin, Ferguson-Easley, Gallberry Farm, Glendale Acres, Gray's Creek, Honeycutt, Howard Hall, J.W. Coon, J.W. Seabrook, Lake Rim, Lillian Black, Long Hill, Loyd Auman, Lucile Souders, Manchester, Margaret Willis, Mary McArthur, Montclair, Morganton Rd, Ne Century International, Ponderosa, Rockfish, Sherwood Park, Stedman, Stoney Point, Sunnyside, TC Berrien, VanStory, Warrenwood, Westarea, W.H. Owen, W.T. Brown, & Walker – Spivey.
Cumberland County Private Schools:
Berean Baptist, Fayetteville Academy, Freedom Christian, Northwood Temple, & Village Christian.
Bladen County:
Bladen Lakes Primary, Bladenboro Middle, Bladenboro Primary, Booker T. Washington Primary, Clarkton School of Discovery, Dublin Primary, East Arcadia School, East Bladen High, Elizabethtown Middle, Elizabethtown Primary, Plain View Primary, Tar Heel Middle, & West Bladen High.
Duplin County:
B.F. Grady Elementary, Beulaville Elementary, Charity Middle, Chinquapin Elementary, Duplin Early College, E.E. Smith Middle, East Duplin High, James Kenan High, Keanansville Elementary, North Duplin Elementary, North Duplin Jr/SR High, Rose Hill-Magnolia Elementary, Wallace-Rose Hill High, Wallace Elementary, Warsaw Elementary, & Warsaw Middle.
Harnett County:
Anderson Creek Primary, Angier Elementary, Benhaven Elementary, Boone Trail Elementary, Buies Creek Elementary, Coats-Erwin Middle, Coats Elementary, Dunn middle, Erwin Elementary, Gentry Primary, Harnett Central High, Harnett Central Middle, Harnett Primary, Highland Elementary, Highland Middle, Johnsonville Elementary, LaFayette Elementary, Lillington-Shawtown Elementary, North Harnett Primary, Overhills Elementary, Overhills High, Overhills Middle, South Harnett Elementary, STAR Academy, Triton High, Wayne Avenue Elementary, Western Harnett High, & Western Harnett Middle.
Hoke County Schools:
East Hoke Middle, Hoke County High, McLauchlin Elementary, Rockfish Elementary, Sandy Grove Elementary, Sandy Grove Middle, Upchurch Elementary, West Hoke Elementary, West Hoke Middle.
Lee:
East Lee Middle, Lee County High, SanLee Middle, Southern Lee High, & West Lee Middle.
Moore:
Aberdeen Elementary & Primary, Cameron Elementary, Carthage Elementary, Crain's Creek Middle, Elise Middle, High Falls Elementary, New Century Middle, North Moore High, Pinecrest High, Pinehurst Elementary, Robbins Elementary, Sandhills Farm Life Elementary, Southern Middle, Southern Pines Elementary & Primary, Union Pines High, Vass-Lakeview Elementary, Westmoore Elementary, West End Elementary, West Pine Elementary, & West Pine Middle.
Robeson:
Fairgrove Middle, Fairmont High, Fairmont Middle, Littlefield Middle, Long Branch Elementary, Lumberton High, Lumberton Junior High, Magnolia Elementary, Orrum Middle, Parkton Elementary, Pembroke Elementary, Pembroke Middle, Piney Grove Elementary, Prospect Elementary, Purnell Swett High, Red Spring High, Red Springs Middle, Rex-Rennert Elementary, Rowland Middle, South Robeson High, St Paul Elementary, St Pauls High, St Pauls Middle, & Townsend Middle.
Sampson:
Hargrove Elementary, Plain View Elementary, Roseboro Elementary, Salemburg Elementary, Union Intermediate, Hobbton Middle, Midway Middle, Roseboro-Salemburg Middle, Union Middle, Hobbton High, Lakewood High, Midway High, & Union High.
Got an important show coming up at the Crown Coliseum? Whether you play the oboe in an orchestra or the electric guitar in a blues band, let the Music & Arts here in Fayetteville be your last stop before you take the stage! With everything from guitar strings and music stands to a wide assortment of books and sheet music, we're here to help you perform your best. Break a leg!
Want to learn how to make music like Jonathan Byrd someday? Well, the legendary folk artist got his start here in Fayetteville and you can too with some private lessons taught here in our store! Our incredible team of educators have a combined decades of experience teaching students of all ages about technique, theory and songwriting for a variety of instruments. Ask about our private and group lessons today!
More About Music & Arts
Here at Music & Arts, we live and breathe music. Owned and operated by the same family since we opened our first store back in 1952, our values mean the world to us, and they inform everything we do as a company. We've grown leaps and bounds over the past 65 years––with over 150 locations across the country, we're now the nation's leading provider of private music lessons, band and orchestral instrument sales, rentals and repairs––but nothing makes us happier than seeing individuals thrive through music in the many local communities we serve. Come visit our Fayetteville location today!