Find an Instructor
Find an Instructor
Cary NC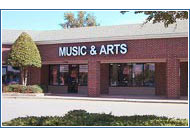 426 Crossroads Blvd
Crossroads Plaza
Cary, NC 27518
Store Hours
Wednesday
11:00am

-

8:00pm
Thursday
11:00am

-

8:00pm
Saturday
10:00am

-

5:00pm
Store Services
Clearance
Pro Shops
Returns Allowed
Ship To Store
Curbside Pickup
Lessons
Rentals
Meet Our Instructors
Andrew Kasab
Music Teacher, Master
Instructs:
Bass Guitar, Guitar, Ukulele
Andrew Kasab is an American fingerstyle guitarist, harp guitarist and singer-songwriter. He is known for combining traditional and contemporary techniques,...
Read more about Andrew Kasab
Hello! I've been making music my whole life - guitar for over a decade and piano for five years. In that time I have studied and become proficient in the...
Read more about Chris Tauer
Dave is a jazz guitarist from San Francisco and moved to the Triangle in 2016. Dave had the pleasure of working consistently with Akira Tana, Larry...
Read more about Dave Prieto
Larry James
Music Teacher, Master
Instructs:
Clarinet, Flute, Saxophone
Larry has performed with Natalie Cole, The Temptations, The Four Tops, Martha Reeves and the Vandelas, Mel Torme and the North Carolina Symphony, Lauren...
Read more about Larry James
With 25 years teaching experience, Miles Partridge focuses on tailoring lessons for each student's goals. Miles believes music goes beyond an entertainment...
Read more about Miles Partridge
Nick has played piano since early childhood and taught lessons for over a decade. In addition, he composes music for promotions, jingles, films and...
Read more about Nick Stubblefield
Olga Doudina-Dimova, was born in Russia and moved to the United States in 1997, received her education in Moscow. Ms. Doudina-Dimova has almost 25 years of...
Read more about Olga Doudina-Dimova
Richard Fitzgerald
Music Teacher, Master
Instructs:
Banjo, Bass Guitar, Guitar, Mandolin, Ukulele
Like many musicians who grew up in the 60's, I was attracted to guitar not only by the Beatles, but the whole vibrant and diverse music scene of the 60's. Pop,...
Read more about Richard Fitzgerald
I have been playing guitar for around 20 years and have a background in Rock fusion. I studied classical guitar during my time at the Hayes School of...
Read more about Sean Gentri
Piano has been my instrument since age 6 - from lessons all my years of school to serving as pianist at church for many years . I accompanied...
Read more about Shari Killian
Steven McKeiver
Music Teacher, Master
Instructs:
Baritone, French Horn, Trombone, Trumpet, Tuba
Mr. McKeiver is currently the Director of Musical Studies at Kestrel Charter School. He is a graduate of Fuquay-Varina High school, and North Carolina Central...
Read more about Steven McKeiver
For the last fifteen years Tommy has performed live for a variety of touring musical projects on such stages as The Grand Ole Opry and The Late Show with David...
Read more about Tommy Perkinson
Westley Springthorpe
Music Teacher, Professional
Instructs:
Baritone, French Horn, Trombone, Trumpet
Hello! My name is Westley Springthorpe and I am a brass private lessons teacher for the Music and Arts private lesson program!I was born up north in...
Read more about Westley Springthorpe
Meet Our Associates
Skip link
Welcome to Music & Arts | Cary NC
Our mission here at Music & Arts is to connect people of all ages, interests and backgrounds with whatever resources they need to thrive in music. We're a one-stop shop for students, parents, music educators and musicians, providing phenomenal private music instruction, name brand instrument and music accessory sales, rentals, repairs and a wide selection of books and sheet music. We proudly serve everyone from seasoned career musicians to young students learning how to play an instrument for the first time. No matter what you're doing in music, we're here to help you thrive!
Cary, NC, welcome to your friendly local music store! We're conveniently located near I-40 and US-64 on Crossroads Blvd. You can find us just west of Cary's gorgeous Lake Johnson and south of Walnut Creek.
In addition to the wonderful community here in Cary, we also serve the surrounding areas of Morrisville, Clegg, Bethesda, Millbrook, Falls, Neuse, Knightdale, Shotwell, Archer Lodge, Clayton, Garner, Willow Springs, Williams Crossroads, Holly Springs, Feltonville, Friendship, Apex, New Hill, Bonsal and more!
Need your guitar or bass restrung before your next show? Let our expert maintenance and repair team handle it! The last thing you should be worrying about before an important performance is the hassle of putting new strings on your instrument, so drop your axe off with us and we'll have it cleaned and restrung in no time. We're here to help you focus on what's important––music!
Since 1965, Music & Arts has partnered with local music education programs in our nation's schools to provide instruments, music accessories and sheet music to students. Our Cary location proudly serves the following local schools:
Apex MS, Archer Lodge MS, Benson MS, Bunn MS, Carnage MS, Cardinal Charter Academy, Cary Academy, Cary Christian, Clayton MS, Cleveland MS, Daniels MS, Davis Drive MS, Dillard Drive MS, Durant Road MS, East Cary MS, East Lee MS, East Millbrook MS, East Wake MS, Fuller Elementary, Fuquay Varina MS, Grace Christan, Heritage MS, Hillburn Academy, Holly Ridge MS, Holly Grove MS, Horton MS, Leesville Road MS, Ligon MS, Lufkin Road MS, Martin MS, McGees Crossroads MS, Mills Park MS, North Garner MS, Neuse Charter, Our Lady of Lourdes, Powell Elementary, Ravenscroft, Reedy Creek MS, Riverwood MS, Rolesville MS, Salem MS, Smithfield MS, St. Mary Magdalene, St. Timothy, Sterling Montessori, Thales Academy, Wake Christian Academy, Wendell MS, West Cary MS, West Lee MS, West Millbrook, Zebulon MS, and all surrounding high school programs.
Are you a local music teacher here in Cary? Music & Arts can't thank you enough for all you do! Come in and save 30% on books and sheet music during our monthly Teacher Appreciation Day! We know how difficult your job can be, so we're here to make life just a little bit easier. Thanks for all you do!
Whether you've got an important wedding gig at the Cypress Manor at Cary with your string quartet or a show at one of Raleigh's awesome music venues with your punk band, let the Music & Arts here in Cary be your last stop before you take the stage. With everything from string rosin and guitar picks to helpful books and sheet music, we're here to help you perform your best!
Got big dreams of performing at Cary's Ritmo Latino Music, Art and Dance Festival someday? Our talented team of music instructors can help! With a combined decades of experience teaching technique, songwriting and music theory on a wide array of instruments, our lessons are perfect for adults and kids learning an instrument for the first time.
More About Music & Arts
WIth over 150 locations across the country, we're proud to be the nation's most steadfast music resource. Our remarkable story of growth has everything to do with the unshakable commitments we've made with the local communities we serve. We've grown considerably in the past 65 years––we're now the nation's leading provider of private music lessons, band and orchestral instruments sales, rentals and repairs––but we've never lost sight of music's profound impact on an individual level. Since the very beginning, we've been owned and operated by the same family, and we credit our success to the way we've held on to our values over the years. Come visit our location in Cary today!