Find an Instructor
Find an Instructor
Manassas VA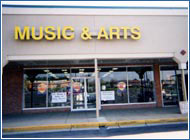 8029 Sudley Rd
West Gate Plaza
Manassas, VA 20109
Store Hours
Wednesday
11:00am

-

8:00pm
Thursday
11:00am

-

8:00pm
Saturday
10:00am

-

5:00pm
Store Services
Clearance
Returns Allowed
Ship To Store
Curbside Pickup
Lessons
Rentals
Meet Our Instructors
Andrew
Music Teacher, Master
Instructs:
Baritone, French Horn, Piano, Trumpet
Welcome y Bienvenidos a todos!Andrew Velez currently lives in Northern Virginia while maintaining a vibrant voice in the D.C. and Maryland areas. His talents as...
Read more about Andrew
Brent Buckley
Music Teacher, Master
Instructs:
Bass Guitar, Guitar, Ukulele
Brent has a long association with Music & Arts, working with them since 1988. He is a full-time musician, performing, teaching and recording all over...
Read more about Brent Buckley
(Hablo Español!) Hello/Hola! My name is Henry Sierra and I am a guitar player and teacher at the Music and Arts of Manassas. I began playing guitar at the...
Read more about Henry Sierra Velasquez
Jack Sanocki
Music Teacher, Master
Instructs:
Clarinet, Saxophone
Hi, I am Jack Sanocki, Ph.D, I am a retired Military Officer and retired associate for Booz Allen Hamilton. For the last 15 years before my retirement in 2014,...
Read more about Jack Sanocki
I started studying with Randy Adams at Music and Arts around the age of 11. I am primarily a rock guitarist. However I love to incorporate the...
Read more about Peter Kalavritinos
Rami holds a masters degree in violin performance and a doctorate in education from George Mason University. Rami has 18 years of experience as a private...
Read more about Dr. Rami Kanaan
Steve has his BA in Music Education from Shepherd University and maintained a Virginia Teaching License for 31 years. He also has his Orff Schulwerk Certificate...
Read more about Steven Thompson
Svetlana comes from a long line of musicians. Her Grand Grandfather on the grandmother mother's side was a Master Violin Maker how was also talented...
Read more about Svetlana Khoroshavina
Tim O'Lena
Music Teacher, Master
Instructs:
Bass Guitar, Guitar, Piano, Ukulele
Tim began playing piano in 1968 but soon switched to Guitar. He has played Guitar ever since then. He has performed in bands since the...
Read more about Tim O'Lena
Meet Our Associates
Michael S
Retail Manager
Expertise:
Guitar, Marching Percussion, Violas, Violins
Guitar, Marching Percussion
show more
My name is Mike Solarczyk. I play pretty much anything with a string attached to it. My First love was the Violin. I studied in public school...
Read more about Michael S
Wesley B
Senior Sales Associate
Expertise:
Amplifiers & Effects, Guitar, Marching Percussion, Woodwind Accessories, Woodwinds
Amplifiers & Effects, Guitar
show more
Hello, my name is Wes and I began working at Music & Arts in 2013. My career in music technically began when I was 5. I did Suzuki method violin for about 3...
Read more about Wesley B
Skip link
Welcome to Music & Arts | Manassas VA
Here at Music & Arts, our mission is to connect people of all ages, interests and backgrounds with the resources they need to be successful in music. We're the nation's most reliable music resource, providing everything from phenomenal music instruction to instrument sales, rentals and repairs to our customers. With over 150 locations nationwide, we're a large company, but we've never lost focus of how important music can be in a person's life. For all your musical needs, we're here to serve you.
Manassas, VA, welcome to your friendly local music store! We're conveniently located in the West Gate Plaza on Sudley Road and Lomond Drive just to the south of Manassas National Battlefield Park. In addition to the wonderful community of Manassas, we also serve the surrounding areas of Wellington, Bull Run, Sudley, Groveton, Zouave Hills, Loch Lomond, Manassas Park, Ashton Glen, Woodlawn Meadows, Buckhall, Bristow Village, Bristow, Chevalle, Windy Hills, Westchester, Canova and more!
Need your guitar restrung before your next show? Let our expert instrument and maintenance team do the work for you! Just drop off your axe with us and we'll get it cleaned and restrung so you can get ready for your performance without the hassle and stress.
Since 1952, Music & Arts has provided local music programs nationwide with instruments, sheet music and music accessories. Our Manassas location proudly serves the following local schools:
Alvey Elementary, Auburn Middle, Battlefield High, Bennett Elementary, Benton Middle, Bristow Run Elementary, Buckland Mills Elementary, Bull Run Middle, Cedar Lee Middle, Cedar Point Elementary, Colgan High, Ellis Elementary, Gainsville Middle, Glenkirk Elementary, Gravely Elementary, Haymarket Middle, Kettle Run High, Fauquier High, Loch Lomond Elementary, Manassas Christian, Marshall Middle, Marshall Elementary, Marsteller Middle, Mercer Middle, Mayfield Intermediate, Mountain View Elementary, Mullen Elementary, The Nokesville School, Parkside Middle, Patriot High, Pennington, Piney Branch Elementary, Reagan Middle, Sinclair Elementary, Signal Hill Elementary, Stonewall Middle, Stonewall High, Sudley Elementary, Taylor Middle, Tyler Elementary, Victory Elementary, Warrenton Middle, Westgate Elementary, Woods Elementary, Yorkshire Elementary, Yung Elementary and many private schools in the area.
Local music teachers, rejoice! Save 30% on sheet music and books during our monthly Teacher Appreciation Day! Music & Arts loves our nation's music educators, and we can't thank you enough for all you do.
Got an important orchestra gig coming up at the Hylton Performing Arts Center? Whether you need more rosin for your violin or strings for your bass guitar, let Music & Arts be your last stop before you take the stage. Our friendly staff is here to connect you with whatever you need to have a smooth performance, so before you play, make a stop at the Manassas Music & Arts!
Want to learn how to play fast and technically intricate music on the guitar like Jason Richardson? Well, the virtuosic musician got his start here in Manassas and you can too with some private and group guitar lessons taught right in our store! Our incredible team of private music instructors have experience teaching everything from songwriting and music theory to technical skills on instruments like guitar, bass and drums as well as everything you'd hear in an orchestra. We've got great music lessons for you whether you're looking for instruction for your child or help with an instrument you've been playing for decades.
Interested in learning an instrument but not sure you'll stick with it? Our 100% rent-to-own instrument rental program is a great way to test the musical waters without committing to a serious purchase. Renting an instrument with is gives you the confidence of knowing your monthly payment is contributing to the total cost of the instrument should you decide to buy later down the road.
More About Music & Arts
Since opening our first store all the way back in 1952, we've been owned and operated by the same family. Our values mean the world to us, and they inform everything we do as a company. We're big––the nation's largest provider of private music lessons, band and orchestral instrument sales, repairs and rentals––but nothing makes us happier than seeing individuals in the communities we serve thrive in music. We offer a comprehensive music shopping experience to our guests that includes excellent private and group instruction, instrument, music accessory and sheet music sales, instrument rentals, repair and maintenance. No matter where music takes you, we're here to help you be successful. Want to see what we're all about? Check out our Manassas location today! Our friendly staff can't wait to meet you!