Find an Instructor
Find an Instructor
North Frederick MD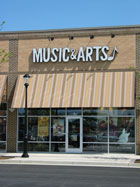 7820 Wormans Mill Rd Suite K
Clemson Corner
Frederick, MD 21701
Store Hours
Wednesday
11:00am

-

8:00pm
Thursday
11:00am

-

8:00pm
Saturday
10:00am

-

5:00pm
Store Services
Repairs
Returns Allowed
Ship To Store
Curbside Pickup
Lessons
Rentals
Meet Our Instructors
I've been in the drumming community for more than sixty years. I started teaching while in high school at a local music store in Nazareth Pa. Also I...
Read more about Aaron Grimm
I started learning the piano at the age of 8 years old and for the last 20 years I have made a career at playing the piano for groups,bands and as a...
Read more about Adam Harman
Alyson Zieg has been studying trumpet for 7 years and is currently working on her B.M. in Music Performance at Shenandoah Conservatory under Mary Elizabeth...
Read more about Alyson Zieg-Sniffen
Audrey Howerin has been playing the cello for 11 years. She first picked it up in 4th grade, and eventually went on to go to Barbara Ingram School for the Arts...
Read more about Audrey Howerin
Dane has been playing the violin for 15 years as a hobby. He has been classically trained by professional musicians in various orchestras such as the...
Read more about Dane Jo
Guitarist Glenn Riley is inspired musically by everything and anything, and has been playing and teaching for nearly three decades. He graduated from Musicians...
Read more about Glenn Riley
Hello, my name is Jeff! I've been playing guitar for about 10 years and bass for the past couple of years in the Frederick area. I've been studying at the...
Read more about Jeff Bonn
I am a lifelong student of music and the arts. I have enjoyed studying music since I was a young child. I am a well-rounded musician and am an expert in singing...
Read more about Justin Wilson
Hi! My name is Maru Martinez, I'm a Guitar and Ukulele instructor. I'm from Montevideo, Uruguay where I began my music education at a young age. I received...
Read more about Maru Martinez
Rowell Jao is currently a violin and viola faculty at Frederick Community College. He has a M.M. in Violin Pedagogy, M.M. and B.M. in Violin Performance from...
Read more about Rowell Jao
Seth Smucker
Music Teacher, Professional
Instructs:
Bass Guitar, Drums, Guitar
Hey! I'm Seth Smucker. To me, music has always been about self-expression and curiosity. At age 12 I began composing and playing the drums. Within the last five...
Read more about Seth Smucker
Steve began his musical career as a 4th grader at Connecticut Park Elementary School in Wheaton Maryland. Over the next several years, his love of music grew...
Read more about Steve Francella
I have a degree in Music from Bucknell University. I have taught at Anne Arundel Community College, School of Continuing Studies, and have now joined the team...
Read more about Toni Serini
Tyler Joyce
Music Teacher, Master
Instructs:
Bass Guitar, Guitar, Ukulele
Areas of instruction – Electric Guitar, Acoustic Guitar, Bass guitar, Piano and UkuleleTyler Joyce is an experienced guitar instructor with over 10 years of...
Read more about Tyler Joyce
Meet Our Associates
Skip link
Welcome to Music & Arts | North Frederick MD
Here at Music & Arts, we live and breathe music. Our mission is to serve as a comprehensive musical resource to parents, educators and musicians of every age, skill level and background. With over 150 locations across the United States, we provide instrument sales, accessories and equipment, rentals, repairs and private music lessons to local communities across the country. We are all things music, and people interested in music have relied on us to meet their musical needs for over 65 years.
Our beautiful North Frederick store is located on the North side of town in the Worman's Mill Shopping Center near Riverbend Park on the beautiful Monocacy River. You can find us directly off the Liberty Road exit on Catocin Mountain Highway (US-15) on Wormans Mill Road. Interested in learning how to play an instrument for the first time? Check out our event calendar, because we always have great clinics scheduled at our store for new musicians.
The North Frederick Music & Arts location specializes in all your back-to-school band and orchestra rental needs. Are you a local music educator? Come in and check out our monthly Teacher Appreciation Day where you can save 30% on sheet music and books! Our extensive selection of music books, supplies, and instrument brands that will help make you and your students happy.
Our North Frederick store is proud to serve local communities including Riverside Center, Monocacy Park, Frederick Research Park, Selwyn Farms, Rivercrest, Clover Hill, Discovery-Spring Garden, Ceresville, Barrick, Whittier, Rock Creek Estates, Golden Mile, Brigadoon, Overlook, Sagner, Poolesville, Ballenger Creek Center, Commons of Avalon, Braddock Heights, Akers Acres, Arch Bridge, Yellow Springs and more.
For over 65 years, Music & Arts has proudly served as a valuable educational resource for local schools. Some of schools we serve include: Ballenger Creek, Baltimore Archdiocese, Centerville, Deer Crossing, Frederick Classical Charter, Glade, Hillcrest, Lewistown, Liberty, Middletown, Monocacy, Myersville, New Market, North Frederick, Oakdale, Orchard Grove, Parkway, Spring Ridge, Thurmont, Tuscarora, Twin Ridge, Urbana, Valley, Walkersville, Waverley, Whittier and Yellow Springs.
Whether you're a seasoned musician trying to learn something new or are interested in tackling an instrument for the first time, our experienced team of music instructors can help you reach your musical goals. Want to learn how to write huge country hits for huge country artists like Mark Chesnutt and Blake Shelton? Born in Frederick, local songwriting legend Neal Coty got his start in Maryland and you can too with some private guitar and songwriting lessons taught in our North Frederick location. If you want to take on the music scenes in DC, Baltimore and beyond, mastering the basics with a helpful instructor here in Frederick will help you get there.
Our instructors are knowledgable and experienced in working with students of every age and background, and we provide private lessons in guitar, bass, percussion, violin, viola and much more. Been playing music for years but don't know how music theory works? Our team of professional private teachers can help teach you powerful music theory fundamentals that will help further your understanding of music in a huge way.
Music & Arts is proud to have worked with tens of thousands of local music teachers across the country. Need some musical equipment or sheet music for a big upcoming concert at the Baker Park Bandshell? No matter who you are and what you're doing with music, Music & Arts has got your back.
More about Music & Arts
The largest band and orchestra retailer in United States, Music & Arts is also proud to be the nation's biggest provider of private music lessons and instrument repairs. Our incredible story of growth has everything to do with our close relationship with local schools, musicians and educators. Our roots are firmly planted in Maryland, and our company has been owned and operated by the same family since our first location opened its doors in Bethesda in 1952. A one-stop shop for musicians, parents and educators, we offer everything from printed sheet music and instrument sales to specialized music lessons for students of every age. We're a big company that's focused on small communities and local values. Our friendly and experienced staff at our new North Frederick location can't wait to meet you and assist you with all your musical needs.