Find an Instructor
Find an Instructor
Hagerstown MD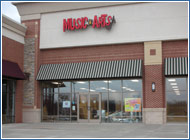 18023 Garland Groh Blvd
Hagerstown, MD 21740
Store Hours
Wednesday
11:00am

-

8:00pm
Thursday
11:00am

-

8:00pm
Saturday
10:00am

-

5:00pm
Store Services
Returns Allowed
Ship To Store
Curbside Pickup
Lessons
Rentals
Meet Our Instructors
Brian Weyant
Music Teacher, Master
Instructs:
Bass Guitar, Drums, Guitar
I was Born in Fairfax Virginia, but have lived in Maryland for the majority of my life. I currently teach K-12 at 3 different schools, and spend my weekends...
Read more about Brian Weyant
Danna Sheron
Music Teacher, Expert
Speaks:
English, American Sign Language
Instructs:
Guitar, Piano, Ukulele, Voice
Hi I'm DJ. I'm a multi-instrumentalist, composer, teacher, and sound engineer. I've played piano for over a decade, guitar and bass for 4 years, and just...
Read more about Dj Joseph
Jacob Miner, a native of Williamsport, Maryland, began playing the saxophone at age 12. With the help of his private instructor Noel Kunkle, Jacob quickly fell...
Read more about Jacob Miner
Jake Routzahn
Music Teacher, Professional
Instructs:
Bass Guitar, Guitar, Ukulele
Jake Routzahn is a versatile musician with almost a decade of experience playing the guitar. He is 21 years old and currently pursuing a bachelor's degree in...
Read more about Jake Routzahn
Jeb C
Music Teacher, Expert
Instructs:
Drums, Music Theory, Trombone, Tuba
Hello my name is Jeb! I am an instrumental jack-of-all-trades that has been musically invloved since the age of 7. I began with piano lessons, moved to...
Read more about Jeb C
John Mccahey
Music Teacher, Expert
Instructs:
Trombone, Trumpet
It all began with a John Coltrane CD. From an early age, John McCahey was centered on music. As an infant In North Carolina, music lulled him to sleep. By...
Read more about John Mccahey
John Sabine, a career church musician and music educator is so happy to be teaching at Music & Arts Center. Prior to moving to Hagerstown, MD in March...
Read more about John Sabine
Laurie Arenas PIANO and VOICE A Frederick County native, Laurie Arenas comes from a musical family where she began singing and playing piano at the age of...
Read more about Laurie Arenas
Michael is a highly accomplished teacher that is prominently known in the surrounding area as an instructor for the The Barbara Ingram School for the Arts...
Read more about Michael Hoover
Rich Borum
Music Teacher, Expert
Instructs:
Bass Guitar, Guitar, Ukulele
I started playing as a freshman in Marymount High School in 1964. I took lessons at Wallace's Music Emporium in Wilkes Barre, PA. I was playing every Friday...
Read more about Rich Borum
Savannah Hochberg is currently the orchestra director at Tomahawk Intermediate School, Hedgesville Middle and High School in Hedgesville, West Virginia. She...
Read more about Savannah Hochberg
Troy Moxley
Music Teacher, Professional
Instructs:
Bass Guitar, Guitar, Music Theory, Technology
In my 15 years of experience on the electric bass guitar, I have performed with religious bands, school ensembles, and the local jam scene. I studied music...
Read more about Troy Moxley
Meet Our Associates
Eric Nauman
Retail Manager
Expertise:
Bass Guitar, Drums & Percussion, Guitar, Keyboards & MIDI, Pro Audio, Technology, Ukulele, Voice
Bass Guitar, Drums & Percussion
show more
Eric has been been playing music over 15 years. His journey began with mastering drums before moving into song writing. Eventually learning guitar, bass, voice,...
Read more about Eric Nauman
Hi! I'm Wes, I've been a saxophonist for 9 years and I currently work as a sales associate at Music and Arts in Hagerstown. I'm mainly a student at West...
Read more about Wesley Blood
Skip link
Welcome to Music & Arts | Hagerstown MD
Here at Music & Arts, music is our passion, and our goal is to get people from every age, background and interest excited about the world of music. With over 150 locations around the nation, we've become a big company, but nothing makes us happier than seeing the power of music on an individual level. Whether you're looking for phenomenal private instruction or music educational materials for your students, we're here to connect you with whatever you need to be successful in music.
Hagerstown, welcome to your friendly local music store! Located in the heart of Washington County, our incredible store in Hagerstown is set up to help you with any of your musical needs, including instrument rentals, purchasing instruments, lessons, repairs, accessories, sheet music, and more! We're just off of the Maryland Veterans Memorial Highway and Salem Avenue in the Shoppes at Hagerstown. You can find us just to the northeast of Reservoir Park and Hellane Park, where our customers often like to practice their instrument under the shade of a nearby tree after shopping with us.
We serve the residents of Hagerstown and its surrounding areas including Broadfording, Cearfoss, Maugansville, Fountainhead-Orchard Hills, Paramount-Longmeadow, Leitersburg, Robinwood, Cavetown, Funkstown, Mt Aetna, Bagtown, Benevola, Fairplay, St James, Downsville, Williamsport, Pinesburg and Wilson-Conococheague.
We Service The Following Local Schools: Bester Elementary School, Boonsboro Elementary School, Boonsboro Middle School, Cascade Elementary School, Clear Spring Elementary School, Clear Spring Middle School, Conococheage Elementary School, E Russell Hicks Middle School, Eastern Elementary School, Eagle School Intermediate, Emma K Doub, Fountain Rock Elementary School, Fountaindale Elementary School, Greenbrier Elementary School, Greencastle Antrim Elementary, Hancock Elementary School, Hedgesville Middle School, Hickory Elementary School, Lincolnshire Elementary School, Martinsburg North, Martinsburg South, Maugansville Elementary School, Mountain Ridge Middle School, Musselman Middle School, North Hagerstown High School, Northern Middle School, Old Forge Elementary School, Pangborn Elementary School, Paramount Elementary School, Pleasant Valley Elementary School, Potomac Heights Elementary School, Potomac Intermediate School, Rockland Woods Elementary School, Salem Ave Elementary School, Shalom Christian Academy, Sharpsburg Elementary School, Smithsburg Elementary School, Smithsburg Middle School, South Hagerstown High School, Spring Mills Middle School, Springfield Middle School, Western Heights Middle School, Williamsport Elementary School, and many more!
Interested in getting your kids into music but don't want to commit to a serious instrument purchase? Check out our instrument rental program! When you rent an instrument from us, it's always 100% rent-to-own, so there's no better way to test the musical waters without having to break the bank.
Want to take some guitar lessons as a family? Check out our group lessons! Learning an instrument with your loved ones is a fun way lay powerful musical foundations that will be there for years to come. The phenomenal private instructors at our Hagerstown location have experience teaching everyone from young beginners to seasoned adults, so there's great music lessons for everyone here at Music & Arts.
Whether you're gearing up to tackle some east coast venues with your rock band or the historic Maryland Theatre Box Office with your experimental jazz project, let Music & Arts be your last stop before you take the stage! With everything from top-of-the-line instrument brands to music accessories like tuners, guitar strings, straps and music books, our friendly staff is here to connect you with everything you need to be successful in whatever you're doing with music.
Got big dreams of playing Hagerstown's Downtown Live! music festival someday? Our private instructors can help! Whether you're interested in learning how to write music or understand music theory in the context of instruments like the guitar, piano or saxophone, we can help! With a combined decades of experience, our instructors have the patience and experience needed to make learning music fun and memorable.
More About Music & Arts
Music & Arts' remarkable story of growth has everything to do with its steadfast commitment to the communities we serve. As the nation's most reliable music resource, we're a large company––the nation's largest provider of private music lessons, band and orchestra instrument sales, rentals and repairs––but nothing makes us happier than seeing the profound power of music at work in a person's life. Want to see what we're all about? Come check out our Hagerstown location today! Our friendly staff will be happy to meet you.