Find an Instructor
Find an Instructor
Burlington NC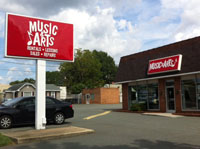 1258 South Church St
Burlington, NC 27215
Store Hours
Wednesday
11:00am

-

8:00pm
Thursday
11:00am

-

8:00pm
Saturday
10:00am

-

5:00pm
Store Services
Repairs
Returns Allowed
Ship To Store
Curbside Pickup
Lessons
Rentals
Meet Our Instructors
Alex Ward
Music Teacher, Master
Instructs:
Guitar, Ukulele
Hey there! My name's Alex and I teach guitar and ukulele. What I love most about guitar is the variety of techniques and genres that can be played. There is...
Read more about Alex Ward
Amy grew up in a musical home and began studying piano as an elementary student. She also played violin in orchestras from elementary through...
Read more about Amy Freeman
Christopher Henry
Music Teacher, Master
Instructs:
Cello, Clarinet, French Horn, Trombone, Trumpet
I have been playing trumpet for about twenty-five years. I came to Greensboro in 1998 to attend Greensboro College as a Music Education major. While at...
Read more about Christopher Henry
Gabriel grew up in the rich old-time/folk music tradition of the Appalachian Mountains in southeastern Kentucky where he learned to play the fiddle by rote at...
Read more about Gabriel Dansereau
Ger Vang
Music Teacher, Master
Instructs:
Bass Clarinet, Bassoon, Clarinet, Flute, Oboe, Saxophone
Ger Vang is a performer and teacher of oboe, flute, clarinet, saxophone, and bassoon. He is currently pursuing his master's degree in music performance of...
Read more about Ger Vang
Jamin Coleman is a freelance percussionist and instructor from Cary, NC. Jamin's love for music began at a young age growing up playing in church....
Read more about Jamin Coleman
Jane McIver
Music Teacher, Master
Instructs:
Piano, Violin, Voice
Jane, or "Miss Jane" as she is known by her students, has a BA in Music Performance with a concentration in classical piano, organ, and harpsichord from Elon...
Read more about Jane McIver
Jonathan F
Music Teacher, Professional
Instructs:
Baritone, Trumpet
Hi, I'm Jonathan. I am a native of Graham, North Carolina. I am a Sophomore Music Education major at Bob Jones University in Greenville, South Carolina. I have...
Read more about Jonathan F
Lucius Wilson
Music Teacher, Master
Instructs:
Banjo, Bass Guitar, Guitar, Mandolin, Violin
Lucius Wilson has performed professionally for over five decades, since the age of fourteen. As a founding member of Willie T and the Magnificents, he has...
Read more about Lucius Wilson
Roddy Terrell
Music Teacher, Master
Instructs:
Bass Clarinet, Clarinet, Saxophone
Roddy Terrell was born and raised in North Carolina. He began playing clarinet at the age of 12 and was instantly in love with the sound. In 2005, he attended...
Read more about Roddy Terrell
I am the third-generation piano teacher in my family. My mom and grandma both taught lessons, and it just seemed a natural course for me to take. I remember...
Read more about Sandy Brady
Sylvester Allen Jr. is a Voice, Tuba and Beginning Piano teacher for Music and Arts, Inc in Burlington, NCSylvester is an accomplished musician, actor,...
Read more about Sylvester Allen
Meet Our Associates
Skip link
Welcome to Music & Arts | Burlington NC
Since 1952, it's been our mission here at Music & Arts to connect people of all ages, interests and backgrounds with whatever they need to be successful in music. With over 150 locations nationwide, we're a comprehensive music shopping experience, providing private music lessons, name brand instrument and music accessory sales, rentals, repairs and a massive assortment of books and sheet music. We proudly serve everyone from seasoned career musicians to young students learning an instrument for the very first time. No matter what you're doing in the world of music, we're here to help you thrive.
Welcome to your friendly local music store, Burlington, NC! We're conveniently located on S Church Street and Archer Street across from the Pine Hill Cemetery. You can find us just east of Mays Lake and Little Alliance Creek near the center of Burlington.
We proudly serve the wonderful community here in Burlington as well as the surrounding areas of Elon, Gibsonville, Sedalia, Alamance, Bellemont, Rock Creek, Graham, Swepsonville, Buckhorn, Hawfields, Haw River, Mebane, Wood Lawn, Green Level, Glencoe, Glen Raven, Ossipee, Altamahaw and more!
Need your guitar or bass restrung before your next show? Let our maintenance and repair team handle it! The last thing you should be worrying about before an important performance is the hassle of restringing your instrument, so drop off your axe with us and we'll have it cleaned and restrung in no time. We're here to help you get back to what's important––music!
Since 1952, Music & Arts has partnered with local music education programs in schools nationwide to provide instruments, music accessories, books and sheet music to students. Our Burlington location proudly serves the following local schools:
AL Stanback MS
Broadview MS
Clover Garden MS
Dillard MS
Eastern Alamance MS & HS
Eastern Guilford MS
Graham MS
Gravelly Hill MS
Grove Park MS
Hawfields MS
Hillcrest MS
Mendenhall MS
Newlin Elementary
Northeastern Randolph MS
Reidsville MS
River Mill Academy
Silk Hope School
Marvin B Smith Elementary
Southeast Guilford MS
Southern MS & HS
Turrentine MS
Western Alamance MS & HS
Woodlawn MS
R Homer Andrews Elementary
The Expedition School
Are you a local music teacher here in Burlington? Music & Arts loves our nation's music educators, and we're here to make your life a little bit easier. Come in and save 30% on books and sheet music during our monthly Teacher Appreciation Day! Thank you for everything you do!
Our instrument rental program is a great option for anyone interested in learning an instrument for the first time. With every instrument in our program 100% rent-to-own, this a great option if you're interested in getting into music but don't want to commit to a serious purchase. Got an important show coming up? Whether you're playing here in town with your blues band at a place like The Rusted Bucket Tavern or are gearing up for a nationwide tour with your indie pop band, let the Burlington Music & Arts be your last stop before you take the stage! With everything from music accessories like guitar strings, music stands and drumsticks to a huge assortment of helpful books and sheet music, we're here to help you perform your best. Break a leg!
Want to play Burlington's Concert In The Park Series? Check out our private and group lessons! Our phenomenal team of music instructors have a combined decades of experience teaching kids and adults technique, songwriting and music theory on instruments like guitar, piano, bass, drums and everything you'd hear in an orchestra. Ask about our lesson programs today!
More About Music & Arts
With over 150 locations nationwide, we're America's most trusted music resource. Since opening our first store back in 1952, we've been owned and operated by the same family. Our values mean the world to us, and nothing makes us happier than seeing individuals thrive through music in the many local communities we serve. We've grown leaps and bounds over the past six decades––we're now the nation's leading provider of private music lessons, band and orchestral instrument sales, rentals and repairs––but we've never lost sight of music's profound impact on an individual level. We're here to serve you no matter what you're doing in music. Come visit our Burlington location today! Our friendly staff can't wait to meet you!