Find an Instructor
Find an Instructor
Gastonia NC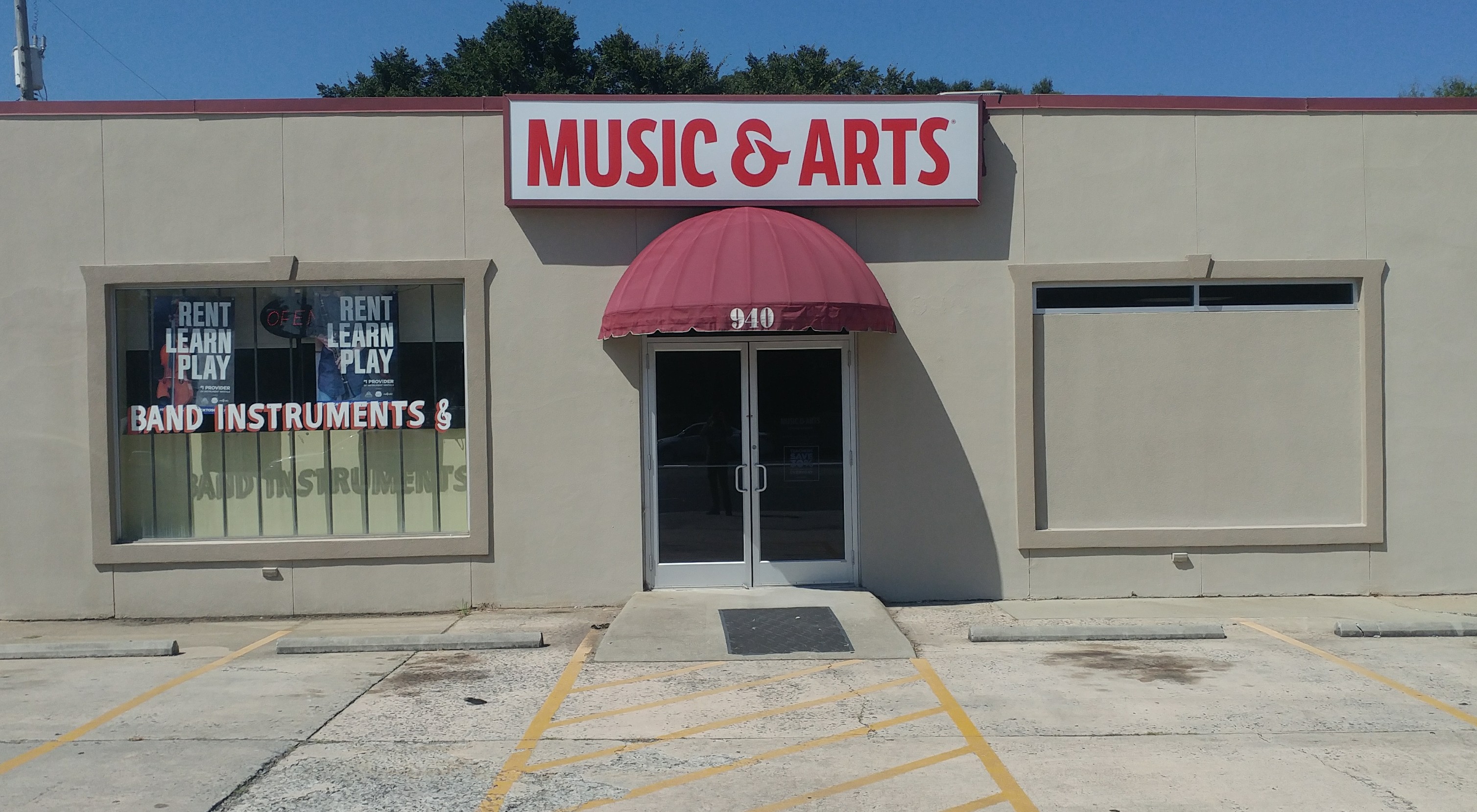 940 E Franklin Blvd
Gastonia, NC 28054
Store Hours
Wednesday
11:00am

-

8:00pm
Thursday
11:00am

-

8:00pm
Saturday
10:00am

-

5:00pm
Store Services
Repairs
Returns Allowed
Ship To Store
Curbside Pickup
Lessons
Rentals
Meet Our Instructors
Douglas Parker has been teaching private piano lessons since 1989. He received a B. Mus. in Music Education in 1980 from Ohio University with a dual...
Read more about Douglas Parker
Jeffrey Coombs
Music Teacher, Expert
Instructs:
Bass Guitar, Guitar, Ukulele
Originally born in New York, Jeff was raised by two parents who migrated to America from Jamaica. Jeff grew up listening to a lot of reggae but developed a...
Read more about Jeffrey Coombs
Kenny Starr
Music Teacher, Professional
Instructs:
Bass Guitar, Drums, Guitar
As a multi-instrumentalist, Kenny specializes in all things percussion and guitar. With extensive experience in study and performance across many applications,...
Read more about Kenny Starr
Logan Batten
Music Teacher, Expert
Instructs:
Bass Clarinet, Clarinet, Flute, Saxophone
I graduated from East Carolina University in 2018 with my Bachelor's Degree in Instrumental Music Education. I have 6 years + teaching experience. I...
Read more about Logan Batten
Hi! My name is Mac, and I'm a working teacher and performing artist with over 14 years of musical training and over 9 years of teaching experience. My...
Read more about Mac Raymond
Matt Yager
Music Teacher, Professional
Instructs:
Bass Guitar, Guitar, Ukulele
Matthew Yager is a 39 year old lifetime music lover that has played guitar for over 25 years. He is a Gastonia native and has been in several groups over the...
Read more about Matt Yager
Maxwell Gill
Music Teacher, Professional
Instructs:
Baritone, French Horn, Piano, Trombone, Trumpet
Max Gill started playing trombone at the age of 11. During high school, he studied under Charlotte Symphony member Tom Burge and played with the...
Read more about Maxwell Gill
Max Mensing
Music Teacher, Expert
Instructs:
Baritone, French Horn, Trombone, Trumpet, Tuba
Hello, I am Max, and I have been teaching here at the Music & Arts since November 2017. I teach because I love the one on one experience of private...
Read more about Max Mensing
Neal Hayes is a piano teacher at Music & Arts in Gastonia. With years of experience teaching young people and adults, Neal is a patient...
Read more about Neal Hayes
Richard Cox
Music Teacher, Professional
Instructs:
Bass Guitar, Guitar, Ukulele
Richard Cox is a lifelong Charlottean who now resides in Gastonia, NC. Richard was introduced to music at a very young age. After playing trumpet in school and...
Read more about Richard Cox
I use various method books to develop strong fundamentals; which in-turn creates a strong musical foundation on which the student can build. I focus on...
Read more about Maggie Zhao
Meet Our Associates
Gerald W
Retail Manager
Expertise:
Accessories, Brass, Brass Accessories, Flutes & Piccolos, Marching Percussion, Orchestral Strings, Orchestral Strings Accessories, Pro Audio, Woodwind Accessories, Woodwinds
Accessories, Brass
show more
Music produces a kind of pleasure which human nature cannot do without! Gerald has great passion in bringing people together through the power of music....
Read more about Gerald W
Richard F
Senior Sales Associate
Expertise:
Marching Percussion, Trombones
I have been playing trombone since 5th grade in 2004. From middle school to high school, I participated in different ensembles for festival, jazz band, marching...
Read more about Richard F
Skip link
Welcome to Music & Arts | Gastonia NC
Music & Arts is proud to be a home for anyone with an interest in music. From seasoned professional musicians and hardworking music educators, to people of all ages learning an instrument for the very first time, we're in the business of connecting people with everything they need to succeed in music no matter their age, educational background, and interest. We're America's most trusted music resource, offering instrument and music accessory sales, rentals, repairs, a wide selection of books and sheet music, and incredible music instruction. Thank you for making us America's favorite one-stop music shop!
Gastonia, North Carolina, we're proud to be your local music store! You can find us south of I-85 on E Franklin Blvd. Our store is located north of Lineberger Park and the Avon/Catawba Creeks Greenway.
We proudly serve the wonderful community here in Gastonia and the surrounding areas of South Gastonia, Crowders, Bessemer City, Tryon, Ashebrook Park, Dallas, Spencer Mountain, Ranlo, Lowell, McAdenville, Cramerton, Belmont and many more!
We also serve local schools including Belmont Middle School, Bessemer City Middle School, Cramerton Middle School, Grier Middle School, Mt. Holly Middle School, John Chavis Middle School, Holbrook Middle School, Southwest Middle School, Stanley Middle School, York-Chester Middle School, and W.C. Friday Middle School.
Are you a local music teacher based in Gastonia? Come in during our Teacher Appreciation Day the first Monday of every month and save 30% on books and sheet music! Music & Arts has a huge appreciation for our nation's hardworking music educators, and we're here to help make your lives easier. Thanks for enriching the lives of our local youth through music!
If you're a local musician who frequently plays at Gastonia venues like the Rock House Tavern, let us be your last stop before you take the stage! From Music accessories like strings, reeds, stands and tuners, to an expert instrument repair and maintenance team, you can always rely on Music & Arts to help you prepare for your shows! Break a leg up there!
Feel inspired by the incredible musical talent you see playing at the Downtown Gastonia Summer Concert Series? If you're interested in learning how to play an instrument or in making some music of your own, check out our private music lessons! We teach guitar, piano, bass, voice and a variety of orchestral instruments to children and adults! Working one-on-one with a Music & Arts university-trained instructors, is a great way to get the skills and confidence you need to reach your musical goals. Ask about our private lessons today!
MORE ABOUT MUSIC & ARTS
The first Music & Arts store was run out of a Bethesda, Maryland home back in 1952. Still operated by the same family since our founding, we're proud to be now be America's leading provider of instrument sales, rentals, repairs, and music lessons. With hundreds of locations scattered across the nation, we've grown in leaps and bounds over the years, but have never lost sight of our values and music's profound impact on a human level. No matter where you find yourself in the wide world of music, we're here to help you thrive and succeed. Stop in and see us at our Gastonia, North Carolina location today! Our friendly staff is here to connect you with everything you need!