Find an Instructor
Find an Instructor
Canfield OH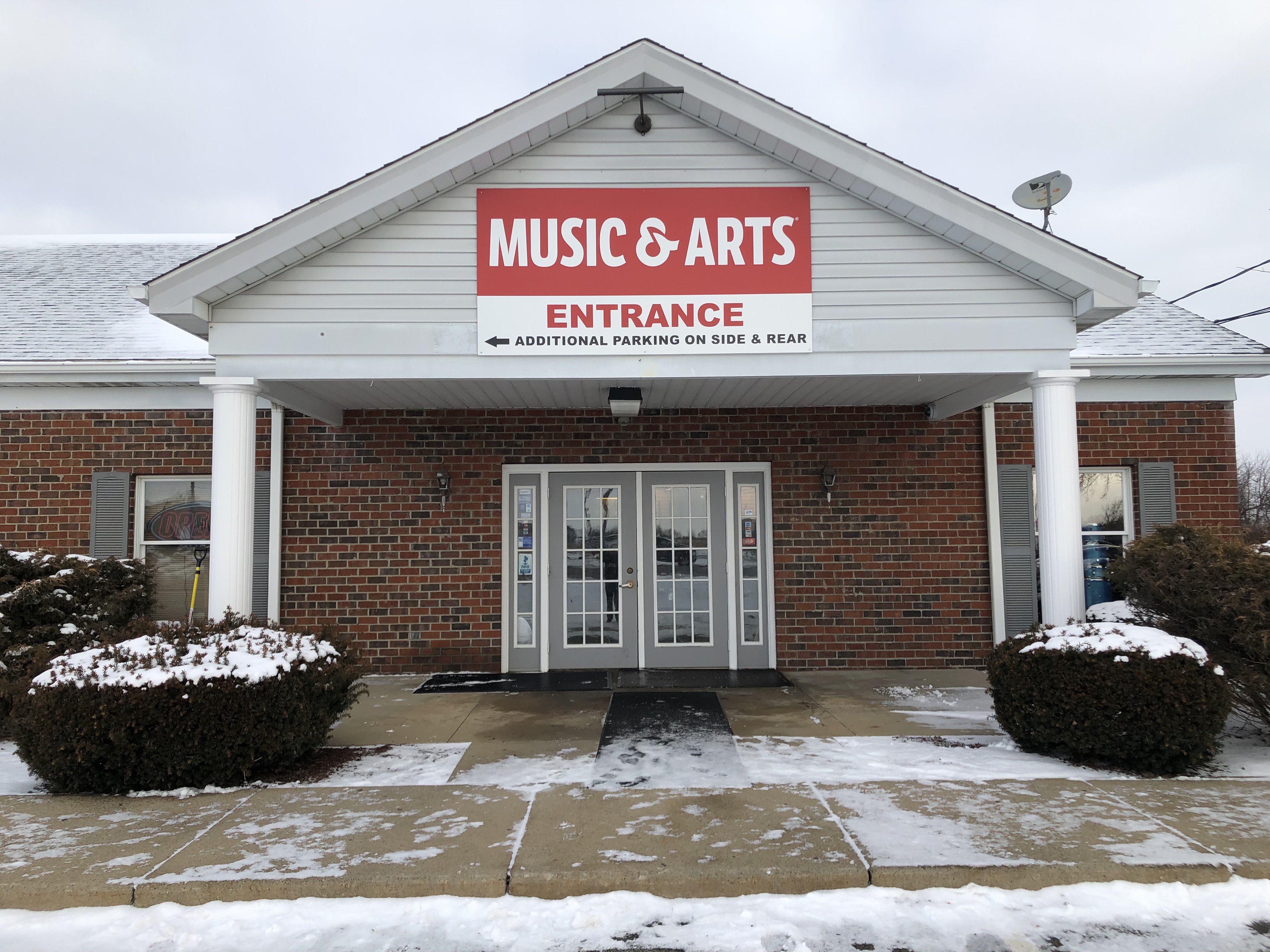 4242 Boardman-Canfield Rd
Canfield, OH 44406
Store Hours
Wednesday
11:00am

-

8:00pm
Thursday
11:00am

-

8:00pm
Saturday
10:00am

-

5:00pm
Store Services
Clearance
Returns Allowed
Ship To Store
Curbside Pickup
Lessons
Rentals
Meet Our Instructors
Anthony has been an instructor here at Music & Arts for over 10 years, when it was Motter's, then staying on when it became Music & Arts. Anthony has...
Read more about Anthony Pushcar
Robert Rollo
Music Teacher, Master
Instructs:
Baritone, Trombone, Trumpet
Robert A. Rollo resides in Poland Ohio with his wife Paula and has 3 daughters Lauren, Jamie and Emily. He graduated from Warren G. Harding High School in...
Read more about Robert Rollo
Erika Mapus
Music Teacher, Master
Instructs:
Clarinet, Saxophone
Erika Mapus has been teaching clarinet and saxophone since 2004. She graduated with her Masters in Music in May 2013 from Carnegie Mellon University and...
Read more about Erika Mapus
Evan has been a percussion teacher here for just about a year now and has built great relationships with his students. He is currently a teacher at Crestview...
Read more about Evan McCreary
Jeff Crouse started playing guitar during the folk/rock period of the late 1960's and early 70's. His early influences were The Beatles, Bod Dylan, James...
Read more about Jeffrey Crouse
My name is Kris Harper and I have 43 years of experience as a parish Director of Church Music, Organist, Cantor and Music Educator. I am an organist and pianist...
Read more about Kris Harper
Lonnie Mcclearn
Music Teacher, Master
Instructs:
Bassoon, Clarinet, Flute, Oboe, Piano, Saxophone, Technology
Lonie is a retired teacher from Springfield Local Schools with 38 years of teaching experience in many instruments and vocals. Lonnie has degrees from...
Read more about Lonnie Mcclearn
Mike Niro
Music Teacher, Master
Instructs:
Baritone, Trombone, Tuba
Mike is a 1991 graduate of Poland seminary High School. He began studying music at the age of 10 after joining the band in 5th grade. Mike continued his music...
Read more about Mike Niro
Terri Cartier
Music Teacher, Master
Instructs:
Bassoon, Clarinet, Flute, Oboe, Piano, Saxophone
I started teaching private lessons right after graduating from the Dana School of Music at Warren Bell's Music Store. I taught music and band in Warren...
Read more about Terri Cartier
Meet Our Associates
CHRISTINE BELL
Retail Manager
Expertise:
Hip Hop, Keyboards, Keyboards & MIDI, Piano, Print Music, Voice
Hip Hop, Keyboards
show more
I HAVE BEEN PLAYING PIANO THE SINCE THE AGE OF 8. I HAVE BEEN CLASSICALLY TRAINED THROUGH A PRIVATE INSTRUCTOR THROUGH HIGH SCHOOL THEN ATTENDED YOUNGSTOWN...
Read more about CHRISTINE BELL
John Blinsky
Retail Sales Associate
Expertise:
Brass, Hip Hop, Keyboards & MIDI, Technology, Trombones
Brass, Hip Hop
show more
John Blinsky is a freelance musician, beatmaker and audio engineer. Hailing from Boardman, OH, John had his early passion for music nurtured and cultivated at...
Read more about John Blinsky
Skip link
Welcome to Music & Arts | Canfield OH
Music & Arts is proud to be America's favorite music resource. For over six decades, we've been on a mission to connect people of all ages, interests and backgrounds with the magic of music. From phenomenal private and group music lessons to name brand instrument sales, rentals, repairs and a massive selection of books and sheet music, we're a one-stop music shop built to serve anyone with an interest in music.
Canfield, Ohio, we're proud to be your local music store! You can find us just west of I-76 on Boardman-Canfield Road. We're located north of Indian Run and the Mill Creek Preserve. We're proud to serve the wonderful community of Canfield and the surrounding areas of Youngstown, Austintown, Boardman, Lowellville, North Lima, Columbiana, East Palestine, Salem, Damascus, Berlin Center, Diamond, Craig Beach, Lordstown, Warren, Girard and more!
Are you a local music educator based in town? Stop in and see us the first Monday of every month and receive a 30% discount on books and sheet music during our Teacher Appreciation Day! Nothing makes us happier than seeing young people thrive on music, and we can't thank you enough for everything you do!
Interested in getting your child enrolled in music lessons but not sure they'll stick with it? Our instrument rental program is the answer! This is the perfect way to test the musical waters with your child without having to commit to a serious purchase. Every instrument in our program is 100% rent-to-own, so you can rest assured knowing your payments are contributing towards the cost of the instrument.
Inspired by the incredible musical talent you see playing at the Canfield Fair every year? If you're interested in picking up an instrument or learning to write some music of your own, check out our private lessons! With combined decades of experience, our university-trained teaching staff has the talent, passion and expertise to help you succeed in music no matter what your goals are. We teach guitar, piano, voice, drums, bass and a variety of orchestral instruments.
If you're a local musician who regularly plays at places like the Diletto Winery, you can always rely on the Music & Arts here in town to help you prepare for your shows. With everything from picks, strings, cases, reeds, tuners and an expert instrument repair technician on staff, we're here to be your last stop before you take the stage. Break a leg up there.
MORE ABOUT MUSIC & ARTS
The first Music & Arts store was ran out of a Bethesda, Maryland home back in 1952. Hundreds of locations and six decades later, we've grown leaps and bounds over the years, but some things about us have never changed. Our values still mean the world to us, and we've never lost sight of music's profound importance on a personal level. From hardworking professional musicians and music educators to those learning about music for the very first time, we're proud to be a home for everyone with an interest in music. Stop in and see us at our Canfield location today!
Other Locations Nearby
739 Portage Trail
Cuyahoga Falls, OH 44221
Repairs
Returns Allowed
Ship To Store
Lessons
Rentals
5228 MAYFIELD RD
Lyndhurst, OH 44124
Returns Allowed
Ship To Store
Curbside Pickup
Lessons
Rentals
7705 W Ridgewood
Parma, OH 44129
Returns Allowed
Ship To Store
Curbside Pickup
Lessons
Rentals