Find an Instructor
Find an Instructor
Bothell WA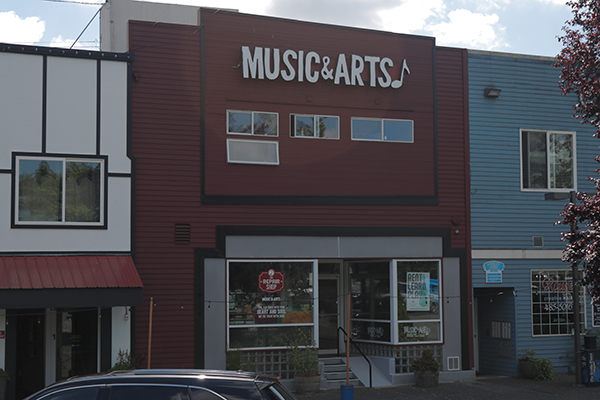 10120 Main St
Bothell, WA 98011
Store Hours
Wednesday
11:00am

-

8:00pm
Thursday
11:00am

-

8:00pm
Saturday
10:00am

-

5:00pm
Store Services
Clearance
Repairs
Returns Allowed
Ship To Store
Curbside Pickup
Lessons
Rentals
Meet Our Instructors
Art Brown
Music Teacher, Master
Instructs:
Clarinet, Flute, Saxophone
Art is a saxophonist based in Seattle since 2003. He began studying music on clarinet as a child, and learned flute while studying Jazz Performance at the...
Read more about Art Brown
Pianist and violist who seeks music students of all ages. Teaches piano, viola, and violin private music lessons and cultivates a fun, compassionate, and...
Read more about Caitlin Hartig
Charlotte Gilbert
Music Teacher, Master
Instructs:
Cello, Guitar, Piano, Viola, Violin
Starting life with an incredibly musical and supportive family, Charlotte brings a lifetime of music dedication to her students! Music Educator, Performer,...
Read more about Charlotte Gilbert
Craig Meyer
Music Teacher, Expert
Instructs:
Banjo, Bass Guitar, Guitar, Mandolin, Ukulele
Craig has been teaching guitar, bass, ukelele, banjo and mandolin to individuals of all ages for more than 20 years. Originally from the Chicago area, he...
Read more about Craig Meyer
Dylan Hong
Music Teacher, Expert
Instructs:
Clarinet, Music Theory, Saxophone
Saxophonist Dylan Hong is a devoted educator and a performer who plans to share the intricate connections of music with others. He recently graduated from...
Read more about Dylan Hong
Evan Hulse
Music Teacher, Professional
Instructs:
Bass Guitar, Guitar, Music Theory, Ukulele
Evan Hulse grew up in Seattle, WA. He started playing music when he was 10 years old and quickly realized he wanted to understand how music worked. By age 18 he...
Read more about Evan Hulse
Gayle has over 30 years of experience teaching piano lessons. She is patient, gentle, and supportive, and believes learning to play the piano should be...
Read more about Gayle Rickards
Hello, my name is Mike Fischman. If you're reading this, you must be interested in playing a fretted string instrument (guitar, banjo, mandolin, ukulele) or...
Read more about Mike Fischman
My name is Tamara Wagle. I am a professional piano teacher with twenty-five years of experience of teaching music and I provide private lessons in piano and...
Read more about Tamara Wagle
Meet Our Associates
Skip link
Welcome to Music & Arts | Bothell WA
Music & Arts is deeply passionate about connecting the world to music. With over 150 locations scattered across America, we're the nation's most trusted musical resource. We're a one-stop music shop that offers name brand instrument and music accessories, rentals, repairs, private lessons and a wide assortment of books and sheet music. Whether you're a seasoned music educator or the parent of a child learning about music for the very first time, we're here to help you thrive.
Bothell, WA, we're here for all your musical needs! You can find us west of 1-405 and Highway 522 off of Main Street and 102nd Ave. We're just southwest of Pop Keeney Stadium and a short walk away from the Sammamish River. After you shop with us, we invite you to take a stroll down our beautiful Main Street!
We proudly serve the great people here in Bothell and the surrounding areas of Kenmore, Lake Forest Park, Cottage Lake, Echo Lake, Brier, Mountlake Terrace, Alderwood Manor, North Creek, Maltby, Kirkland, Redmond, Belleview and more!
For over 65 years, we've partnered with local schools to connect America's music students with instruments, music accessories and sheet music. Our Bothell location proudly services local Washington schools:
School Districts: Northshore, Lake Washington, Edmonds, Shoreline, Everett, Monroe, Mukilteo, Snohomish, Sultan, Lake Stevens
Private Schools: Cedar Park Christian School, Heritage Christian Academy, Kings Schools, The Bear Creek School
Colleges: University of Washington, University of Washington-Bothell, Cascadia College, Edmonds CC, Shoreline CC, Everett CC, Seattle Pacific University, Seattle University, North Seattle CC
Chris Walla, songwriter and former guitarist from the indie rock band Death Cab For Cutie hales from here in town. If you're interested in learning how to play guitar or in writing some indie rock tunes of your own, check out some private and group lessons taught in our store! Our incredible teaching staff has the passion and expertise to help you thrive whether you want to learn how to rock on the guitar or read music for the clarinet. Ask about our music lessons today!
Getting ready for a big show at the Northshore Performing Arts Center Foundation? Let us help you get read for the gig! With everything from music accessories like stands, strings and reeds to an expert repair and maintenance team on staff, we're here to help you shine on stage! Break a leg up there!
MORE ABOUT MUSIC & ARTS
With humble origins of the first Music & Arts store tracing back to a Bethesda, Maryland home back in 1952, we've been owned and operated by the same family since the very beginning. More than 150 locations and 65 years later, we've grown in remarkable ways over the years, but our steadfast commitment of bringing music to local communities has never changed. We're on a mission to connect all people with music no matter their age, background and education level. We avidly believe that music makes the world a better place, and we're honored to share it with as many people as we can. Come in and visit us at our Bothell location today! We can't wait to meet you!