Find an Instructor
Find an Instructor
Redmond WA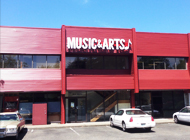 16611 Redmond Way
Redmond, WA 98052
Store Hours
Wednesday
11:00am

-

8:00pm
Thursday
11:00am

-

8:00pm
Saturday
10:00am

-

5:00pm
Store Services
Returns Allowed
Ship To Store
Curbside Pickup
Lessons
Rentals
Meet Our Instructors
Grew up in Northeast Ohio and graduated from Miami University in Oxford OH with a degree in music education. I've been teaching private lessons since high...
Read more about Cathrine Stadulis
Chad Sprock
Music Teacher, Professional
Instructs:
Guitar, Piano, Voice
Chad is a Singer, Musician, Teacher, and Audio Expert. As an adult, he developed a love for Guitar and has been dedicated to learning and playing Guitar...
Read more about Chad Sprock
Charlotte Gilbert
Music Teacher, Master
Instructs:
Cello, Guitar, Piano, Viola, Violin
Starting life with an incredibly musical and supportive family, Charlotte brings a lifetime of music dedication to her students! Music Educator, Performer,...
Read more about Charlotte Gilbert
David M Daniels
Music Teacher, Master
Instructs:
Bass Guitar, Drums, Guitar, Music Theory, Piano, Technology, Voice
David M Daniels has been studying, performing, or teaching music for over 38 years and holds a Master's in Music from the University of Oregon. David wants to...
Read more about David M Daniels
Drew Theran
Music Teacher, Professional
Instructs:
Piano, Trombone, Trumpet
Whatever draws you to violin, Helene wants to help you achieve your goals by providing a supportive and patient learning environment. She spent 6 years...
Read more about Helene Antrican
MIKE HAS OVER 25 YEARS EXPERIENCE AS A PROFESSIONAL INSTRUCTOR AND EVEN LONGER AS A PERFORMER. His field of expertise is comprised of Rock, Jazz, Blues,...
Read more about Michael Mattingly
Meet Our Associates
Skip link
Welcome to Music & Arts | Redmond WA
Redmond, WA, we're here for all your musical needs! We're conveniently located on 166th Ave NE and Redmond Way. Our store has the great fortune of being located a short walk away from some incredible scenery. You can find us just north of Marymoor Park and east of the Sammamish River.
Here at Music & Arts, music is at the very core of who we are and what we do. That's why for over 65 years, we've made it our mission to connect people of all ages, interests and backgrounds with the resources they need to thrive in music. We're the nation's most trusted musical resource, providing name brand instrument and music accessory sales, rentals, repairs, phenomenal private and group lessons and a massive assortment of books and sheet music. We pride ourselves on serving everyone from seasoned professional musicians to the parents of children learning about music for the very first time, so no matter who you are, you'll always have a home here at Music & Arts.
We're proud to serve to the excellent community here in Redmond and the surrounding areas of Seattle, Bellevue, Kirkland, Sammamish, Ames Lake, Carnation, Cottage Lake, Echo Lake, Duvall, Novelty, Fall City, Bothell, Kenmore, Shoreline, Woodinville and more!
EDUCATORS
We've got a huge passion for helping students thrive through music here at Music & Arts. For over six decades, we've partnered with local schools nationwide to connect music students with instruments, music accessories and sheet music. Our Redmond location serves the following local schools:
School Districts: Lake Washington, Northshore, Riverview, Snoqualmie Valley, Issaquah, Bellevue, Monroe, Sultan, Seattle
Private Schools: Cedar Park Christian School, Eastside Prep, Eastside Catholic, The Bear Creek School, Overlake School, Chrysalis School, Evergreen Academy, King's Schools
Colleges: University of Washington, University of Washington-Bothell, Cascadia College, Bellevue College, Seattle Pacific University, Seattle University, DigiPen
RENTALS
Interested in introducing your child to music for the first time? Check out our instrument rental program! With every instrument in the program 100% rent-to-own, you can rest assured knowing each of your monthly payments is contributing to the final purchase of the instrument should your child choose to stick with it––and we hope they do!
LESSONS
Did you know that Sleater-Kinney musician and Portlandia star Carrie Brownstein is from Redmond? Carrie learned how to play music here in town and you can too with some private or group lessons taught here in our store! Our incredible teaching staff has the talent, expertise and plan to help you thrive in music no matter what your musical goals are. So whether you're looking for fun lessons for your kids or great lessons for adults, we've got you covered!
Gearing up to play Redmond's Rockin' on the River Outdoor Summer Concert Series this year? Let us help you get ready for the show! With everything from a huge selection of books and sheet music to music accessories like strings, straps and tuners, we're here to be your last stop before you take the stage. Break a leg up there!
We currently offer lessons on the following days:
Sunday - Piano, Saxophone, Clarinet, Violin, Viola, Cello
Monday - Guitar, Bass Guitar, Double Bass, Mandolin, Ukulele, Trombone, Trumpet, Tuba, Violin, Viola, Percussion/Drumset
Tuesday - Guitar, Bass, Piano, Violin, Viola, Flute, Clarinet, Saxophone, Percussion/Drumset
Wednesday - Piano, Clarinet, Saxophone, Trombone, Trumpet, Percussion/Drumset
Thursday - Guitar, Piano, Violin, Viola, Percussion/Drums
Friday – Piano, Violin, Viola, Flute, Clarinet, Saxophone
Saturday - Guitar, Piano, Violin, Viola, Trumpet, Trombone, Percussion/Drums

MORE ABOUT MUSIC & ARTS
Now the nation's leading provider of instrument sales, rentals, repairs and private lessons, we owe our remarkable success to the countless unshakable relationships we've formed with students, parents, music educators and musicians over the past 65 years. With over 150 locations nationwide, we've grown leaps and bounds over the years, but we've never lost sight of music's vast importance within the many communities we serve. Come see us at our Redmond location today! We can't wait to meet you!