Find an Instructor
Find an Instructor
Asheville NC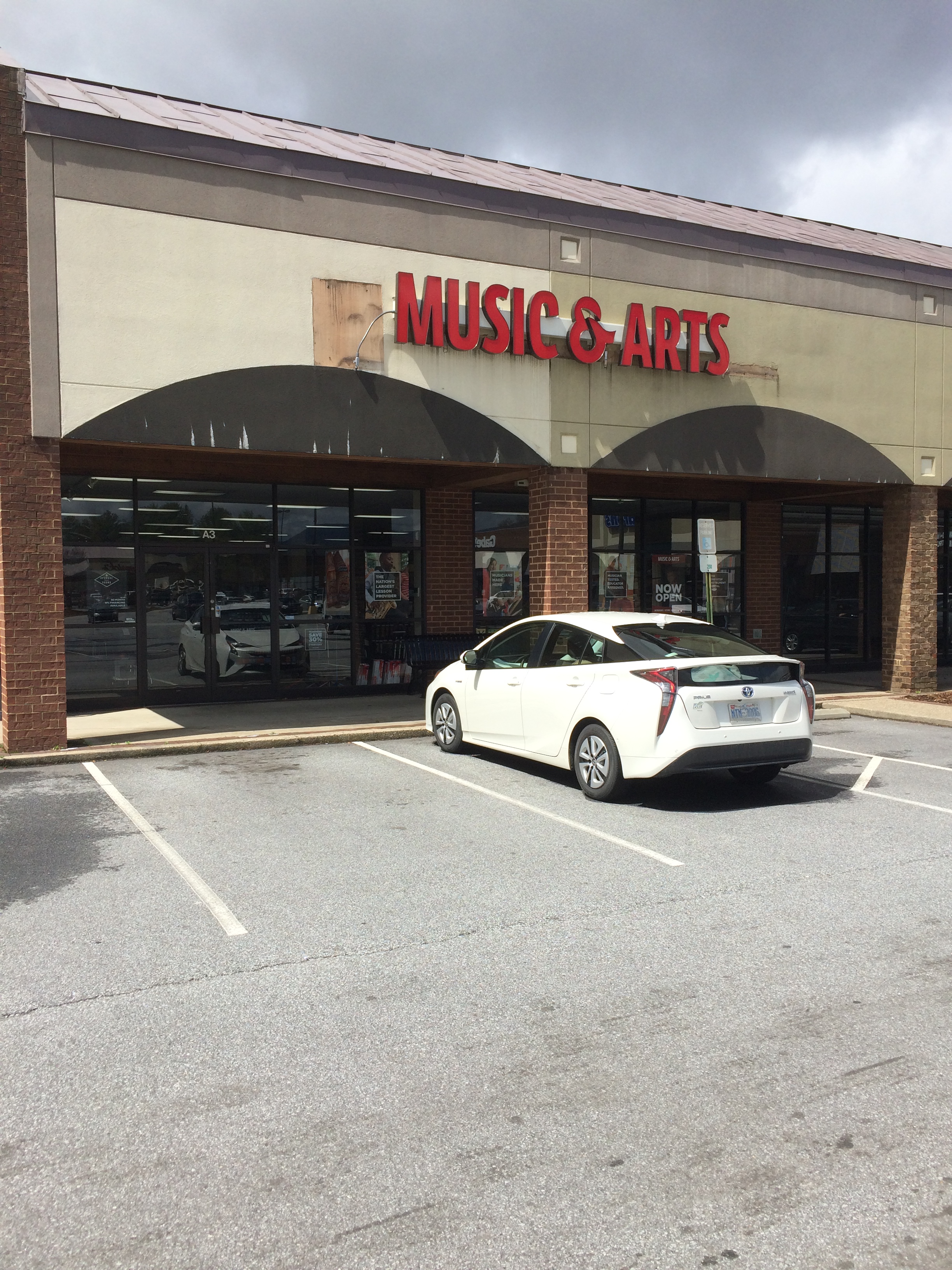 800 Fairview Rd
Asheville, NC 28803
Store Hours
Wednesday
11:00am

-

8:00pm
Thursday
11:00am

-

8:00pm
Saturday
10:00am

-

5:00pm
Store Services
Repairs
Returns Allowed
Ship To Store
Curbside Pickup
Lessons
Rentals
Meet Our Instructors
William Litz
Music Teacher, Master
Instructs:
Baritone, Trumpet
Billy Litz has been teaching brass, piano and guitar since 2012. He has a BA in Music Education from Salisbury University with a focus on trumpet. He teaches...
Read more about William Litz
Bri Moffitt
Music Teacher, Professional
Instructs:
Baritone, Trombone
Bri is a euphonium player from Hendersonville, NC. When she is not playing her horn, she can be found writing anything from academic essays to short stories to...
Read more about Bri Moffitt
Carol Nethen West is a musician of a diverse background. Her young life, in Annapolis, MD included dance accompanying, piano recitals, playing Beatles' songs...
Read more about Carol Nethen West
Daniel Keller
Music Teacher, Master
Instructs:
Bass Guitar, Guitar, Mandolin, Ukulele
I have been a full-time musician and music teacher for 20 years, including college-level instruction at Haywood Community College, beginner classes at the...
Read more about Daniel Keller
Garrick Smith
Music Teacher, Master
Instructs:
Clarinet, Flute, Saxophone
Garrick Smith is an accomplished woodwind expert with extensive performing and studio experience on flute, clarinet, and all of the saxophone sizes in a broad...
Read more about Garrick Smith
I go by Jonathan Casanova, I am a composer and songwriter, a content developer, and a teacher. I graduated with a bachelor's degree in music composition...
Read more about Jonathan Casanova
Kevin Paul
Music Teacher, Master
Instructs:
Clarinet, Flute, French Horn, Trombone, Trumpet
R. Kevin Paul is a native of Virginia. Mr. Paul has arranged over 120 works for Brass Quartet, Brass Quintet, and Large Brass Ensemble. He founded Waterton...
Read more about Kevin Paul
Liam Coker
Music Teacher, Professional
Instructs:
Bass Guitar, Guitar
Hi my name is Liam Coker. I play guitar and bass. I have been playing guitar for ten years and bass guitar for six! Some of my favorite genres of music to...
Read more about Liam Coker
Michelle Lucia-Ingle has earned degrees from the University of Southern California (BM in Clarinet Performance), and the University of Florida (MM in Music...
Read more about Michelle Lucia-Ingle
Neil is currently the percussion instructor at A.C.Reynolds High School and has been teaching percussion/drum set for 20 years. He is a freelance drummer in the...
Read more about Neil Lackey
I have been playing flute for over eighteen years, and saxophone for fifteen. I started teaching flute lessons to beginner students while I was still in high...
Read more about Rachel Hickey
Ryan Sullivan
Music Teacher, Master
Instructs:
Bass Guitar, Guitar, Ukulele
Ryan is a master-level guitar, bass and ukulele instructor with the Music and Arts/Guitar Center corporation. He has over 30 years of playing experience in...
Read more about Ryan Sullivan
Vivian Torres
Music Teacher, Master
Instructs:
Cello, Viola, Violin
Originally from Miami, FL, Vivian started playing music in the 5th grade and fell in love with the viola and viola. She comes from a family of educators, which...
Read more about Vivian Torres
Meet Our Associates
Jonathan L
Retail Manager
Expertise:
Guitar, Marching Percussion, Percussion
Guitar, Marching Percussion
show more
Hello! My name is Jon Lauterer, and I'm the Store Manager at Music & Arts in beautiful Asheville, NC. I was born and raised in the WNC area in a musical...
Read more about Jonathan L
My repair career got started while I was a music student at the University of North Carolina at Greensboro. At the time, Melody Choplin was the repair tech at...
Read more about Manda H
Hello! My name is Maylee Speakman and I am a graduate of Western Carolina University with a Bachelors degree in Music Industry. I primarily play flute and...
Read more about Maylee Speakman
Nathan McCoy's love of music has motivated him to share his passion with others. He has extensive teaching experience working with students from beginners to...
Read more about Nathan Mccoy
Skip link
Welcome to Music & Arts | Asheville NC
From hardworking music educators and seasoned musicians to the parents of children venturing out into the world of music for the very first time, Music & Arts is proud to be a home to anyone with an interest in music. Since our founding back in 1952, it's been our mission to get people of all ages, interests and backgrounds excited about the magic of music. We're America's favorite one-stop music shop, offering instrument sales, rentals, repairs, a huge assortment of books and sheet music and incredible music instruction for all ages!Welcome to the Asheville, North Carolina Music & Arts store page! You can find us northeast of I-40 and I-240 on Ridgeview Road. We're just to the south of the Swannanoa River and the WNC Nature Center.
We're proud to serve the city of Asheville and the surrounding areas of Fairview, Swannanoa, Gerton, Bat Cave, Black Mountain, Woodfin, Weaverville, Alexander, Jupiter, Ridgecrest, Goodluck, Biltmore Forest, Royal Pines, Arden, Bent Creek, Avery Creek, Candler, Woodside Hills, Enka Village and more!
Not able to purchase a new instrument today? Our layaway program is a terrific option for everyone from families making musical purchases on a tight budget to those who need to keep big box purchases a secret until just the right moment. For no additional cost, we'll set aside your instrument to be picked up at a later date. Ask a sales associate for more details!
If you're a parent thinking about getting your child enrolled in music lessons, check out our instrument rental program! This is the perfect way to test the musical waters with your child without having to commit to a serious purchase. Every instrument in the program is 100% rent-to-own, so you can be confident knowing your payments are contributing towards the purchase of the instrument should you choose to own it.
Asheville has quickly become one of the best music scenes in the country because of venues like The Grey Eagle. If you're one of our city's incredible local musicians, you can always rely on our store to help get ready for your shows and recording sessions. With a massive selection of music accessories and an expert instrument repair and maintenance team on staff, let us be your last stop before you take the stage!
Bill Monroe, also known as "the father of bluegrass," is from right here in Asheville. If you have an interest in learning how to play bluegrass or any other style of music, check out our music lessons! Our university-trained staff has experience teaching a variety of instruments and styles of music to students of every age.
MORE ABOUT MUSIC & ARTS
We're proud to now be America's leading provider of instruments, rentals, repairs and music lessons. Founded in a Bethesda, Maryland home in 1952, we've grown considerably over the years, but we've never lost our passion for sharing music with people. Our values mean the world to us and inform every decision we make as a company. Stop by and see us at our Asheville location today and see for yourself! We can't wait to meet you.