Find an Instructor
Find an Instructor
Spartanburg SC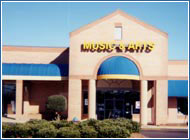 1450 WO Ezell Blvd Suite 400
Market Square Shopping Center
Spartanburg, SC 29301
Store Hours
Wednesday
11:00am

-

8:00pm
Thursday
11:00am

-

8:00pm
Saturday
10:00am

-

5:00pm
Store Services
Clearance
Returns Allowed
Ship To Store
Curbside Pickup
Lessons
Rentals
Meet Our Instructors
Prentiss McDaniels
Music Teacher, Master
Instructs:
Bassoon, Clarinet, Flute, Oboe, Saxophone
Prentiss McDaniels has taught at Music & Arts in Spartanburg as their woodwind specialist since 2008. She graduated from Converse College with a Bachelors...
Read more about Prentiss McDaniels
My name is Devin Senders and I have been playing violin for thirteen years. I started when I was 12 years old. Since then I have been a part of Region and...
Read more about Devin Senders
Donna Davis Simpson was born in Loves Park, Illinois where she graduated from Harlem High School. She sang in several choirs and was the accompanist for...
Read more about Donna Simpson
Grace Mawson
Music Teacher, Master
Instructs:
Piano, Viola, Violin, Voice
I have been teaching viola, violin, piano and voice for 8 years to students of various ages and backgrounds. I studied music at a music conservatory where I...
Read more about Grace Mawson
James Kirby
Music Teacher, Master
Instructs:
Baritone, French Horn, Trombone, Trumpet, Tuba
Jamie Kirby is a music teacher at a new charter school in Gaffney called Cherokee Charter Academy. He has previous experience as a band director and music...
Read more about James Kirby
Joel Green
Music Teacher, Master
Instructs:
Bass Guitar, Guitar
Joel Green has been playing guitar for 26 years, and bass guitar for 18. He got his bachelor's degree in music from Winthrop University in 2001. From...
Read more about Joel Green
Josh has been teaching at Music & Arts for 9 years. He has been playing piano for 25 years, and teaching for 18 years, with a BA in business. Josh also has...
Read more about Joshua Quick
Karen grew up in Hagerstown, MD. Attended Pensacola Christian College, and received a degree in Piano Pedagogy in 2006. She has accompanied for many church and...
Read more about Karen Wilder
My name is Katie Konopka-Hughes. I was born in Atlanta, Georgia, but moved to Spartanburg when I was 9. I began playing Violin in 5th grade, but switched to...
Read more about Katie Konopka-Hughes
Miles
Music Teacher, Professional
My name is Miles Hampton. I was born in Newberry, South Carolina, and grew up in Spartanburg. I started playing trumpet in the sixth grade. I've made...
Read more about Miles
Nathan Erps grew up in Spartanburg, South Carolina. He graduated from Spartanburg High School having learned from many local band directors and then went...
Read more about Nathan Erps
Sara Lyme
Music Teacher, Master
Instructs:
Guitar, Piano, Violin, Voice
Sara Lyme holds a bachelors of science in music therapy and psychology. She also studied music composition and worked with composers: Ivar Lunde and Jim...
Read more about Sara Lyme
Tina Sanders has been teaching piano lessons for over 25 years. She has degrees from UNC-G in piano performance and pedagogy. Though she was trained in...
Read more about Tina Sanders
Wayne Mason
Music Teacher, Expert
Instructs:
Bass Guitar, Cello, Guitar, String Bass, Ukulele, Viola, Violin
Wayne Mason was born in Freehold, New Jersey, and moved to South Carolina at the age of 16 years old. Wayne Mason achieved his undergraduate Bachelor of Arts...
Read more about Wayne Mason
Meet Our Associates
Helen S
Retail Manager
Expertise:
Clarinets, Classroom & Kids, Double Reed Instruments, Flutes & Piccolos, Woodwind Accessories, Woodwinds
Clarinets, Classroom & Kids
show more
Hello! My name is Helen Scott. I have been involved in Music since early elementary school when I joined Choir and started Piano lessons. Once I got to Middle...
Read more about Helen S
Ivana Carlson is a twenty-one-year-old musician from Tryon, NC. She has been playing the violin since she was four years old and has had the honor of playing...
Read more about Ivana Carlson
One of the founders of Spartanburg SC's Dirty-Burg-Entertainment (D.B.E.) Jessie has been one of the faces of Spartanburg's resurgence of rap music. For several...
Read more about Jessie Garrett
As a recent graduate of the USC Upstate Commercial Music Program, Jordan Lawson has explored mulitple different aspects of musical expression through writing...
Read more about Jordan Lawson
Hey my name is Michael but I go by MJ. I play trombone , and have been playing since I was in the 3rd grade. I started playing in Church at first, and now...
Read more about Mj Jennings
Skip link
Welcome to Music & Arts | Spartanburg SC
Here at Music & Arts, music is our greatest passion and the communities we serve are our top priority. We're the nation's most reliable one-stop music shop, offering name brand instrument and music accessory sales, rentals, repairs, incredible music instruction and a wide selection of books and sheet music. We pride ourselves on inclusivity, so no matter where you find yourself in the wide world of music, you'll always have a home here at Music & Arts.
Welcome to your friendly local music store, Spartanburg, SC! You can find us just east of I-26 and W.O. Ezell Boulevard in the Market Square Shopping Center. We're located south of Fairforest Creek and northwest of the Hatcher Garden-Woodland Preserve.
We're proud to serve the wonderful community here in Spartanburg and the surrounding areas of Spartanburg, Greenville, Roebuck, Moore, Inman, Lyman, Arcadia, Fairforest, Greer, Campobello, Landrum, Boiling Springs, Cowpens, Gaffney, Pauline, Chesnee, Pacolet, Jonesville, Union, Buffalo, Simpsonville, Taylors, Reidville, Woodruff and Mauldin.
Is your instrument in rough shape? Even the most talented musicians can't be their best without their instruments working correctly, so why not let us take care of it for you? Whether you've got a cracked violin or a ukulele in need of new strings, our instrument repair and maintenance team can help! Just leave your instrument with us and we'll have it fixed and cleaned up in no time. We're here to help you focus on what's most important––playing music!
Since 1952, we've been partnering with local schools to deliver instruments, music accessories and sheet music to music students nationwide. Our store proudly serves the following schools:
>Anderson Mill Elementary, Arcadia Elementary, Beech Springs Intermediate, Berry Shoals Intermediate, Boiling Springs Intermediate, Boiling Springs Middle, Campobello Gramlling, Chase Middle, Chesnee Middle, E.P. Todd Elementary, Fairforest Elementary, Fairforest Middle, Fischer Middle, Gable Middle, Granard Middle, High Point Academy, Houston Elementary, Inman Intermediate, James H. Hendrix Elementary, Jesse S. Bobo Elementary, Jesse W. Boyd Elementary, Landrum Middle, Lone Oak Elementary, Mary H. Wright Elementary, New Prospect Elementary, Oakbrook Prep, Pauline-Glenn Elementary, Pine Street Elementary, R.P. Dawkins Middle, Rainbow Lake Middle, Roebuck ELementary, Sims Middle, Spartanburg Day School, W. Herbert Chapman Elementary, Westgate Christian, Westview Elementary, and Woodland Heights Elementary, Dorman High, Spartanburg High, James F. Byrnes High, Union High, Boiling Springs High, Chapman High, Chase High, Broome High, Landrum High, Gaffney High, and many more!<
Got dreams of playing at Spartanburg's Blues Boulevard Jazz club someday? Check out our private and group music lessons! Our university-trained teaching staff has the experience, passion and plan to help you succeed in music no matter what your goals are. So whether you're looking for great music instruction for your kids or help to learn an instrument as an adult, we can help!
Did you know that the Marshall Tucker Band is from Spartanburg? If you're an active musician also based in town, let us help you get ready for your shows! From an expert repair and maintenance team able to assist with last minute needs to a massive selection of books, sheet music and music accessories, we're here to be your last stop before you take the stage! Break a leg out there!
More About Music & Arts
Owned and operated by the same family since 1952, Music & Arts is committed to serving local music communities through music. Now the nation's leading provider of instrument sales, rentals, repairs and music lessons, we've grown and changed considerably over the past six decades, but we've never lost focus of our values and music's profound importance on a personal level. Come in and see us at our Spartanburg location today! We can't wait to meet you!